Photo provided by the organizer of the first China Film Screenwriters Week
Chinanews.com, Beijing, March 28 (Reporter Gao Kai) The first Chinese Film Screenwriter Week was held in Quanzhou, Fujian Province before Sunday. The first Chinese Film Screenwriter Week was themed with "Salute to Screenwriters" and covered the first "China Film Association Cup" Honorary Film Festival, China Film Screenwriter Forum, Film Literature Forum, Film Screenwriter Night, Film Literature Night, "Song Yuan China · Haisi Quanzhou" collection, film master class, the 13th "China Film Association Cup" Top Ten Films of the Year Play promotion night and other series of activities.
Zhang Pimin, Tong Gang, Yan Shaofei, Liu Heng, Wang Xingdong, Huang Jianxin, Song Zhiqin, Zhang Sitao, Tang Ke, Jiang Ping, Jiang Haiyang, Chen Guoxing, Lu Qi, Zhou Xinxia, ​​Cao Jiuping, Huang Dan, Dou Chunqi, Ma Weigan, Zhang Guangbei, Ye Ning, Huangfuyi Chuan Chuan, Zhao Ningyu, Wang Hailin, Zhao Weifang, Gao Xiongjie, Li Shengli, Zhang Chi, Ma Yue, Yuan Yuan, Wu Nan and other well-known film industry professionals gathered in Quanzhou, Fujian to participate in the event.
According to reports, China Film Screenwriter Week aims to open up the film production industry chain, further promote the joint development of film and literature, provide a good interactive platform for screenwriters and writers, deepen the connection between literature and film, and contribute to the development of China's film industry. The event is jointly sponsored by the China Film Association, Fujian Provincial Film Bureau and Quanzhou Municipal People's Government, China Federation of Literary and Art Circles Film Art Center, China Film Association Film Literature Creation Committee, Fujian Film Association, the Propaganda Department of the CPC Quanzhou Municipal Committee, Quanzhou Radio and Television Station, etc. Undertaker.
As one of the important activities in the field of Chinese film screenwriting, the "China Film Association Cup" annual selection and promotion of the top ten film plays has been successfully held for 12 consecutive sessions. This year, the event will be expanded and improved on the basis of the "China Film Association Cup" For the "Chinese Film Screenwriters Week" and landed in Quanzhou.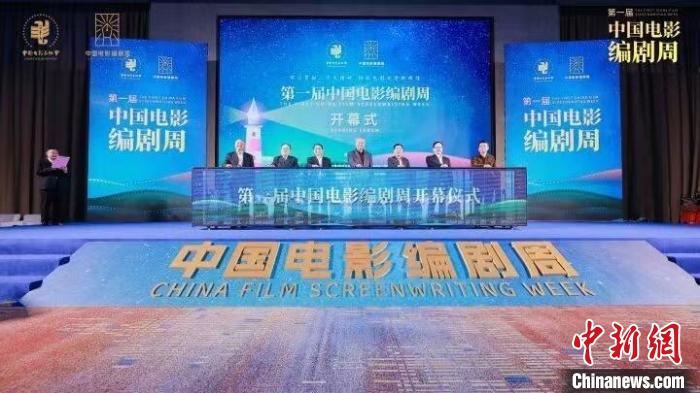 Photo provided by the organizer of the first China Film Screenwriters Week
In his speech at the opening ceremony of the first China Film Screenwriters Week, Yan Shaofei, Deputy Secretary and Secretary-General of the Party Group of the China Film Association, said that with the strong pace of the great journey of the new era, the development of Chinese films has entered an unprecedented period of opportunity with bright prospects , The future can be expected. Grasping from the source and fundamentally promoting the prosperity and development of film creation is a glorious task entrusted to film workers by the new era and new journey. He said that China Film Screenwriter Week will promote the sound development of literary creation and film and television adaptation, strive to build a platform for film literary creation and screenwriter exchanges, and provide help and support for excellent film script creation and industrial development.
At the China Film Screenwriting Forum, Liu Heng, vice chairman of the China Federation of Literary and Art Circles, a famous screenwriter and writer, said that screenwriters are cultural workers who work on the front line of life and are also indispensable members of film creation groups. As an individual life, screenwriters must properly handle their relationship with the environment, with others, and with themselves. A screenwriter has to face a series of problems such as his increasingly insensitive perception of the world and his inherent prejudices. Only by constantly getting rid of difficulties and overcoming himself can he create better works.
Chairman of Beijing Film Association, famous director, screenwriter, and producer Huang Jianxin said that the relationship between Chinese film and literature has always been very close. Directors often create films on the shoulders of writers and screenwriters. The relationship between film screenwriters and directors is like that between composers and conductor relationship. He believes that film literary scripts are not only the cornerstone of film shooting, but also have literary and aesthetic value, and are an extremely important link in the film creation process.
At the film literature forum, Ma Weigan, chairman of the National Film Working Committee of the China Film Association and a well-known screenwriter, said that converting literary works into film scripts requires a unique vision and a unique method. The novel was adapted into a film literary script. He believes that the current film screenwriters should absorb more nutrients in life, and at the same time work hard to improve their basic skills, constantly improve their innovation ability, and contribute the power of literature and emotion to the development of Chinese film industry.
On the evening of the 26th, at the closing party of the first Chinese Film Screenwriters Week and the promotion night of the 13th "China Film Association Cup" annual top ten film plays, "Deng Xiaoping's Trail" (screenwriter Wang Xingdong), "Above the Cliff" (screenwriters Quan Yongxian, Zhang Yimou), "Changjin Lake" (screenwriters Lan Xiaolong, Huang Xin), "Island Guardian" (screenwriters Chen Li, Ding Han, Zhao Zheen), "My Sister" (screenwriter You Xiaoying), "Miracle Stupid Child" (screenwriter Zhou Chucen, Xiu Mengdi, Wen Muye, Han Xiaohan, Zhong Wei), "Love Myth" (screenwriter Shao Yihui), "Meet Nara" (screenwriter Pengfei), "Lanxin Grand Theater "(screenwriter Ma Yingli), "Life Events" (screenwriters Liu Jiangjiang, Yu Min) won the honor of the top ten film plays of the year. (over)
Responsible Editor: Tang Shixu