After 16 years of mystery for the disappearance of Madeleine McCann, the case made news again due to a mega-operation that was carried out in a reservoir in the Algarve region, in southern Portugal, located 50 kilometers from the place where the minor was last seen. Days before this raking, Christian Brueckner, the main suspect, wrote a series of letters in which he claimed to be innocent.
The letters were revealed by the British media Daily Mail. In them, Brueckner, a 45-year-old German, maintains his innocence and claims that the authorities have no evidence against him. "You can't imagine what it's like when the whole world thinks you're a child killer, and you're not"he detailed in the text, referring to the "concrete evidence" that the authorities say they have, which would indicate that Maddie is dead.
Follow the mega-operation for the search for Madeleine McCann in Portugal, after a "very credible" track
Added to this, he stated that there will never be a trial since "there is not the slightest evidence". "They told me a long time ago that the prosecutor's office was closing Maddie's case because there is not the slightest bit of evidence. There will never be a trial," she said.
He added: "The prosecutors are not saying anything to the public because they have to hand over the files to my lawyers, and contain a lot of material confirming my innocence".
He also indicated that the police and prosecutors they are "trying to create a monster" to "distract and let people think I'm the right one". In this regard, the main theme of his letters refers to how he is being "persecuted" by the authorities, who are also "misleading" him.
Also made sexual accusations against some key figures in the investigation, whose identities were preserved by the British media. In that sense, Brueckner wrote: "I mean a gay investigator who is in love with a big criminal. Scandalous. Have you ever heard that a hunter is killing his prey?".
The letters are written by hand, in pencil, and in almost perfect English. According to the British newspaper, the writing clearly shows the suspect's desperation and obsession with trying to persuade authorities and the public of his innocenceusing the media to achieve this objective.
Brueckner's alleged psychological battle
The text continues to allude to the psychological battle that the suspect claims to be facing due to the treatment he receives. "The torture I'm going through is the best evidence I can have"he claimed.
"If someone had said things like that to me before, I would have said 'No, I don't believe you. This is Germany and not Pakistan. I can't tell the actual treatment I get because I don't have the right words to describe it. Of course, all this happens by order of the BKA (German criminal police)," the letter continues.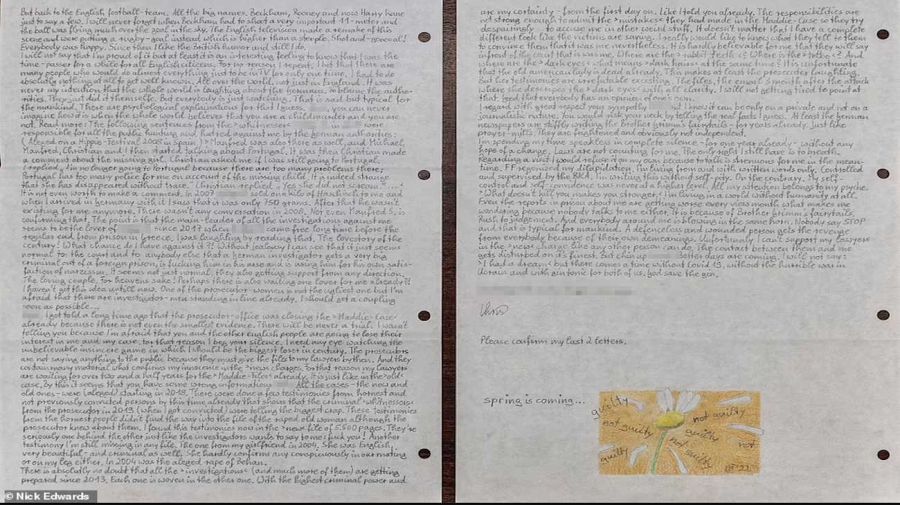 The letter contains, according to the Daily Maila hint to the investigators: "They will never understand that the idea they had was brilliant, I already said that Hollywood could not do better, but they cast the wrong lead actor: me".
Regarding his experience, the German assured that other individuals would not bear to be in his place. "I'm pretty sure other people in my situation, under all the pressure, insults and threats, would have capitulated long ago," she warned. "They would have asked where they have to sign the death warrant. But I don't. I'm tough as old boots," she added.
Criticism of the authorities and the alleged errors of the investigation
The four-page letter ends by making a new criticism of the authorities, assuring once again that is being used as a scapegoat by the BKA. Likewise, he again accuses the investigators of making mistakes in the case, while he is firmly convinced that time will prove his innocence.
"As I already told you, those responsible are not strong enough to admit the mistakes they made in Maddie's case. So they're desperately trying to accuse me of other weird stuff. It doesn't matter that I look completely different from what the victims say. I would really like to know what they tell them to convince them that it was me," she said.
Search for Madeleine McCann: Police believe the girl's body is in a reservoir in Portugal
"I am writing this without self-pity and my self-confidence and self-control have never been at a higher level. What does not kill you makes you stronger. Cheer up! better days are coming", concluded his letter. The text ends with a drawing of a daisy that is losing its petals, accompanied by the words "Not guilty" y "Culpable". There is also a drawing of a dark corridor, presumably a part of the jail where he is being held after having raped a 72-year-old woman at the same time and place where Maddie disappeared.
"Feelings of guilt" and "Near violent death": The analysis of a graphologist
Graphologist Tracey Trussell was commissioned to examine Brueckner's latest letter, as well as others he wrote over the past two years. According to him Daily Mailtheir analyzes concluded that the German was "distorted, misled" and that its "fantastic views are constant, unchanging." In addition to this, he stated that the suspect's way of writing the letters indicates that it's about someone who wants to "command and control".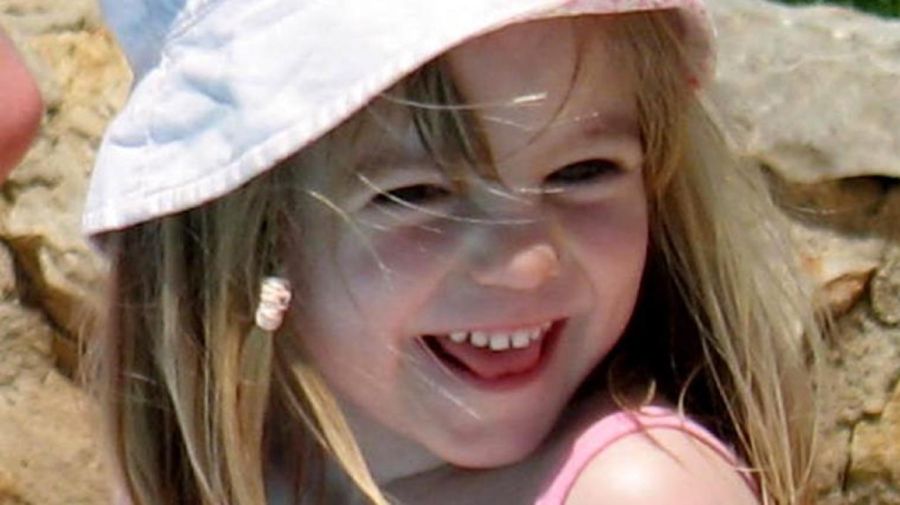 Likewise, it specified that "the long and extended stroke in the reclining letter S is a symbol of someone who suffer feelings of guilt". In this regard, he added that "in some cases, this symbol is seen where a violent death occurred near the writerand they're trying to accept it."
"Whatever the truth, there is a need to continually feed your ego, and your ultimate goal is to get some kind of recognition", concluded Trussell.
Deprived of his "prison rights": Brueckner's previous letters
He Daily Mail he also had access to a letter written a few weeks earlier, in which the suspect complained that he was receiving worse treatment than Nazi war criminal Joseph Goebbels while serving his sentence in Oldenburg prison in northern Germany.
In this sense, he described was being deprived of his "prison rights" regarding visitation since, as he wrote, the authorities fear that he will derive "sexual satisfaction" from interacting with other people. For that reason, the prisoner was in solitary confinement.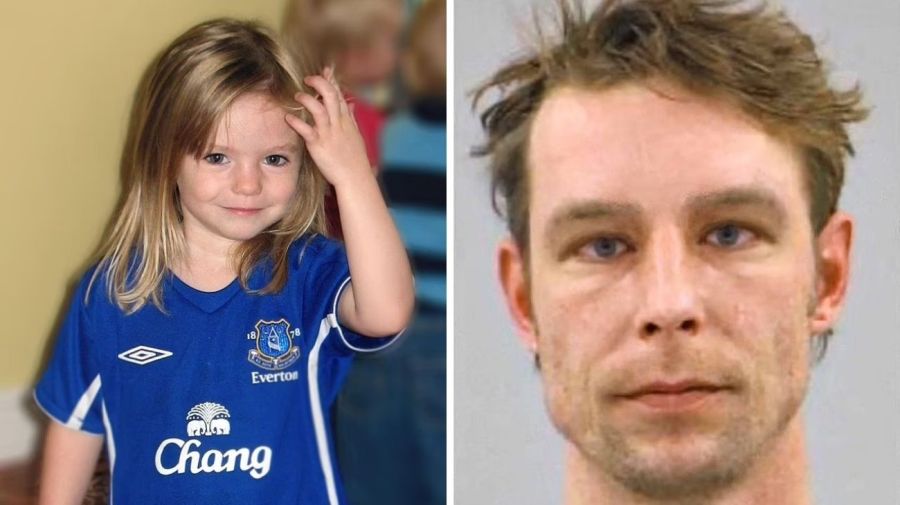 "It is against human rights to be isolated for so long and in this way. Even Goebbels and his war crimes friends weren't isolated like I was when awaiting their death sentence in Nuremberg prison," he protested. Adding: "I even have to ask for the weekly marmalade and margarine that other inmates automatically get." .
Last year he had written a text where he raised a similar criticism. In that opportunity, compared the German prosecutor who was investigating him, Hans Christian Wolters, to Adolf Hitler.
MB / ED