Group photo
Today (February 23) at 12:00 noon, Mango TV's self-made couple dialogue reality show "Wife's Romantic Travel" Season 12 (Part 2) will start broadcasting. Bao Lei, Lu Yi, Chen Qiaoen Allen (Zeng Weichang), Liu Yun, Zheng Jun, Miao Miao and Zheng Kai shared their marriage experience——Lu Yi bluntly said that he believed in love because he believed in Bao Lei, and his sweet confession envied others; Chen Qiaoen talked emotionally about how marriage healed childhood scars, "I I'm not afraid anymore, I have a home now." It brought tears to my eyes. In the sixth season of the show, couples embark on a journey together, expressing their unique insights into marriage and family through exchanges and collisions, guiding the public to feel the healing power of love and marriage, and looking for the code of a happy life together.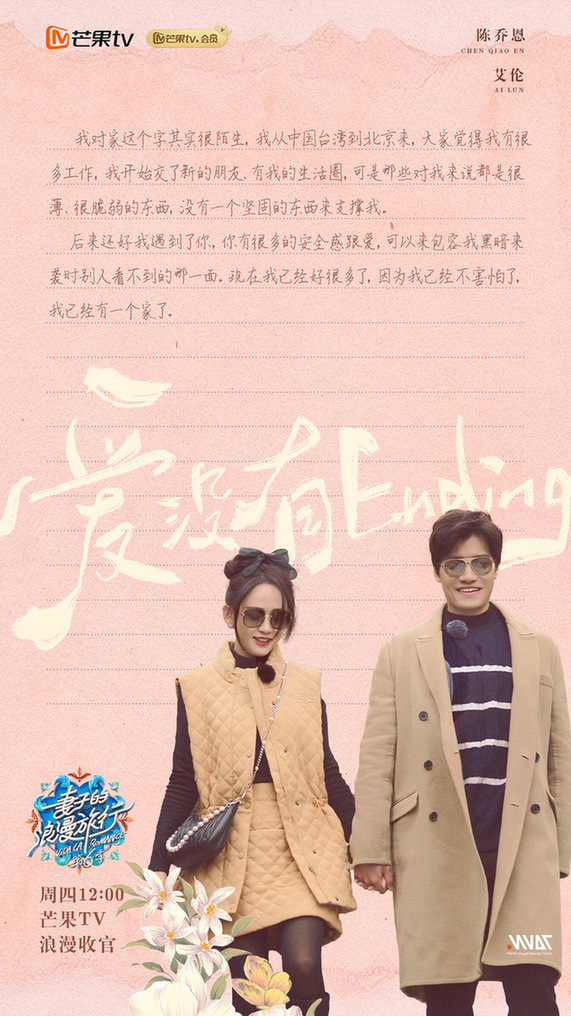 Joe Chen Allen
  Lu Yi said that to believe in love is to believe in Bao Lei and Joe Chen recalls the healing power of marriage
When asked if there was a moment when he did not believe in love, Lu Yi replied without hesitation: "I have always believed in love, because I believe in Bao Lei." Bao Lei also recalled that when she graduated from university, Lu Yi said to herself with fewer employment options, "Where are you going?" "I'll go wherever I want" in the past, and sweetly expressed "I believe in love at that moment". Zheng Jun also said warmly, "To a certain extent, Liu Yun is a mirror of mine, showing many of my shortcomings." The unique metaphor made everyone else agree. When talking about the healing power of marriage, Chen Qiaoen bluntly said that he used to be a person who was "unfamiliar with the word home", "how soft your heart is, you have to be as hard as your shell".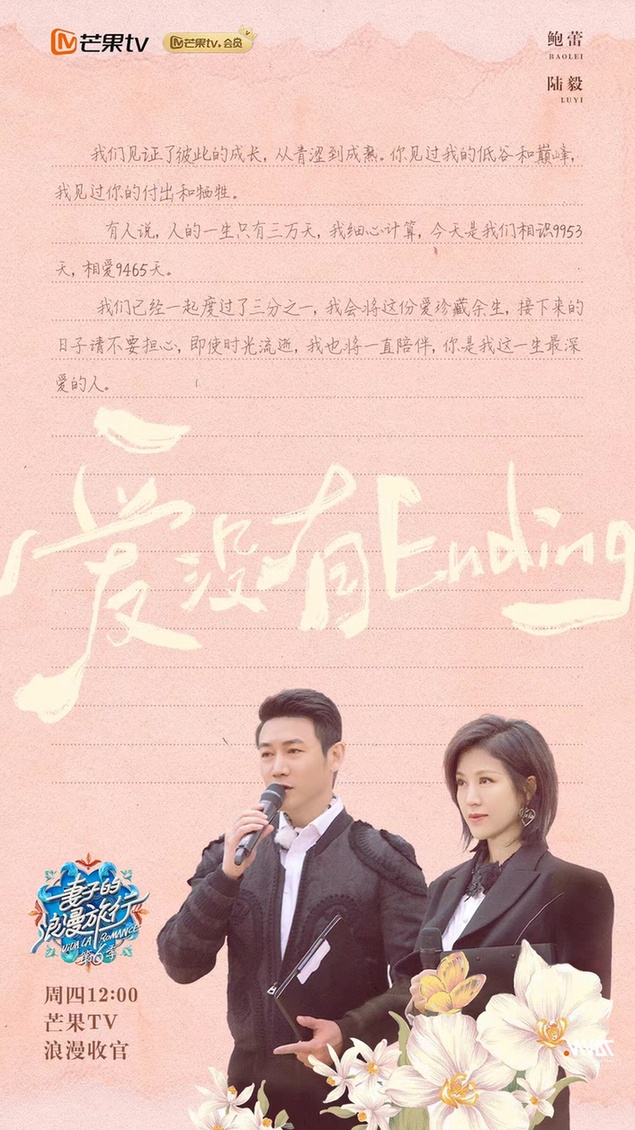 Lu Yi Bao Lei
When talking about the changes after meeting Allen, Chen Qiaoen couldn't help but shed tears and sighed: "I'm not afraid anymore, I have a family." When Miao Miao talked about marriage's healing of childhood experiences, she also felt a lot: " Maybe it's because I lacked love since I was a child, and when I grow up, when I encounter problems, I feel that I don't deserve to be loved." But after meeting Zheng Kai, she also felt that she was very lucky, "It's a little hit." Chen Qiaoen also warmed her heart Hug Miaomiao and tell her "you are worthy of being loved".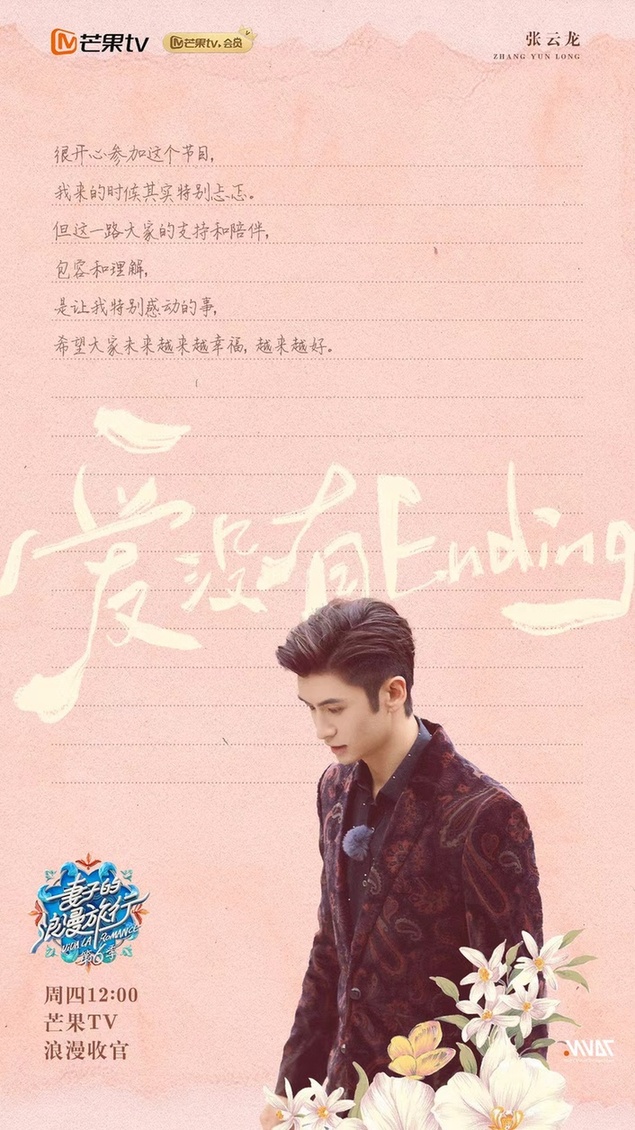 Zhang Yunlong
Four groups of couples explain the connotation of "romantic" and feel the vitality of marriage and love in the expression
As the guests of the show said: "Romance is a lifelong thing." The four groups of couples not only showed the sincerity and enthusiasm of loving each other, the sincerity and courage of sharing, but also showed decades of loving and staying together, understanding and tolerance. Romance provides annotations in four different styles. Whether it's Lu Yi and Bao Lei's consistent love and staying together, Chen Qiaoen and Allen's warm company; or Liu Yun's mutual change with Zheng Jun, and Zheng Kai and Miaomiao's gradual fit, all allow different audiences to find their own in their unique way of getting along. Happiness Tips.
Zheng Jun Liu Yun
Up to the sixth season, "Wife's Romantic Travel" has updated the program mode, deepening the communication between husband and wife through the way of couples traveling together, guiding more common and more resonant emotional social issues in dialogue and collision, and arousing public resonance; it has always focused on The main topic of marriage and family, while leading the audience to travel together the great rivers and mountains of China, by showing a variety of couples get along with each other, discuss with the audience the importance of understanding and expression in marriage and family, and find the true meaning of happiness together.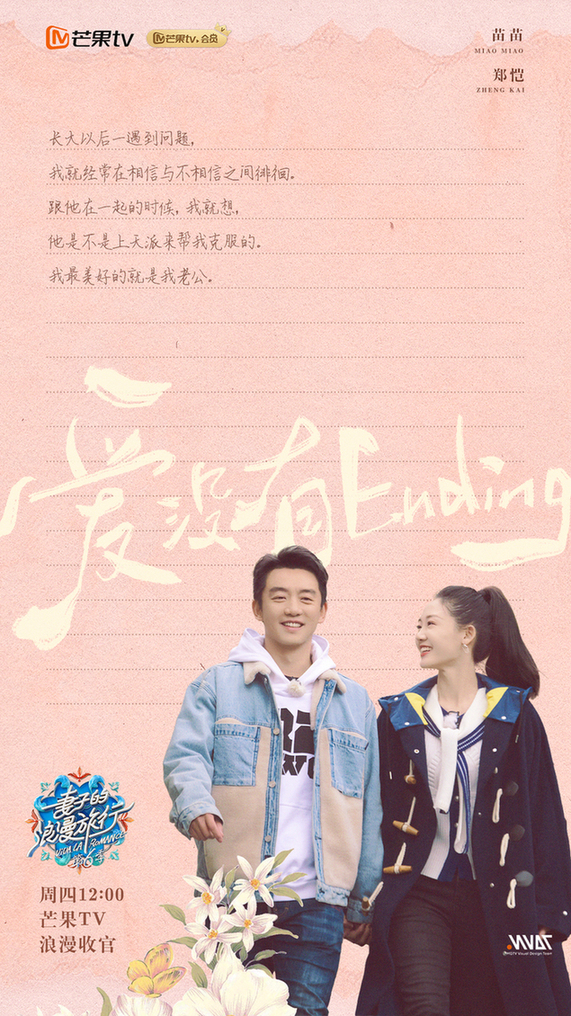 Zheng Kai Miaomiao
[
责编:张晓荣 ]