Zhao Xiaoqiao's postpartum family photo
Sohu Entertainment News According to Taiwan media reports, 42-year-old Zhao Xiaoqiao has successfully given birth to a daughter. It is understood that Zhao Xiaoqiao originally planned to deliver the daughter by caesarean section. Her due date was July 20, but it suddenly turned red at around 8 pm on the 4th. The doctor judged that she would give birth in advance, and she had entered the hospital for a caesarean section. Her husband Liu Liangzuo accompanied her throughout the whole process. On July 5, Zhao Xiaoqiao's agent announced that Zhao Xiaoqiao had successfully given birth to a daughter.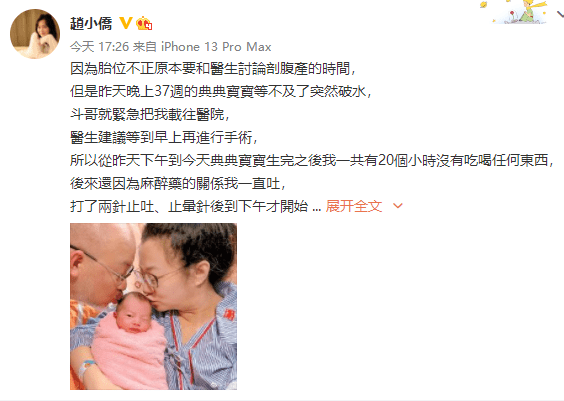 On the same day, Zhao Xiaoqiao posted a family photo after giving birth on the social platform, and sent a long article to describe the whole process of production: "Because the fetal position was not right, I had to discuss the time of caesarean section with the doctor, but last night, the 37-week Diandian baby couldn't wait for the sudden water break. My brother took me to the hospital urgently. The doctor suggested to wait until the morning before surgery. So from yesterday afternoon to today, after the baby was born, I didn't eat or drink anything for 20 hours. Later, I kept vomiting because of the anesthetic. , after two injections of antiemetic and antidizziness injections, it began to slowly relieve in the afternoon. In addition, due to the water breaking and contractions yesterday, brother Dou and I could not sleep for two hours, so now I am relatively weak and must rest. Please everyone Don't worry. During the caesarean section under half anesthesia in the morning, I was so nervous that I forgot to be afraid. I just thought that baby Dian Dian would be born safely and healthy. When I heard baby Dian Dian cry, I immediately cried a lot. He said that he didn't cry when he saw Baby Diandian, but he cried in front of the elevator door when he went to the hospital. He said that all this was really difficult. In the past two and a half years, I started to retrieve 96 eggs, until It was the fourth time that I finally succeeded in giving birth to baby Diandian, and I am very happy that I finally did it!"
She also revealed: "Although Baby Dian Dian was delivered by caesarean section at 37 weeks, it still weighs 2,800 grams and is very healthy. In addition to thanking everyone for your blessings, I have finally put down the big stone in my heart, and I will move on to another path of hard work. Please continue to give us your blessings for a happy life. Our whole family thinks that baby Diandian is more like Liu Ziquan (Liu Liang and his ex-wife and son), with big eyes, big ears, a pouting mouth, a short chin, a wide The nose is almost the same as Ziquan when he was a child, so next time, we must turn over the photos of Ziquan when he was born and compare."Return to Sohu, see more
Editor:
Disclaimer: The opinions of this article only represent the author himself, Sohu is an information publishing platform, and Sohu only provides information storage space services.