Status: 22.03.2023 2:19 p.m
Cream cheese is very versatile and, unlike other cheeses, does not need to mature. It's also easy to make yourself. Tips and recipes for cheesecake, dips and hearty oven dishes.
Whether cottage cheese or ricotta, mascarpone or layered cheese, quark or skyr: they all belong to the large group of cream cheese products and are made from milk. Unlike other types of cheese, cream cheese does not have to be matured. It is ready to eat immediately after production.
For production, lactic acid bacteria and sometimes rennet, an enzyme from the stomach of calves, are added to the milk – with some products also cream. Cream cheese has the highest water content of all cheeses and does not keep for very long. Refrigerated, it stays fresh for about a week.
Varieties differ in fat content
Cream cheese with herbs and spices tastes particularly good with bread or vegetable sticks.
The different types of cream cheese differ mainly in their consistency, which in turn depends on the fat content. This is often given in relation to the dry matter. It shows how much fat is in the cheese if all the water is removed from the product. The creamiest and at the same time the highest fat content is double cream cheese (at least 60 percent fat in the dry matter, about 34 percent absolute), the lowest-fat is the granular cottage cheese with about 20 percent fat in the dry matter (a good 4 percent absolute).
A special feature is layered cheese, which traditionally consists of layers with different fat content, with the outer layers containing less fat and therefore being slightly lighter.
Cream cheese: Ideal for cold and warm dishes
Cream cheese is very versatile in the kitchen and a popular ingredient for both sweet and savory dishes. It is suitable for dips and creams, for example. Stir with a little milk or cream until smooth and refine with salt, pepper, lemon juice and herbs or seeds, chopped nuts and finely chopped radishes, cucumber or other vegetables. If you like it fruity, you can stir in chopped apple or mango and season with curry.
Hearty dishes with cream cheese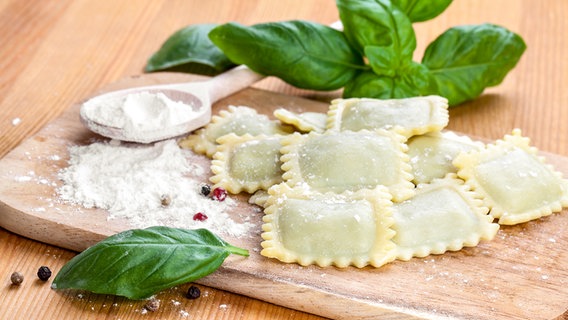 The Italian cream cheese ricotta is ideal for filling ravioli.
Cream cheese is also very suitable for refining sauces or casseroles. Mix the cream cheese with eggs and breadcrumbs, if you like, and season to taste. Fill the oven dish, such as pasta or vegetables, into an ovenproof dish and pour the egg and cream cheese mixture over it. If you like, you can also sprinkle grated semi-hard cheese, such as Gouda or Edam, on top. The Italian cream cheese variety ricotta in particular is ideal for filling pasta, such as ravioli, for example in combination with spinach. Cottage cheese, on the other hand, also tastes great on its own with a salad or boiled vegetables. It is particularly delicious with cooked beetroot and fresh chives.
Cakes, toppings and desserts with cream cheese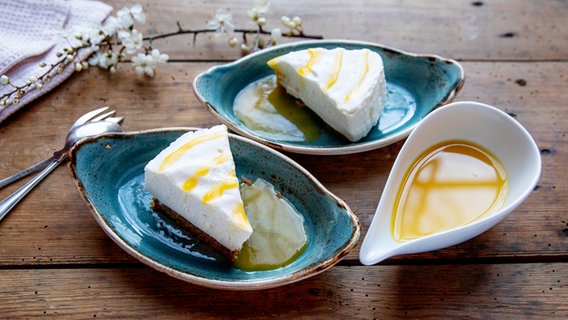 Popular dessert specialty from the USA: New York Cheesecake.
Cream cheese is also very popular for making cakes and desserts. The classic tiramisu is traditionally prepared with the Italian double cream cheese mascarpone, and New York cheesecake is also baked with double cream cheese. Cakes, cupcakes and muffins are often topped or frosted with cream cheese. Quark is indispensable for classic cheesecake, strudel and fruity desserts. It can also be substituted with layered cheese.
Make your own cream cheese
Cream cheese is also quick and easy to make yourself. To do this, heat fresh whole milk in a saucepan and stir in lemon juice (about 2 tablespoons of lemon juice for 1 liter of milk). When the milk begins to flocculate, remove from the heat and pour through a sieve lined with a cotton cloth. Drain and use as you like or refrigerate.