Hong Kong Computer and Communication Festival 2021 (referred to as "Computer Festival") officially started today, and one of the products that people pay most attention to every year, I believe it should be the SD card. However, as in the past, the Computer Festival has not started, even if we have been to the media for a guided tour of the day, the price may not be affected, because usually there will be a price on the same day. Today, as a new machine of the ASUS ROG Phone 5s series was released at the computer festival venue, we took the opportunity to do another round, and let us take a look at the photos about SD Card. What is the price of SD cards this year? Make an offer to everyone now!
However, compared with the microSD cards on the field today, it seems that they are not all good enough. What's the point? Because I have compared some of the prices in the market with the prices of a certain price grid, some of them are really far from each other, it seems that they are all prices that are not much different. For example, the Kingston Canvas Go! Plus A2 V30 MicroSD memory card 128GB, the retail price reported by the grid is around $149-$175, while the on-site selling price is $169. But if you look at 256GB, the online retail price is $289-$299, and the computer section price is sold at $269, which seems to be slightly lower than the retail price.
Looking at SanDisk again, Extreme Pro SD UHS-II (R:300 W:260) 32GB comes out and sells for around $349-$398, but the on-site price is $409. It seems that all products have not been flat. Come forward! Isn't the Computer Festival changing into a bulk cargo yard? What about Zhong Gui?
What about KIOXIA (formerly Toshiba)? Draw Exceria Plus and see that the 256GB computer festival will sell for $500, and the small shop will sell for $560, which is pretty good.
However, according to the past experience of moderators going to the Computer Festival, in fact, there are many times to go to Sunday, the price of the SD card may be slightly lowered, so if you go first on Sunday, there may be a chance that it will be somewhat less.
Finally, let's take a look at today's scene:
Kingston
SanDisk
Verbatim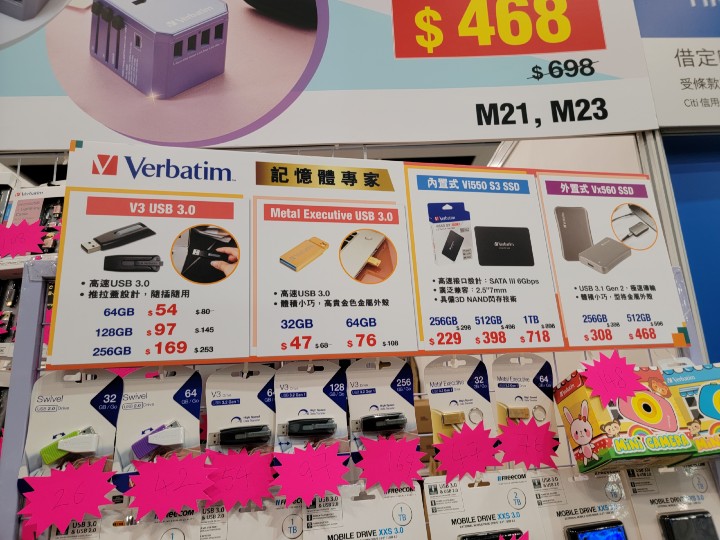 KIOXIA
WD
.