Status: 03/31/2023 10:11 am
Whether for preparing sauces such as hollandaise and beurre blanc or for cakes and cookies: butter gives both savory and sweet dishes a special aroma. Tips for cooking and baking with butter.
Butter is far more than just a popular spread. When baking, it gives cakes and biscuits their popular buttery taste, when cooking, it refines puree and risotto. Vegetables, fish and meat also taste particularly good when they are prepared in a pan with butter. It is important to ensure that the pan does not get too hot, because butter starts to smoke and turns black at around 175 degrees. Butter is therefore not suitable for searing.
A little melted butter can replace elaborately prepared sauces. A classic are potatoes with butter, salt and fresh herbs.
Mildly acidified butter is mainly available in stores, but sweet and sour cream butter can also be found in well-stocked supermarkets. All three varieties are suitable for cooking and baking, but sour cream butter goes particularly well with hearty game dishes, goulash or soups. Sweet cream butter is ideal for sauces because it doesn't flocculate as quickly.
make nut butter
Nut butter (also browned butter or Beurre noisette) can be made in just a few simple steps, with which countless savory dishes can be refined. To do this, melt the butter in a saucepan over medium heat and simmer until the whey has evaporated and the butter has turned light brown and begins to smell nutty. Pour the melted butter through a fine sieve lined with kitchen paper. Salt to taste. The fine, slightly nutty aroma goes well with salmon or trout, but also with fine vegetables such as asparagus, Brussels sprouts or broccoli.
Butter: Ideal for sauces
Butter has a firm place, especially in sauces. Cold butter is good for thickening sauces. The so-called assembling process, in which pieces of butter are vigorously stirred in, makes sauces particularly creamy, gives them a typically buttery taste and gives them a nice shine. To do this, the butter should be cut into small cubes and very cold.
Beurre blanc and sauce hollandaise: classic sauces with butter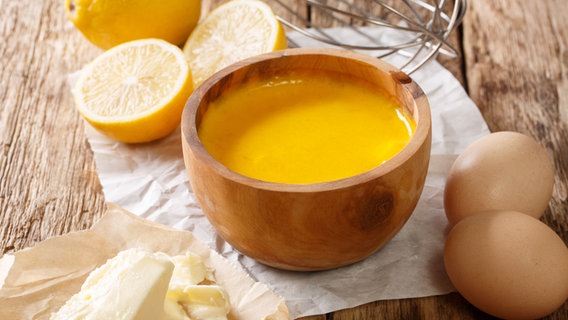 In addition to lots of butter, egg yolk is indispensable for making a hollandaise sauce. A dash of lemon rounds it all off.
Beurre blanc ("white butter") plays an important role in French cuisine. This fine sauce goes well with fish and poultry dishes. To prepare it, boil the shallots with white wine and chicken stock in a saucepan and then stir in the cream and cold butter. Another classic is hollandaise sauce. To do this, beat the egg yolk and a vinegar-spice brew in a water bath and slowly stir in the melted butter. Flavor with lemon juice. A variation is Sauce bérnaise, which is additionally refined with tarragon and chervil.
Baking with butter: when cold, when warm?
Cakes and pastries also gain flavor from dough with butter. Sweet cream butter is particularly good for baking tarts, biscuits and cakes. It tastes very mild and is slightly creamy.
While the butter for shortcrust pastry should be as chilled as possible so that the dough is firm and not too sticky, butter that is at room temperature or even liquid is ideal when preparing batter. It combines particularly well with the sugar and eggs, resulting in a smooth dough without lumps. If the recipe calls for creaming the butter, it is best to have it soft or even runny beforehand.
Buttercream for cakes and frostings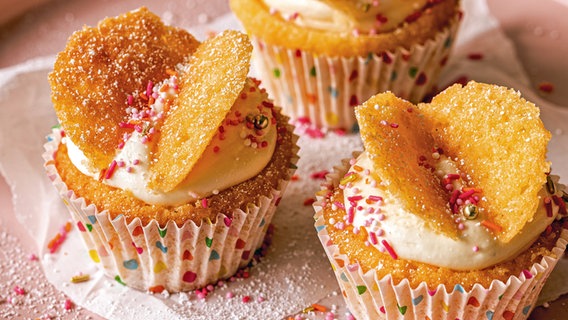 Cupcake frostings are often made with butter and sugar.
Whether for a buttercream cake or a cupcake frosting: butter is also often used to decorate baked goods. A classic buttercream consists of whipped butter, sugar and egg or – depending on the recipe – vanilla pudding. The cream can be refined with liqueur, coffee or lemon as desired. In order for the ingredients to combine well, they should all be at room temperature.
make your own butter
You can also easily make butter yourself from cream. To do this, whip the chilled cream (at least 30% fat) with a mixer until butter flakes and buttermilk form. Alternatively, you can fill the cream into a screw-top jar and shake for several minutes until the buttermilk comes out. Then pour everything through a sieve and use the buttermilk separately. Knead the butter into a lump and squeeze it vigorously in a clean kitchen towel. Shape into a roll using parchment paper, if you like, to later cut into manageable slices.
store butter
Always keep butter refrigerated. Store-bought butter keeps unopened in the fridge for several weeks, and about two weeks after opening. Homemade butter will keep for about a week. Butter also freezes well, preferably in its original or airtight packaging. So it can be kept for several months.