Suspected rendering of Galaxy S22. (Image source/extracted from [email protected])
If nothing happens, Samsung's flagship mobile phone Galaxy S22 in 2022 will be divided into two versions, Samsung's self-developed Exynos 2200 processor and Qualcomm Snapdragon 8 Gen 1 processor, according to the country of listing. Today (12/ 12) According to a report by the foreign media "Gadgets360", the top-tier Galaxy S22 Ultra Qualcomm version finally has its running scores exposed.
According to reports, the Qualcomm version of the Galaxy S22 Ultra will be divided into two models, SM-S908N and SM-S908U. The former is the Korean version and the latter is the US version. According to the data from the "GeekBench" running sub-library, the Galaxy S22 Ultra will run on the Android 12 system with a memory capacity of 8GB and 10GB.
Please continue reading…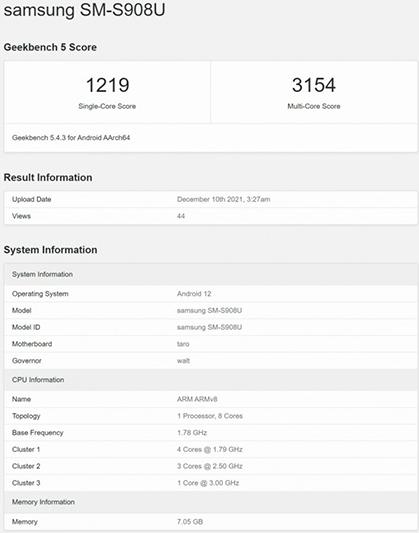 (Image source/extracted from Geekbench)
Compared with the previously exposed Exynos 2200 version running scores, the Qualcomm version of the Galaxy S22 Ultra has a higher single-core score and scored 1,219 points in the "GeekBench" test. As a control, the single core score of the Exynos 2200 version is 691 points.
However, in the multi-core performance, the results of the two versions are not too different. Qualcomm Snapdragon 8 Gen 1 scored 3,154 points in the multi-core test, while Exynos 2200 scored 3,167 points.
In short, no matter whether the Qualcomm version or the Exynos version, there should not be too many differences in daily experience, but considering that the Exynos version has built-in AMD (Supermicro) RDNA display technology, the performance in multimedia and games may be better than the Qualcomm version. Stronger.
Samsung Galaxy S22 Ultra is rumored to be unveiled at the Galaxy Unpacked event on February 8, 2022, accept pre-orders, and then begin shipping on February 18.
[You may also want to watch]
Intel, AMD dual platform!Samsung is rumored to launch two Galaxy Book 2 Pro laptops
No need to draw, no need to grab the news now, use the app to watch the news and ensure that you win every day. I download the app and follow me to see the activity method
.