In the past few years, ROG has won the love of countless fans with its excellent design and free RGB lighting effects, and even installed LED bulbs on the Delta S Animate, so when I received the XF with a rather conservative design The ROG Delta S Wireless, which immediately makes people want to open it up and see what medicine is being sold in this gourd.
Accustomed to the ROG's unabashed visuals, the Delta S Wireless may seem unpleasant at first glance by comparison. The lightweight Delta S Wireless features 2.4 GHz and Bluetooth connectivity, 50 mm ASUS Essence drivers, AI beamforming microphones with AI noise reduction, and is compatible with PC, Mac, Nintendo Switch, Sony PlayStation®.
Specification
Earmuff material: leather, flannel
Headphone Impedance: 32 Ohm
Headphone frequency response: 20 ~ 20000 Hz
Headphone unit: 50 mm Neodymium magnet
Microphone directivity type: two-way
Microphone frequency response: 100 ~ 10000 Hz
Microphone output sensitivity: -37 dB
Connection interface: 2.4Ghz, BT
Wire length: USB-C charging cable: 1 m
Charging: 3 hours of use in 15 minutes of quick charge, up to 25 hours of total power
(USB-C to USB-A cable is required for fast charging)
Weight: 300 g
Support system: PC, MAC, PS4PlayStation® 5, Nintendo Switch, Android, Bluetooth device
Delta S Wireless understated texture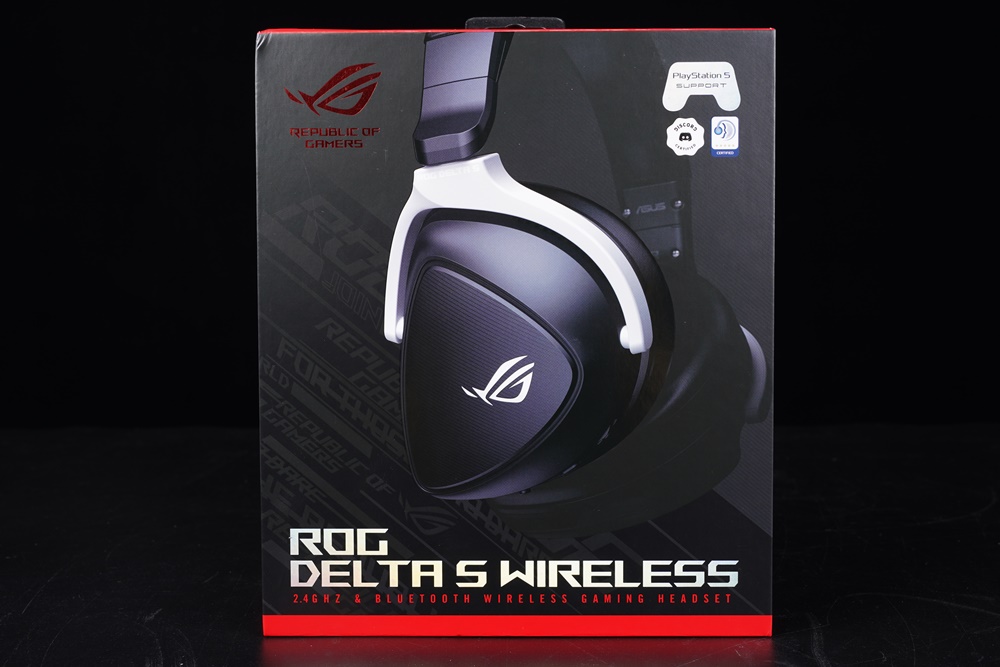 → Delta S Wireless case.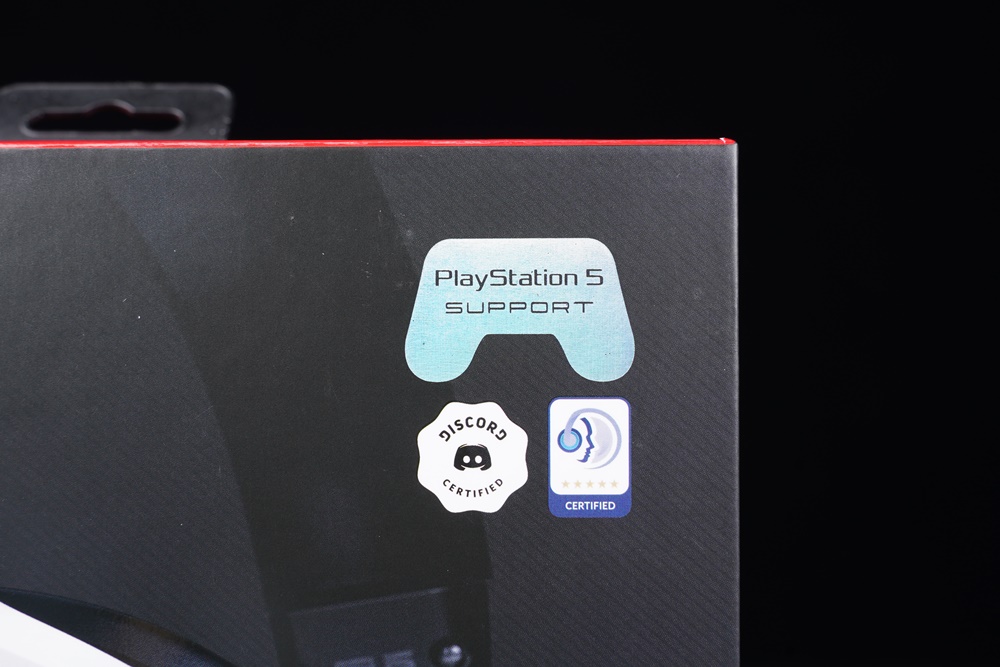 → Approved marks.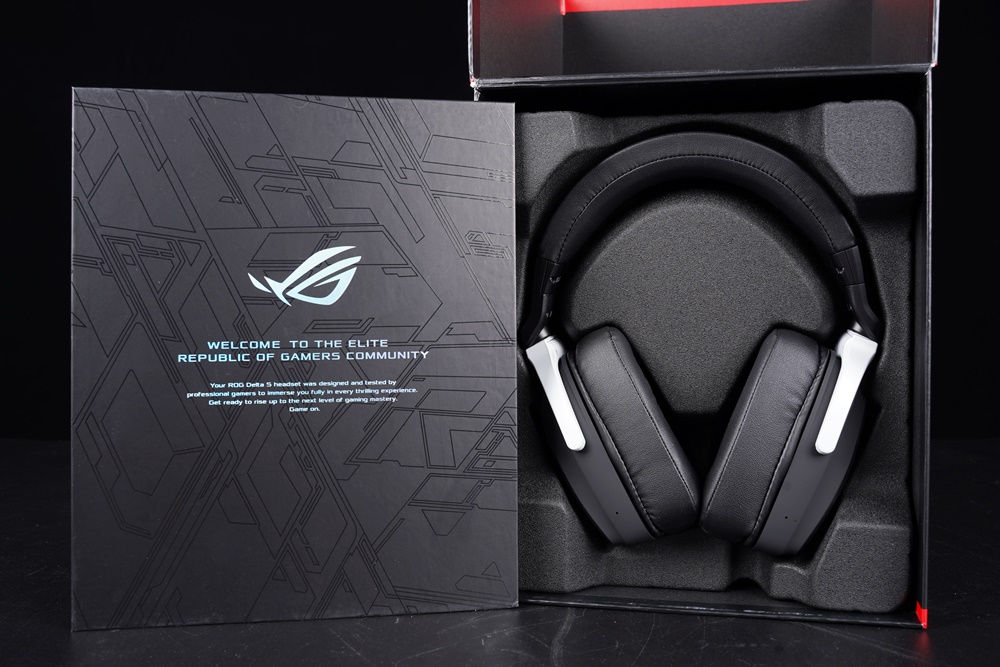 → Well packaged.
The contents of the Delta S Wireless include the headphone body, replacement ear pads, connecting charging cable, receiver adapter and manual. The charging cable itself is a Type-C to A connector, which is suitable for all computer hosts with I/O.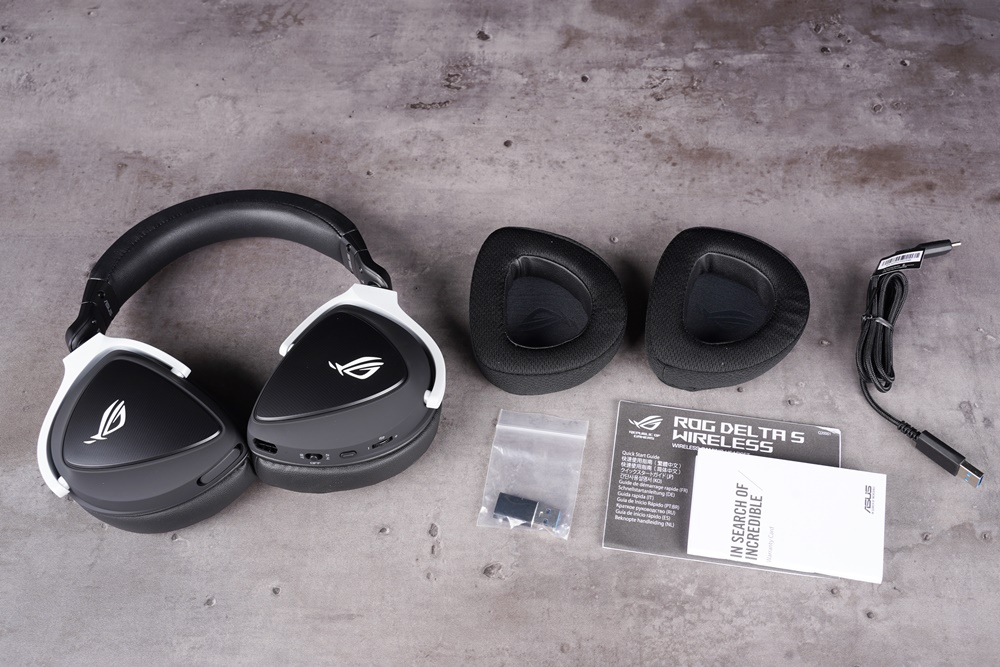 → Contents.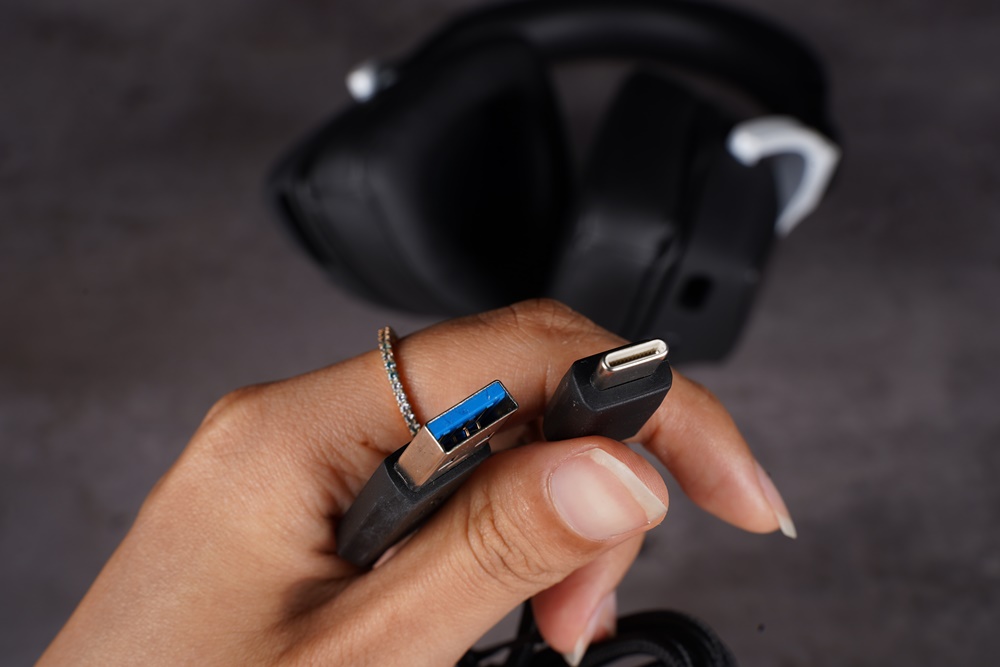 → Connection cable.
The Delta S Wireless weighs only 318 grams, the ear cups and bottom are cast in a thicker matte black material, while the top of the headset is wrapped in faux leather, the top is engraved with the Republic of Gamers logo, and the bottom is soft memory foam pad. The headset also attaches to a metal extension, allowing the Delta S Wireless to fit players with larger heads without sacrificing stability.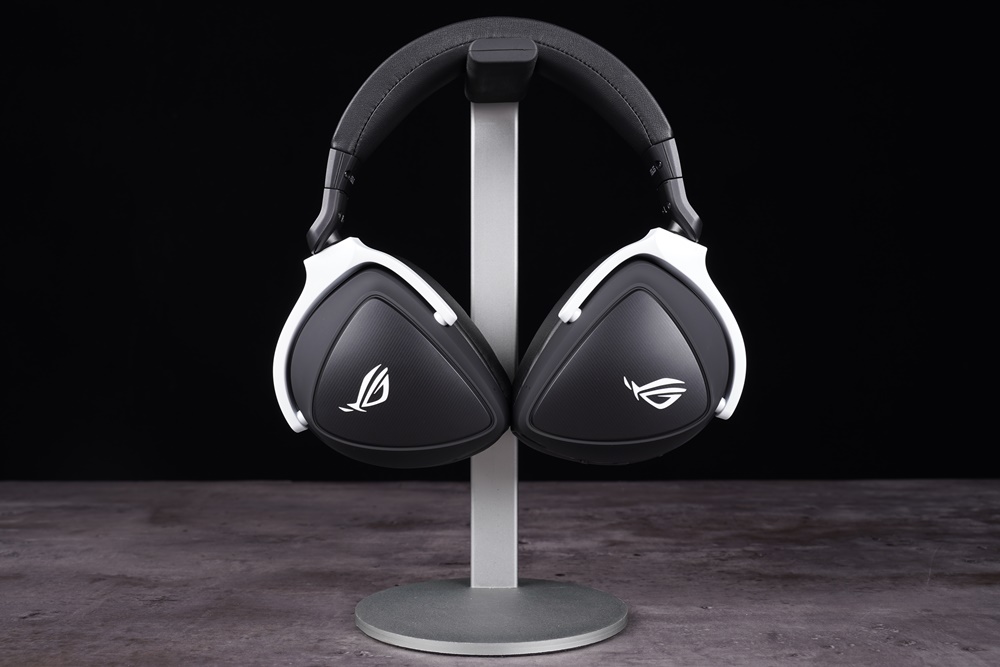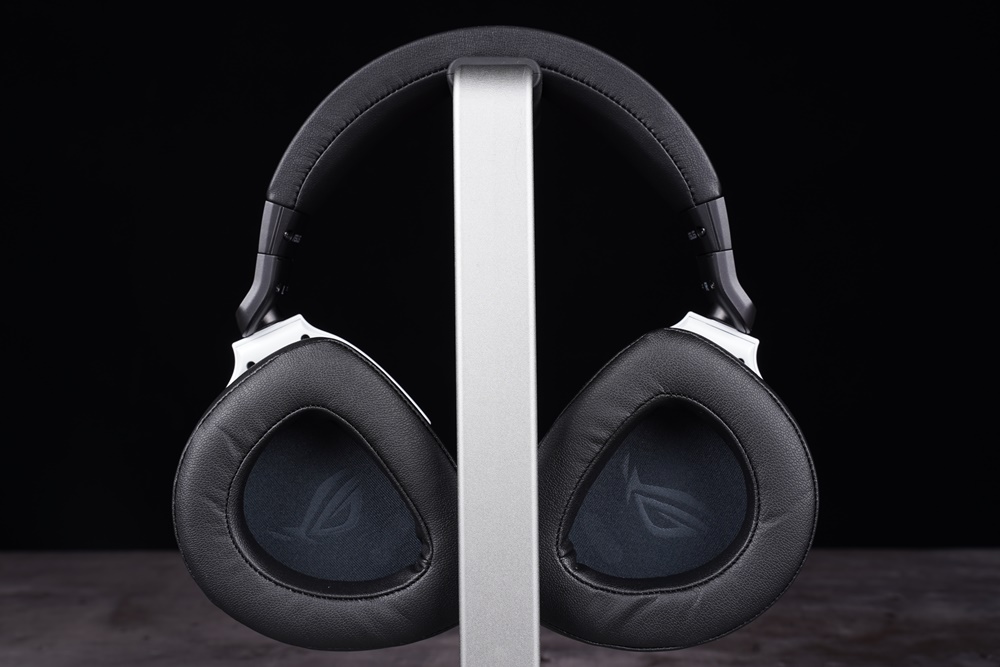 → Delta S Wireless。

→ Connection.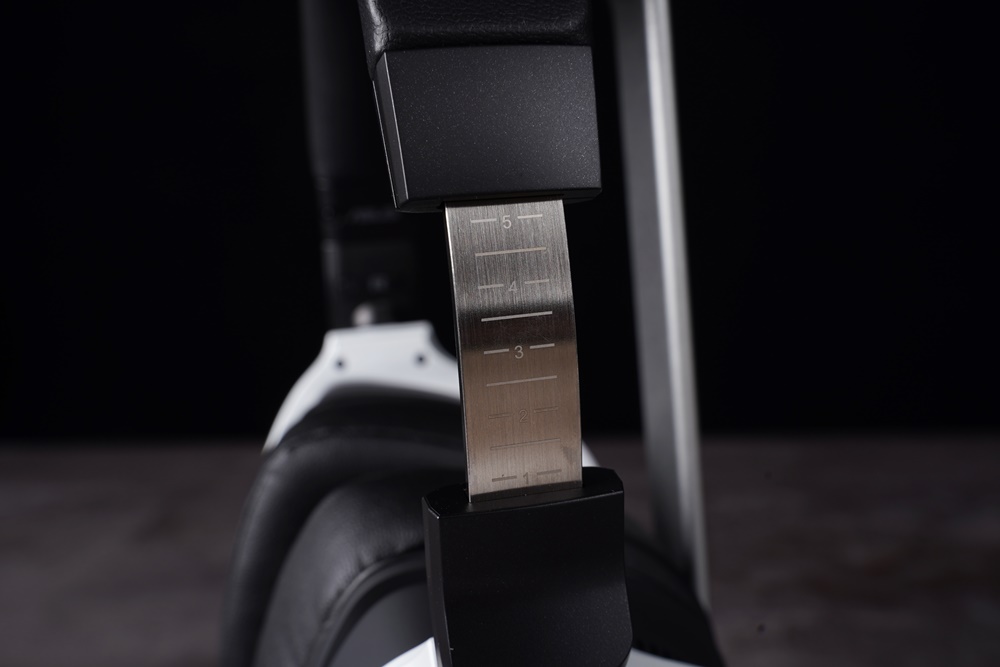 → There are 5 levels of adjustment.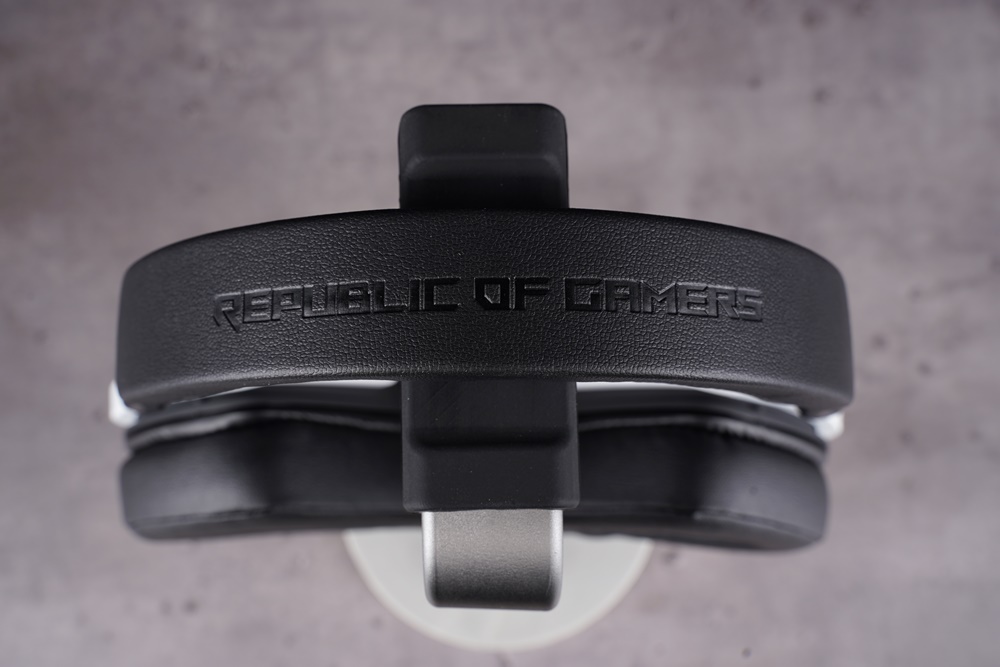 → Player Republic engraving.
That thoughtfulness goes to the earcups themselves, too, with the Delta S Wireless also featuring ROG protein leather earcups. Faux leather, although less breathable, is very comfortable and soft. However, the Delta S Wireless also comes with a second set of ROG Hybrid mesh ear pads for players to replace, providing a more breathable option. Both feel good, but working in an air-conditioned room I stick with the protein leather option for sheer comfort.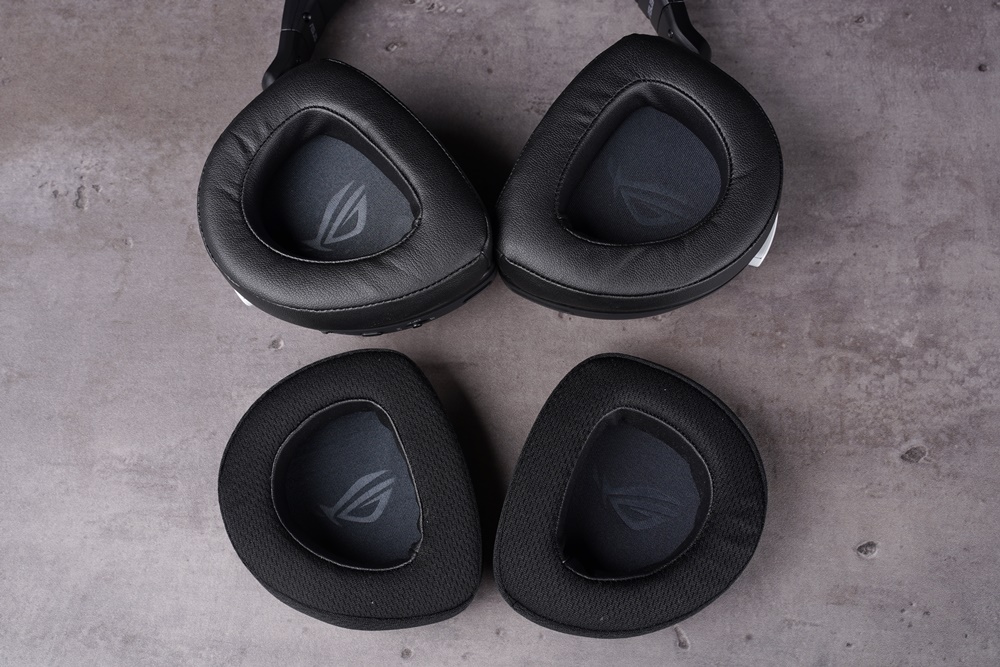 → ROG Protein Leather Earmuffs (top), ROG Hybrid (bottom).
Despite not having the glowing eye of faith, the ROG has also managed to keep the classic design philosophy while "diminishing" the overall look of the Delta S Wireless. However, if you look closely, you can also find some low-key designs, such as the extremely subtle diagonal stripes on the outside of the ear shells. In addition, the ergonomic D-shaped ear cups do bring a certain sense of aggression to the headphones.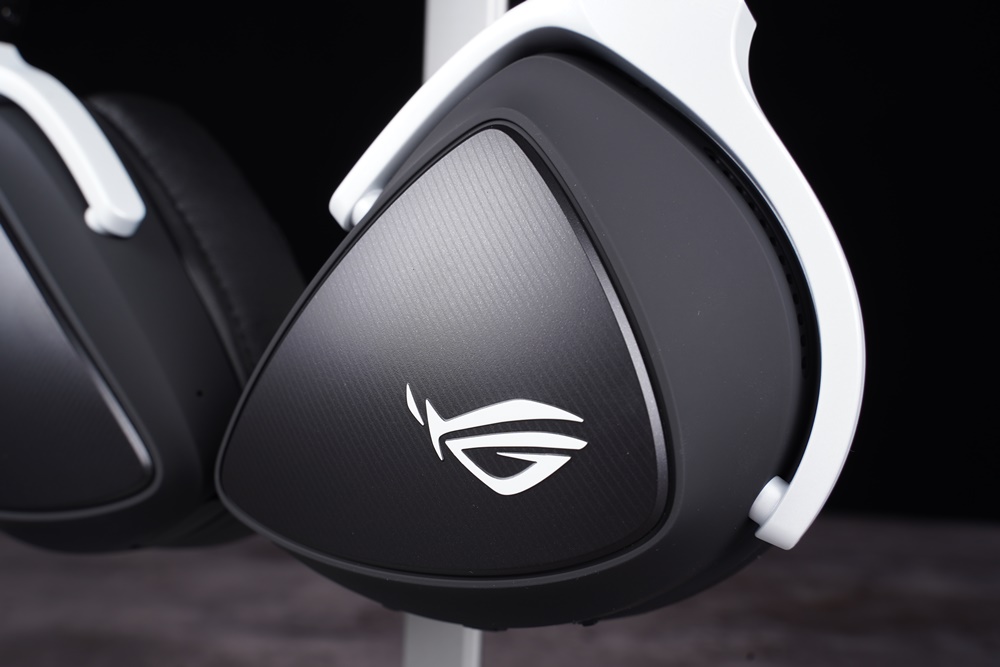 → Oblique stripes can be seen up close.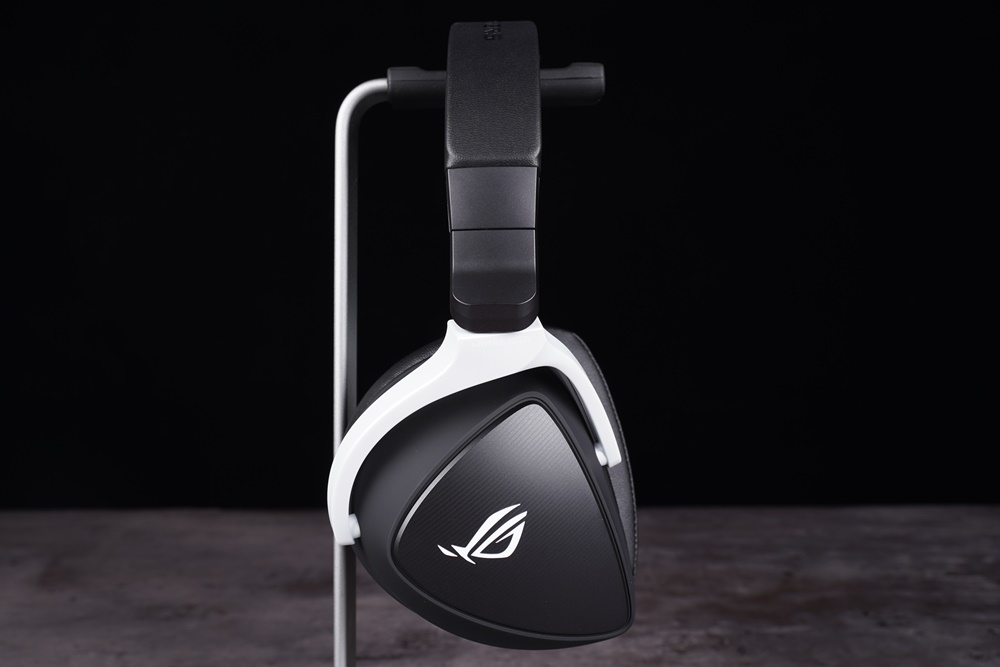 → D-shaped ear cups.
It is worth noting that the 2.4 GHz receiver is magnetically absorbed in the lower right part of the headset, which saves players the trouble of storing the receiver and will not be afraid of missing the receiver. That's because the receiver is 2.4 GHz USB-C, so the headset also has a Type-A adapter for players to use.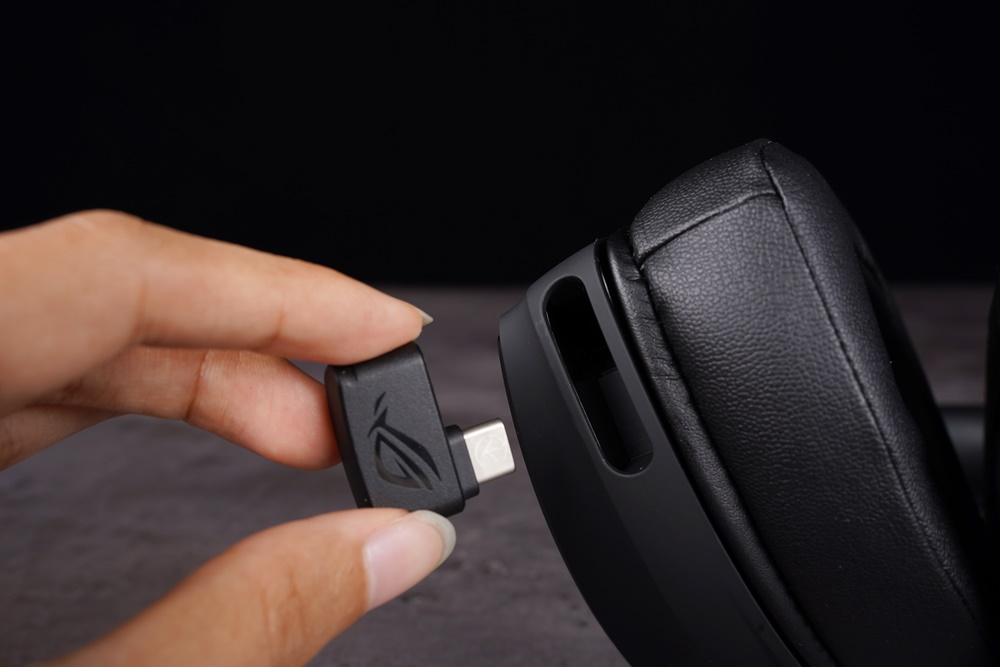 → Magnetic absorption of nanometers.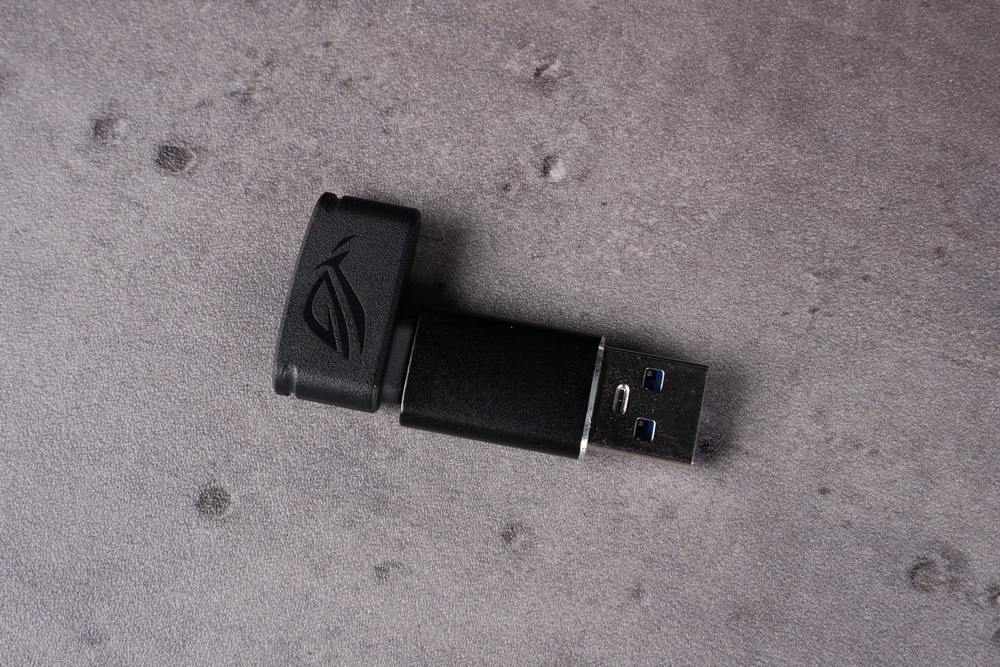 → Plug in the adapter for general computers.
Tilt 50 mm ASUS Essence driver, AI beamforming microphone
The Delta S Wireless features an exclusive 50 mm ASUS Essence driver with an airtight cavity for a balanced sound range. ROG also cleverly tilts the drivers by 12° in design, directing music directly below the ear canal rather than perpendicular to the player's head, delivering sound more efficiently. At the same time, it is also equipped with Hyper-Grounding technology, using multi-layer PCB and special circuit design to block electromagnetic interference, presenting pure, noise-free perfect sound quality.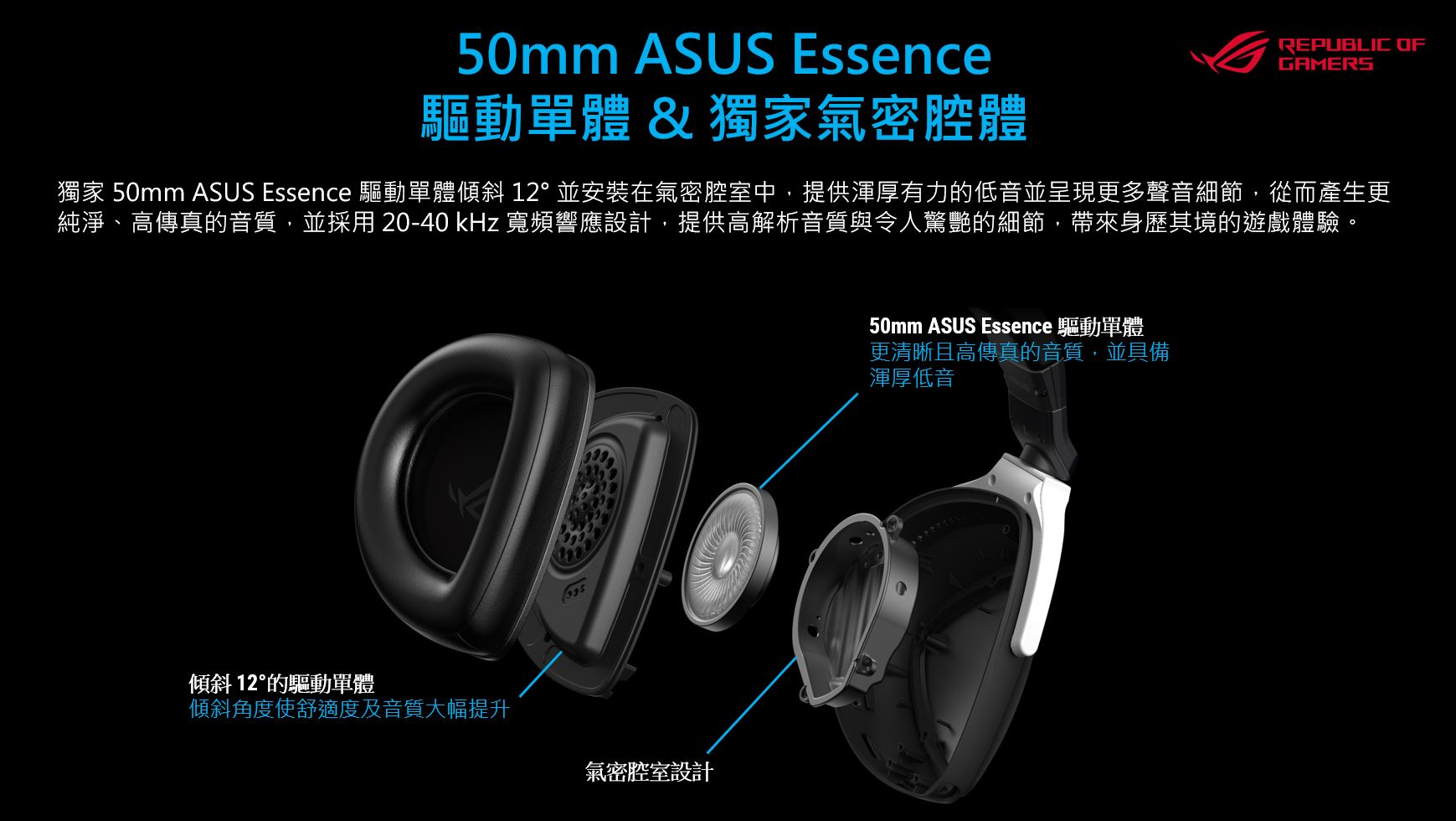 → Cutaway view.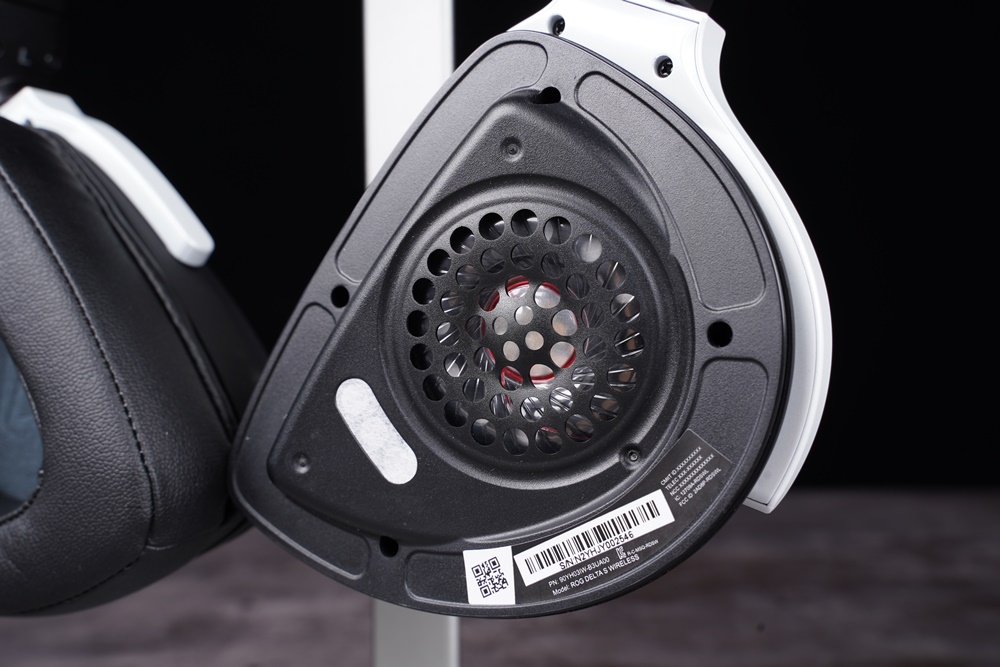 → Tilt 12° 50 mm ASUS Essence driver unit.
Delta S Wireless is equipped with a beamforming microphone that integrates AI noise reduction technology. The official label can reduce more than 500 million types of background noise by up to 95%, including surrounding conversations, keyboard clicks, mouse clicks, etc., but the actual test , although the noise has been reduced, if people talk loudly they will still hear conversations, keystrokes and mouse clicks from around them. Although this situation can be alleviated to a certain extent through various algorithms provided by VoIP programs such as Teamspeak and Discord, AI noise reduction technology cannot work well in places like Internet cafes.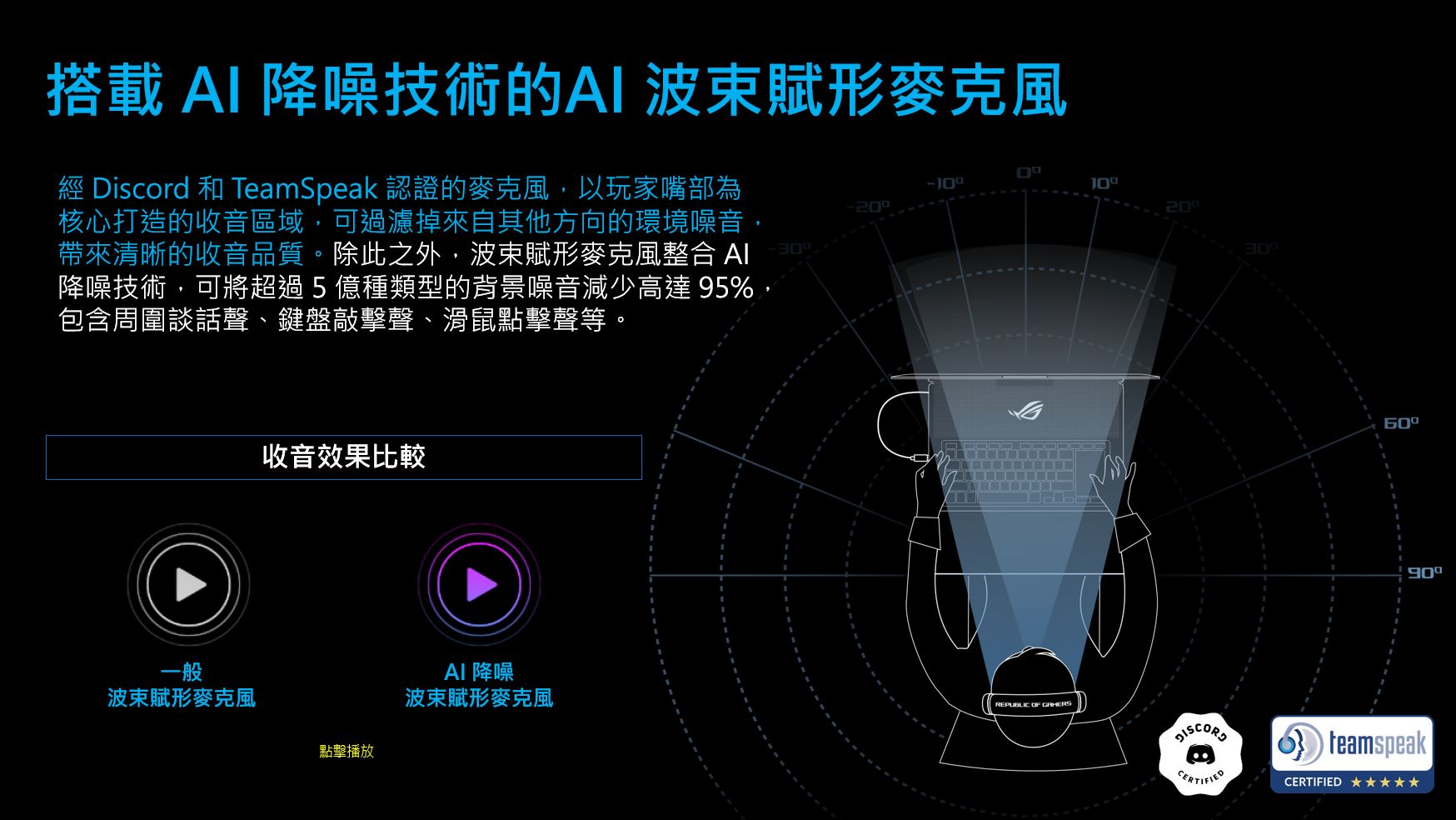 → AI beamforming microphone technology.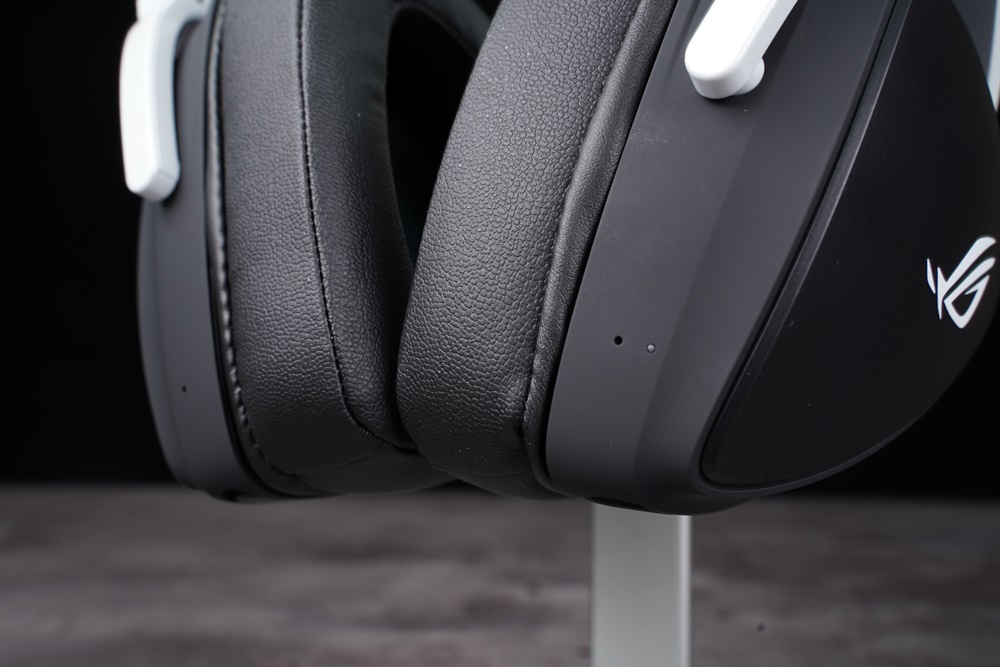 → Hidden beamforming microphone.
Intuitive interface, multi-platform compatibility
All the interfaces of Delta S Wireless are on the left ear cup, the top is the volume knob and mute button; the middle button is one click: play and pause, two clicks: next track, three clicks: previous track The track, and finally the Bluetooth mode, press and hold for 7 seconds to pair the device.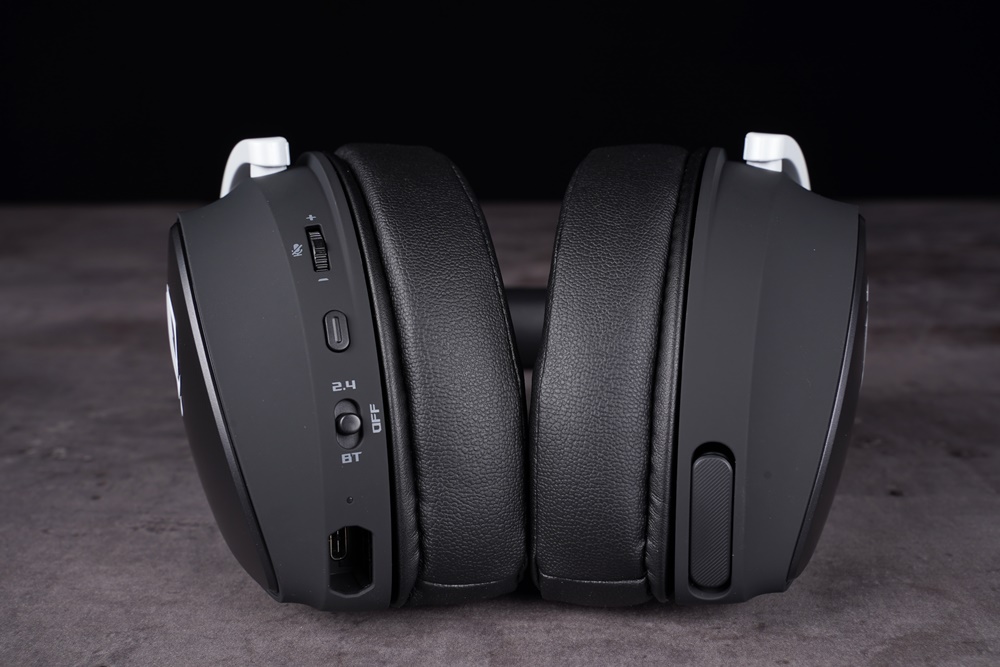 → I/O (left), receiver (right).
Delta S Wireless is multi-platform compatible and supports PC, Mac, Nintendo Switch™ and mobile devices via Bluetooth; the 2.4 GHz wireless mode connects to PlayStation® 4 or 5 and various platforms above. Also included is a USB-C® to USB-A adapter for connecting to PlayStation® 4, 5 and Nintendo Switch™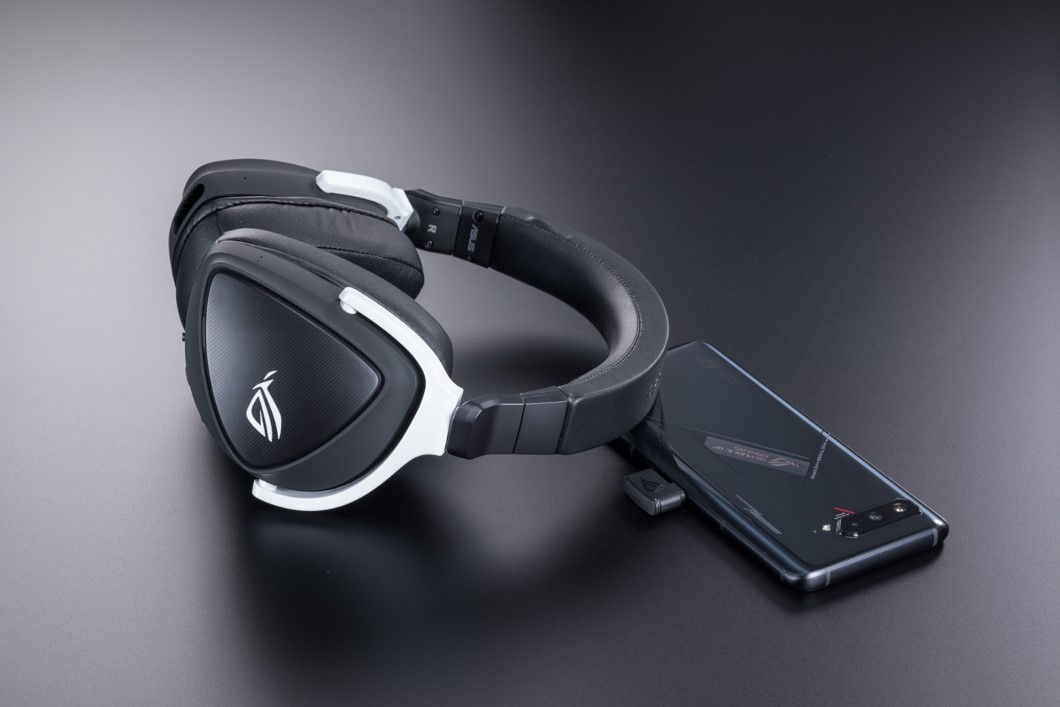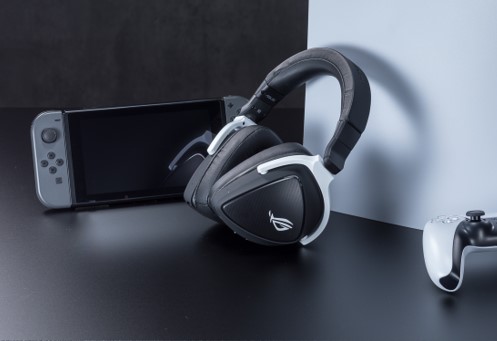 → Schematic.
Summarize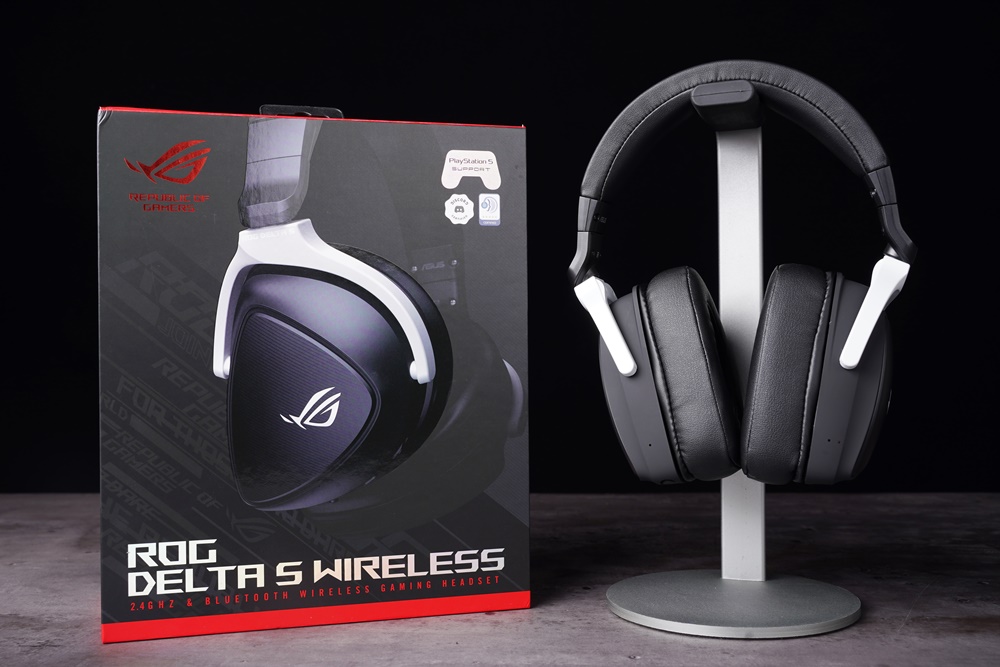 The ROG Delta S Wireless gaming headset brings players good comfort, excellent sound quality, and an uncharacteristically light-noise-free design. I'm very happy that a major manufacturer is finally willing to design a high-end headset without RGB. Among them, the customizable equalizer and 50 mm ASUS Essence driver unit also gave me a very immersive gaming experience, and the extra ear pads are also Buddha-heart products that other companies have overlooked. The overall light weight, wireless performance and Dual-mode connections are very convenient.
Overall, Delta S Wireless is a good choice in all aspects. Its excellent radio also brings a better experience for users who use it when going out. Delta S Wireless fast charging only takes 15 minutes and can be used for 3 hours. It is also very convenient to use. However, if the player is playing a game that requires clear communication, it is not suitable for use in a noisy place, because the beamforming microphone will receive too much background sound, which will affect the player's communication, but at home or in a quieter place Use, the radio is clearer than the general microphone.
*Delta S Wireless is priced at NT $ 6490