Status: 05/12/2023 2:45 p.m
Whether as Bismarck herring, rollmops or matjes: herring is mainly eaten fried or pickled. But the stocks of the popular edible fish have fallen sharply in recent years.
Herring is one of the most important fish for fishing in the North and Baltic Seas. It is very healthy because it is an excellent source of omega-3 fatty acids, which are important for human metabolism. Due to the relatively high fat content, it is advisable to eat herring as quickly as possible or to preserve it. Herring should not be eaten raw unless it has been frozen first. Otherwise there is a risk of becoming infected with the larvae of the herring worm, which can trigger a worm disease.
Prepare fried herring and Bismarck herring
A popular and delicious dish is fried herring with crispy fried potatoes.
Freshly caught herring, gutted, coated in flour and fried in butter, is a treat. As fried herring, it can then be pickled and preserved for about two weeks. To do this, steep in a broth of onions, vinegar, sugar, peppercorns, mustard seeds and salt. The fillets can be processed into Bismarck herring in a similar way, only without prior frying. Season the broth with other spices such as juniper berries and bay leaves as you like.
Pickled herring tastes great on bread or with fried potatoes. Alternatively, you can use it to make a herring salad with beetroot, for example. Rolled up and topped with onions and capers, pickled herring is known as rollmops.
Matjes: A specialty made from young herring
A specialty that is particularly popular in Northern Germany is herring. These are young herring that have not yet spawned. After catching, only the gills and innards are removed down to the pancreas. Then the fish with salt, skin, head and bones are placed in a wooden barrel for a week to mature. An enzyme from the pancreas, combined with the salt, transforms the herring into herring and gives it its typical taste.
Genuine matjes must not have formed any seeds or eggs. That is why the Matjes season, which begins at the end of May, only lasts about two months. Homemade herring in herring style is not quite original, but still delicious. It can easily be made at home with Matjesreifer – with and without preservatives – from the spice trade.
Herring salad and matjes housewife style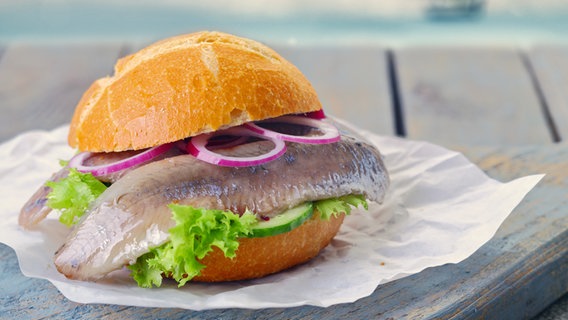 Matjes is also often offered as a fish sandwich.
Very popular and well-known far beyond Northern Germany are herring salad and housewife-style herring. For both dishes, chop onions, apples and gherkins into small pieces and mix with a sauce made from yoghurt, cream and fresh herbs. For a salad, cut the matjes fillets into small pieces and add to the salad with the boiled diced potatoes. With housewife-style matjes, the fillets remain whole and are served with boiled, boiled or fried potatoes.
Catch quotas drastically reduced, stocks are recovering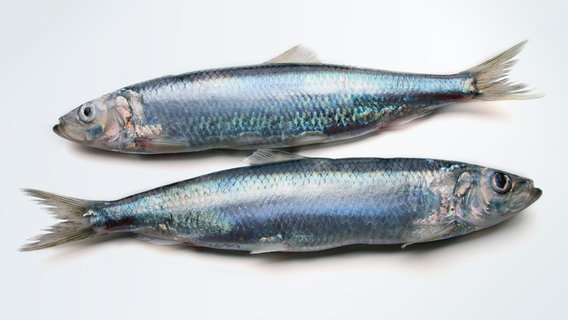 Herring secured the livelihood of fishermen for centuries and were therefore also referred to as the "silver of the sea".
The herring family includes more than 180 species. The Atlantic herring is particularly important as a food fish. It lives in schools of up to a million fish in the North and Baltic Seas and throughout the Atlantic. The animals reach an average size of 20 to 25 centimeters and feed on plankton. Since they are prey for many predatory fish, they are an important building block in the marine ecosystem.
Herring used to be considered "bread fish" because it was very common. In recent years, stocks have plummeted, especially in the western Baltic Sea – also due to climate change. The permitted catches were then significantly reduced. The stocks now seem to be recovering somewhat.
Catch home supplies with a fishing rod
Herring for your own consumption can be caught from the shore in many ports along the Baltic Sea coast from the beginning of April to the beginning of May, depending on the weather. Even children can catch delicious fish for the pan with the hand rod, which is equipped with so-called herring spatulas. A safe bet for a good catch is the Kappeln harbor at the Schleibrücke.