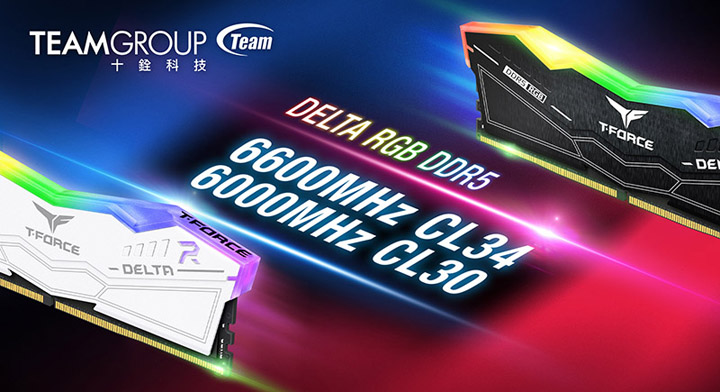 With the superb R&D technical strength of its T-FORCE LAB, the world's leading memory brand Team Group announced the launch of two new specifications of the T-FORCE DELTA RGB DDR5 gaming overclocking memory, including the new high-frequency 6,600MHz and 6,000MHz CL30 The new low-latency and high-efficiency specifications have been sent to major motherboard manufacturers for cooperation verification. With the continuous improvement of powerful product performance and technology research and development strength, it will bring the ultimate performance to the world's e-sports overclockers who are chasing the thrill of speed. experience.
With the development and evolution of DDR5 platform specifications, T-FORCE DELTA RGB DDR5 gaming overclocking memory performance has been fully re-evolved, and the 2X16GB dual-pass set specifications of DDR5-6600 CL34 and DDR5-6000 CL30 have been released in one fell swoop. Power management chips and carefully selected high-quality IC chips provide excellent system performance and stable computing capabilities to meet the needs of players who pursue top-notch overclocking performance and extremely fast gaming experience. DELTA RGB DDR5 supports the dazzling classic full-frame 120° ultra-wide-angle light-emitting design with RGB intelligent control chip, and also has a dedicated heat dissipation module combining professional heat dissipation silicone and geometric aluminum alloy heat sink, allowing players to immerse themselves in the process of overclocking and gaming In the unique RGB colorful visual enjoyment and high stability of the excellent performance pleasure.
Two specifications of T-FORCE DELTA RGB DDR5 gaming overclocking memory, DDR5-6600 CL34 and DDR5-6000 CL30, are expected to be sold globally from July 2022, and Teamgroup Technology T-FORCE LAB will continue to strive for excellence, try and create The diversification and possibility of storage solutions provide memory products with excellent quality and top performance. With the development of the DDR5 platform specification in the future, T-FORCE will continue to be the industry leader and provide global players with the era-leading DDR5 memory products. Competitive overclocking memory.