Trout with orange: this is how to prepare the second light and fresh dish to cook in the summer and which will leave a delicious citrus scent throughout the house.
Fresh, light and quick to prepare, the orange trout recipe it will surprise all your guests. If you plan to organize a dinner with friends or a nice sunday lunch to be served outside on a terrace to enjoy the beautiful sunny days, then this is the recipe you have to try.
The orange trout is very good to serve with somefresh green salad, but also with grilled aubergines and courgettes. It is also called salmon trout due to the pink / orange color it takes from sauce in which it is cooked and served.
Try cooking the trout this way, you'll see that you'll be able to make the cvery soft, juicy and tasty arne.
Ingredients for 4 people
8 tablespoons of liquid fresh cream
extra virgin olive oil
Salt and Pepper To Taste
chopped parsley to taste
2 tablespoons of squeezed orange juice
30 g of butter at room temperature
salmon trout 4 pcs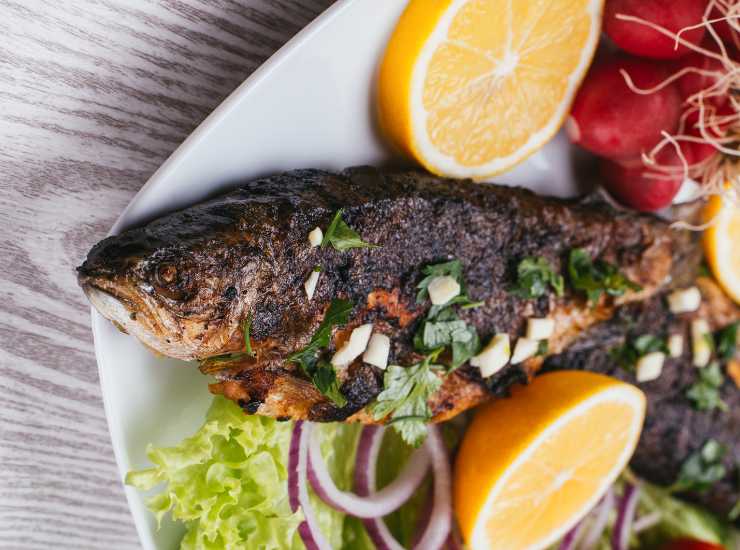 Trout with orange: the procedure
To cook trout with orange, we recommend making it yourself clean well from your trusted fishmonger or to buy already cleaned fillets, in this way you will only have to take one baking tray and put the trout in it.
Remember to sprinkle with a oil the pan, so that the meat does not stick to the pan. Now sprinkle the trout with salt, pepper, another drizzle of oil and a little chopped parsley.
Place the pan in the preheated oven at 180° and cook for about 20 minutes. Halfway through cooking, turn the trout and continue to cook. At this point, you'll just have to take the orange, squeeze it and pour it in the pan together with the trout.
Continue baking for another 10 minutes. Now you just have to take the cooking base of the trout with orange, put it in a saucepan together with the fresh liquid cream and cook over low heat for a few minutes.
Serve the trout with orange sauce with a good dose of salt, pepper and oil.