[Epoch Times, January 20, 2022](Reported by Epoch Times reporter Li Jing) The epidemic situation in Beijing continues to heat up. Chaoyang District recently announced a new epidemiological survey (epidemiological survey) record of a new asymptomatic infection, causing netizens to extensive attention. The confirmed patient is a migrant worker who is engaged in manual labor, and most of them work late at night. Netizens lamented the difficulty of people's livelihood at the bottom of China.
On January 19, Beijing officials announced a new case of so-called "asymptomatic infection" in Chaoyang District. According to the Chaoyang District report, the case is currently living in Shigezhuang Village, Pingfang Township, Chaoyang District. He is mainly engaged in the handling of decoration materials. He has to go to multiple workplaces a day, most of which are construction sites, material yards, and garbage stations, and most of the working hours are at night. conduct.
The flow report shows that the man traveled to 23 different locations in 14 days, involving Beijing's Dongcheng, Xicheng, Haidian, Shunyi and other districts. Beginning on January 1, the man worked for two consecutive weeks for a total of 85 hours and 25 minutes, including 54.5 hours in the late night and early morning hours. On January 10th, he worked from 12:00 a.m. until 9:00 a.m. the next day.
The flow survey also showed that on January 17, the man sent a letter to the post office, and then went for a nucleic acid test, suspected of preparing for the ride back to his hometown. On the 18th, because the test result was positive, the man was stopped on the train bound for Weihai and returned to Beijing for isolation and treatment.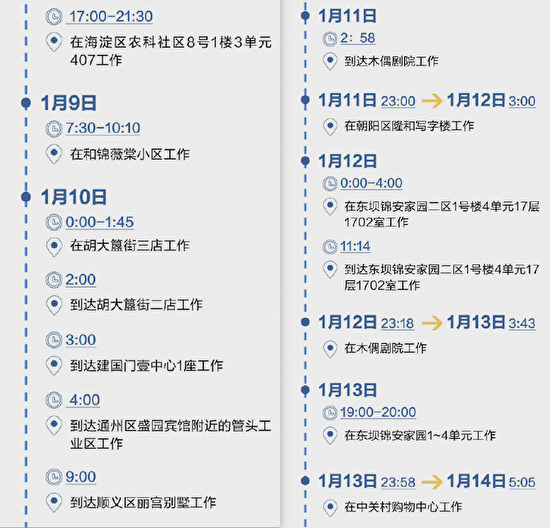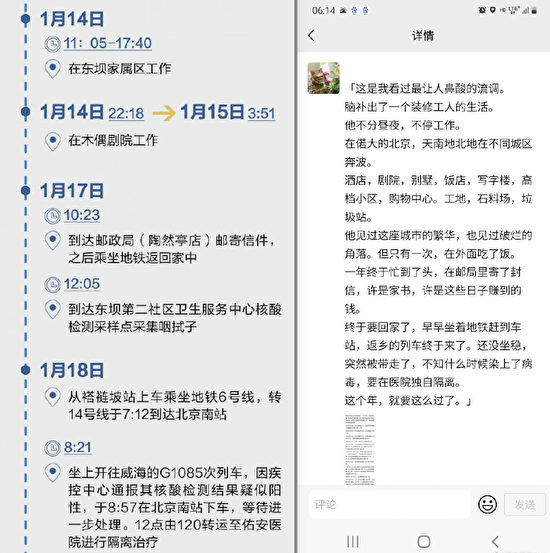 The news sparked heated discussions among netizens. Many people expressed "sad to see". Some netizens asked, "Why do Chinese people work so hard, but live so hard." Some netizens said, "This big brother has shown us a microcosm of life at the bottom of Beijing, and his hard work has resonated with many people."
Another netizen said, "He worked his whole life and returned to his hometown to receive a pension of 100 yuan a month. Sun Lijun received a seafood box containing 90 million US dollars and sent it to Qincheng's exclusive ward, which is not at the same level." If we (corrupt officials of the CCP) are cleaned up, who will get the common people?!"
On the eve of the Beijing Winter Olympics, confirmed cases of local Omicron variant strains continued to appear in Beijing, which made the Beijing authorities nervous, and the authorities escalated prevention and control measures.
Current affairs commentator Zhou Xiaohui wrote in an article that in the face of a virus that has come and gone without a trace and is not obedient at all, the most troublesome thing for the Beijing authorities, who have so far been unable to find the source of the new infection, is that there is no guarantee that the virus will be available before the Winter Olympics. Cleared, and there is no guarantee that there will be no situation on the day of the opening ceremony. Then, what will happen?
Responsible editor: Li Qiong#