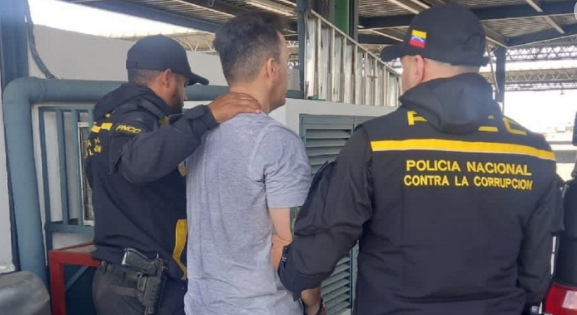 After twenty-three years of unprecedented and unpunished corruption scandals, Venezuelans have been shocked by the recent wave of arrests of regime officials accused of acts of corruption. I say that the Venezuelans have been surprised, because they were not aware of other actions by that anti-corruption police that carried out the arrests -despite the fact that it has been in existence for nearly ten years-, and because, in Venezuela, corruption has become be part of daily life -as if it were climate change, or a chronic flu-, and it is practiced with absolute impudence, as if it were something legitimate.
For more than two decades, there were briefcases of dollars that went to finance electoral campaigns in other countries, public works contracts -including railways, bridges, dams, hospitals, electrical works, etc.- that were never carried out, but were paid for, and that are reflected in the bank accounts of the politician or figurehead on duty. At the time when oil was still produced, there were billions in income, which disappeared as if by magic. There are plenty of nurses, judges, prosecutors, and the military, who, overnight, exhibited great fortunes. That is not a new experience for Venezuelans. All of this began, in Chávez's time, with the Bolívar Plan, and with the currency administration office (Cadivi), from where cheap dollars were distributed to the friends of the regime. It has been twenty-three years of looting and dirty money movements with the most absolute impunity, while what was a prosperous country sank into misery. These are not isolated incidents, but a chain of events that respond to the same pattern, and that are part of a perfectly organized plan.
All this happened without there ever being even a face-saving investigation, and without any corrupt being intimidated by the arm of the law. The Comptroller General of the Republic looks dismayed at how these acts could have been committed under his very nose, by "colleagues" whom he knew and treated with complacency. Meanwhile, with what appears to be a mixture of astonishment and bewilderment, the Minister of Defense and the Attorney General of the Republic declare their resolve to collaborate with the investigations that are carried out to establish responsibilities. If they didn't act on time, what else could they say that didn't stray from the script that they have to repeat in this tragicomedy? What could be expected from those who have been less than a decorative vase in a corner cluttered with knick-knacks? All this happened without Ali-Baba knowing that the loot had been transferred to another, more secure cave, located in Andorra, in the Cayman Islands, or in a bank in Moscow! Those who remained indifferent to what was before his eyes were not blind. They were an indispensable part of the plot. None of this would have been possible without the complicity or acquiescence of those in charge.
Judges, mayors, legislators, the military, the superintendent of crypto assets, and the occasional manager of the state oil company -PDVSA- have been victims of this sudden interest in protecting the resources that belong to the Venezuelan State, or to the citizens who are extorted for that they can recover their freedom in a political trial, to register a property document or, simply, to exercise their rights. It is not surprising that those judges detained today, while showing all their wickedness and cruelty towards the political prisoners of the regime, were linked to gangs of thugs who were released for the misdeeds they committed.
Neither the judges nor the other detainees have been charged with human rights violations or crimes against humanity. Nor are they accused of having stolen, or that they have done so in a scandalous way. Quite simply, they are reproached for not having divided the loot equally with the rest of the gang.
As Nicolás Maduro described them, they are "bandits and gangsters" who have taken advantage of "the beautiful revolution." Any call to ethics sounds strange on the lips of the leaders of the Bolivarian regime. In the last two decades, it is not the first time that money from PDVSA has disappeared. On this occasion, it is not that 3,000 million dollars have been "lost", as claimed; the complete booty – only from PDVSA and the operation with crypto assets – is immensely higher, and could reach 8,500 million dollars. So all the humanitarian tragedy that Venezuela is experiencing is not a consequence of international sanctions. It's corruption! All this rottenness began with the promise to eradicate corruption in Venezuela, and not to make a sophisticated art out of it, taking it to the maximum power. It is not that the "bandits and gangsters" have taken advantage of "the beautiful revolution"; is that "the beautiful revolution" was a scheme to steal and defraud, starting with "the billionth" that Chávez asked the Central Bank of Venezuela, and continuing with a national budget that is managed as a state secret, without being accountable to anyone, and that is not audited by anyone.
But it must be clarified that those arrested – whose names are not worth mentioning – are not the mafia bosses, but minor thieves, who were barely part of the intermediate echelons of the regime, with one or the other who has a price on his head. , and that he is requested by the United States justice not for corruption, but for drug trafficking. Through social networks, it was learned that Tareck el Aissami -who is linked to the mysterious disappearance of those billions of dollars managed by PDVSA-, resigned from his position as Minister of Oil. But, for the moment, the highest levels of the administration or the judiciary, which are morally and intellectually responsible for this colossal looting, as well as its front men, remain untouchable.
Danton, Robespierre, and many other fathers of the French Revolution were devoured by it, and their heads rolled along with those of Louis XVI and Marie Antoinette. More than obeying ideological differences, Stalin's purges sought to eliminate potential threats to the exercise and control of power. Rasputin, Mussolini and Gaddafi abused power and ended very badly. Now, in what is nothing more than a settling of scores between different mafia families, the new men of the 21st century revolution are being dragged before the court that has become the political police of the regime. Sad irony for the detained judges, who made so much mockery of justice!
It is not that the Venezuelan regime is trying to maintain a credibility that it does not have. The recent arrests of corrupt people are part of the rearrangement of forces between the different factions that are vying for power in Venezuela. But, for the ordinary Venezuelan, in a fight between gangs, it doesn't matter if one or the other ends up prevailing.