Aostaoggi.it had reported the strange situation in recent days
For several years it had been on display in the historic center of Aosta, in the Place des Franchises. This billboard was located on a totem pole that became the property of the Municipality following a controversial and intricate operation to clear debts and acquisitions. Aostaoggi in recent days has published an article on the advertising systems of Aosta, poles, totems and billboards.
The Deputy Mayor of Aosta Josette Borre worked to try to clarify and today the promotion was removed: a situation was thus remedied that was irritating some merchants who pay to post their advertising products. The reports sent to our editorial staff further urged the municipal administration to intervene.
Today the deputy mayor also announces that the Municipality will publish a notice for the management of the totem pole in the historic center and the other four located in the city, proposing an offer in line with the current period of uncertainty. In this way Aosta will be able to forget these empty advertising systems as soon as possible.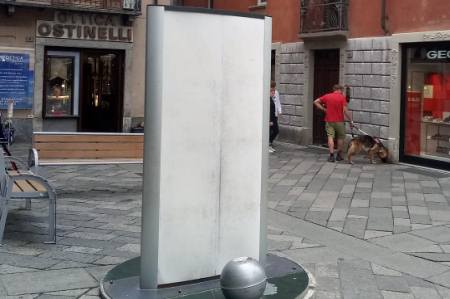 Marco Camilli
.