Original title: Beijing has rain and snow tonight, can it snow in the city?
The Beijing Meteorological Observatory predicts that this night, Beijing will turn to light rain or sleet, light snow in the west and north, south to north wind of 1 to 2, and the minimum temperature is 0°C.
According to Shi Yan, a meteorological analyst at China Weather Network, the main precipitation period for this rain and snow process in Beijing is from 22:00 today to 8:00 tomorrow. The precipitation phase is more complicated, and the amount of precipitation is generally not large. Snow is more likely to be seen in the west and north, but as far as the urban area is concerned, the southern part of the urban area is expected to rain mainly, while the central and northern parts are stuck at the rain and snow critical point. If the low air temperature drops to 0°C or below, the urban area will also change to a certain extent. Possibility of snow.
However, it is worth noting that regardless of whether there is snow in Beijing this time, the rain and snow weather process will have a certain impact on the morning peak travel tomorrow morning. Mainly, the temperature is about 1~2℃, and some areas may freeze. The public should pay attention to the adverse effects caused by slippery roads and low visibility. At the same time, please take care of cold and warm work.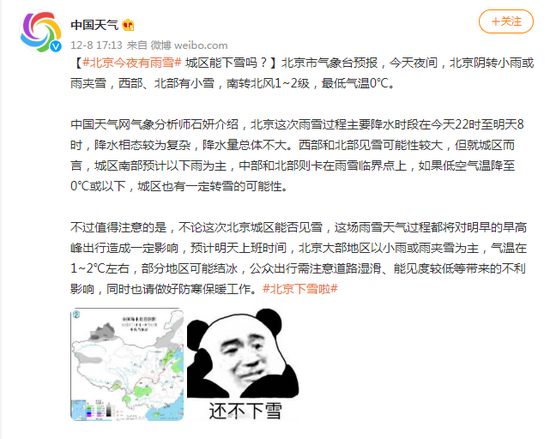 .