"Learn from Comrade Lei Feng" – 2023 is the 60th anniversary of the inscription for Comrade Lei Feng by Mao Zedong and other revolutionaries of the older generation. In February of this year, General Secretary Xi Jinping made an important instruction emphasizing that we must deeply grasp the era connotation of Lei Feng's spirit, so that Lei Feng's spirit will shine brighter in the new era.
Over the past 60 years, becoming a "Lei Feng successor" has been the most glorious mission of generations of "Lei Feng Class". Over the past 60 years, the Chinese have continued to write stories of "warmth like spring" in the name of Lei Feng. "Learning from Lei Feng" has been passed on from generation to generation by more people, constantly injecting new connotations of the times, and producing influences beyond national borders.
Searching for Lei Feng: Opening the Door to Understanding China
March 5 this year is the 2nd anniversary of the founding of Jiangxi University of Finance and Economics Lei Feng International Volunteer Team by Wu Di, a Bangladeshi student. After the Spring Festival, he embarked on a journey of "Looking for Lei Feng", from Jiangxi to Liaoning, to explore the reasons for the enduring spirit of Lei Feng.
Fushun, Liaoning is Lei Feng's second hometown and the birthplace of Lei Feng's spirit. In the Lei Feng Memorial Hall in Fushun, Wu Di carefully looked at the details related to Lei Feng, using thin towels, toothbrushes that shed hair, mended socks, worn out old clothes… every piece of old things, telling the story silently Lei Feng's ordinary, simple and vigorous youth.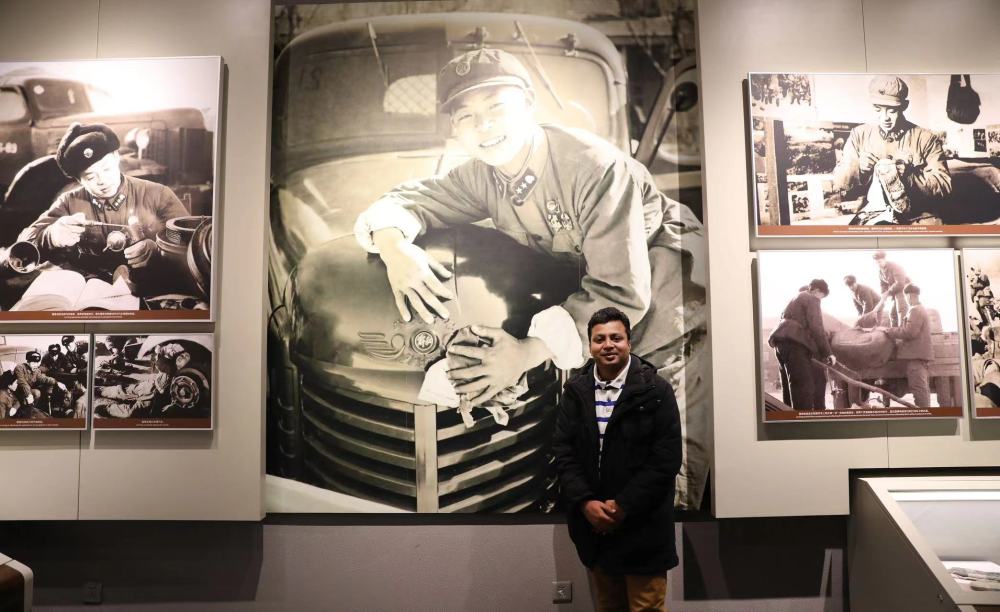 Wu Di, a student from Bangladesh, is at the Lei Feng Memorial Hall in Fushun.Photo by Xinhua News Agency reporter Yao Jianfeng
"Human life is limited, but serving the people is infinite. I want to devote my limited life to serving the people infinitely." The famous quotes in Lei Feng's diary are engraved on the exhibition board of the memorial hall.
Wu Di found that Lei Feng was also a "foreigner" like himself. In 1958, Lei Feng came to Anshan, Liaoning from his hometown of Hunan, and became a bulldozer driver. He joined the People's Liberation Army in 1960 and died in Fushun in August 1962 on duty.
Lei Feng, who lives in a foreign land, regards those who need help as relatives, participates in voluntary labor on construction sites, participates in flood relief, and serves as an extracurricular counselor in elementary schools… He tries his best to help one person after another, because "help the people do more good deeds" , is my greatest joy and happiness."
"I know the answer!" In the "close" contact with Lei Feng, Wu Di really understood "why the Chinese teacher suggested that I use 'Lei Feng' to name our volunteer team".
What he saw and heard in China made Wu Di believe that "serving the people wholeheartedly" can give him spiritual satisfaction.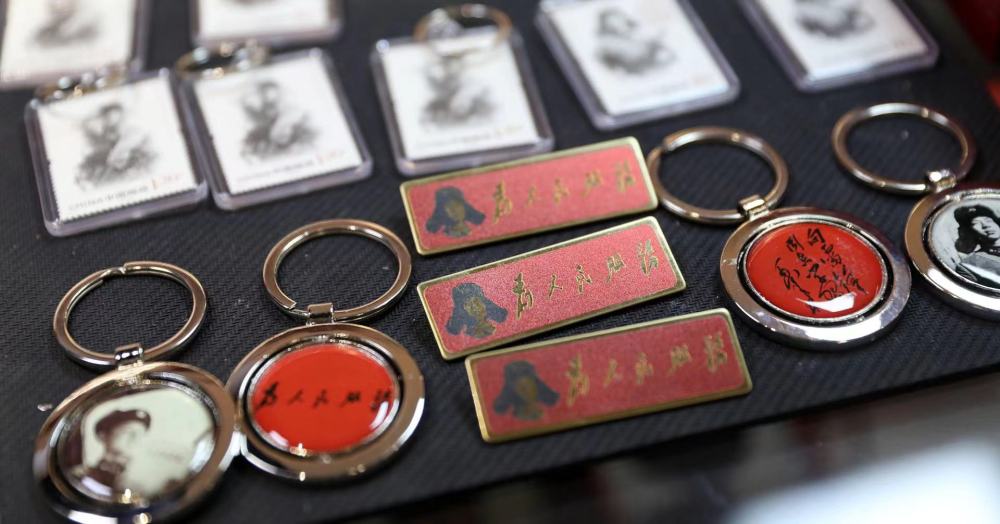 Lei Feng-themed cultural and creative products.Photo by Xinhua News Agency reporter Yao Jianfeng
"In the early days of the epidemic, my motherland was facing difficulties. The Chinese government sent protective equipment to Bangladesh, including hand sanitizer, masks, and testing kits. China also sent a medical team to share with us the experience of epidemic prevention." Wu Di recalled that at that time, he Even though I am in China, I feel that the motherland is very close.
"During the winter vacation when the epidemic occurred, the teachers who had gone home returned to school to take care of us. At that time, I felt that I was living in a big family." He said.
Deeply moved, Wu Di decided to do something. He took the initiative to undertake voluntary services such as helping the school go shopping and organizing nucleic acid testing, and then founded the Lei Feng International Volunteer Team of Jiangxi University of Finance and Economics. So far, young people from more than a dozen countries have participated.
"Lei Feng represents the kind of values ​​I have been pursuing." Wu Di believes that the charm of Lei Feng lies in the fact that an ordinary person brings warmth and hope to the world with extraordinary efforts. He said that the great love, selflessness, and enterprising embodied in Lei Feng's spirit are the common positive energy of mankind and the key to open the door to understand China.

Becoming Lei Feng: The Most Glorious Mission
"Lei Feng!" "Here!"
Every night roll call, all the officers and soldiers of the "Lei Feng Squad" responded in unison. 60 years, more than 20,000 days, nothing has changed.
After Lei Feng died, his class was named "Lei Feng Class" by the Ministry of National Defense.
Over the past 60 years, more than 200 young fighters have joined the "Lei Feng Squad". They expect themselves as "Lei Feng's successors" and regard inheriting Lei Feng's spirit as the most glorious mission.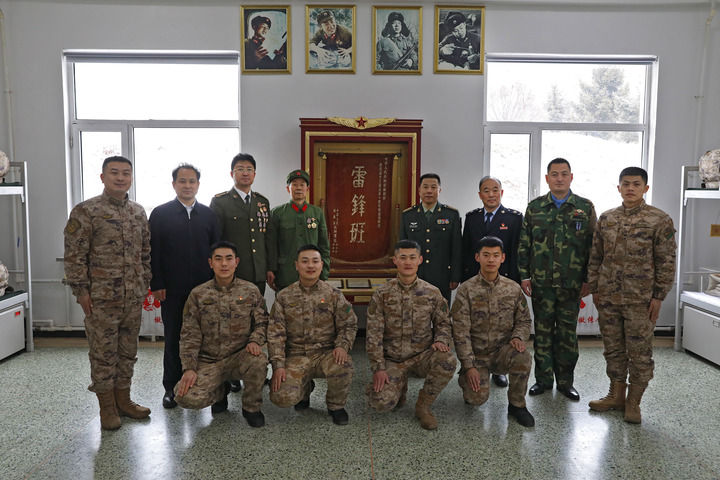 On February 11, the current "Lei Feng Squad" fighters (front row) and some former "Lei Feng Squad" squad leaders took a group photo in the barracks.Photo by Xinhua News Agency reporter Yao Jianfeng
Jiang Jiaheng, who enlisted in the army in 2020, is "the person closest to Lei Feng" – in the "Lei Feng Class" dormitory, he lives on the upper bunk of Lei Feng's bed. Over the past 60 years, the company has moved defenses countless times, but Lei Feng's bed has always been kept.
24-year-old Jiang Jiaheng, in addition to completing driving training and transportation tasks, also participates in voluntary services such as caring for the elderly and left-behind children.
"Go to the most dangerous mission area in the world and do everything we can to help the local people. This is what we should do as descendants of Lei Feng." Deputy monitor Ye Zigui said. In 2020, during his peacekeeping mission to Mali, Ye Zigui actively carried out voluntary service activities of learning from Lei Feng, and also helped to build the Lei Feng Spirit Pavilion in the Chinese peacekeeping force camp.
As time goes by, the story of "Lei Feng Class" has always continued the original intention of helping others, giving charcoal when needed, and selfless dedication, which has never changed.
Times have changed, and in the days when we left Lei Feng, thousands of "Lei Feng" emerged.
In Anshan Iron and Steel, where Lei Feng once worked, there is a "contemporary Lei Feng" – Guo Mingyi, born in 1958, who used his salary income of nearly 200,000 yuan to support more than 300 poor students. The love team he initiated and established gathered more than 2 million volunteers. He also initiated the organization of the body (organ) donation volunteer club.
"Death cannot be brought back to life. Donating remains and organs can save those patients who are waiting for organ transplants and help medical research institutions improve their medical level." Guo Mingyi, who has long been involved in public welfare, said that many people have love. It will awaken the spirit of Lei Feng hidden in people's hearts.

In the name of Lei Feng: Continuing to write a new chapter of the times
"Morning, Uncle Lei Feng!" Every morning, children from Lei Feng Primary School in Wanghua District, Fushun City, Liaoning Province salute and say hello to the statue of Lei Feng in front of the teaching building.
This elementary school was originally named Jianshe Street Primary School in Fushun City. Lei Feng served as the brigade counselor of this school from October 1960 until his death.
To commemorate the amiable and respectable Uncle Lei Feng, Jianshe Street Primary School was renamed Lei Feng Primary School in the 1970s.
Walking into the clean and bright campus, elements of Lei Feng come rushing towards us. Lei Feng Sculpture, Learning from Lei Feng Exhibition Room, Exhibition Board for Continuing Lei Feng's Diary, "Whispering Messages to Uncle Lei Feng" mailbox… Children's first class at the beginning of school should listen to the story of Lei Feng told by the counselor.
Back then, the "sewing kits, savings boxes, and savings boxes" left by Uncle Lei Feng to the students also had a new look in the new era – the sewing kits became "Little Lei Feng's spiritual station", and the savings box became "Little Lei Feng Moral Bank". ", the saving box became "Little Lei Feng Love Supermarket".
Xu Jiao, the vice principal of Fushun Leifeng Primary School and the counselor of the brigade, introduced that the "Little Leifeng Soul Station" is a place for children to mend their emotions. "When the children have small emotions and troubles, write them as whispers to Uncle Lei Feng and put them in the mailbox. The school will regularly invite soldiers from Lei Feng's class to talk to the children as Lei Feng."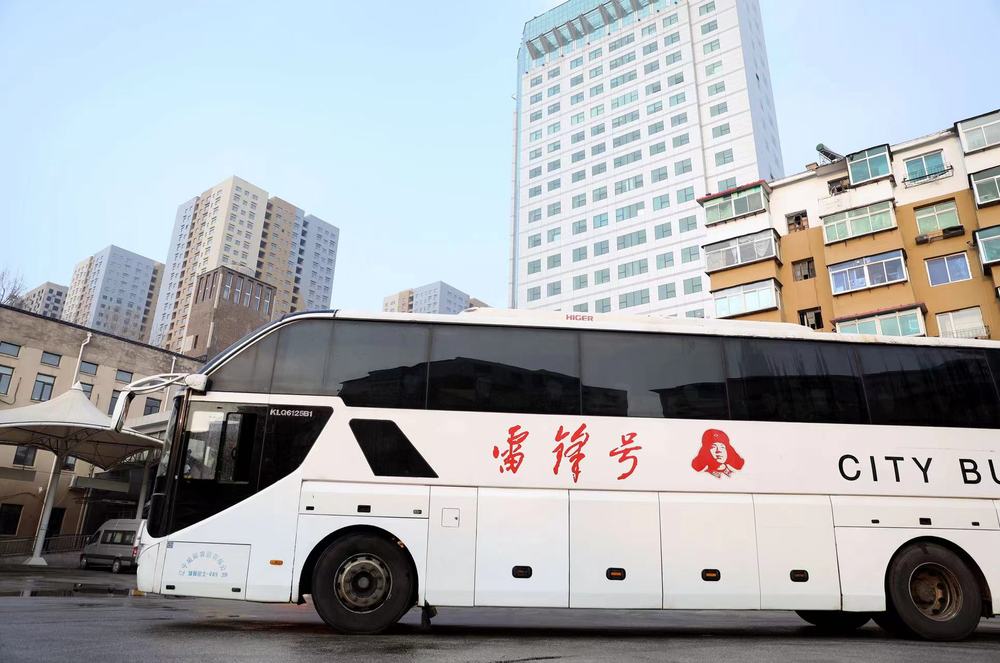 Liaoning's "Lei Feng" passenger shuttle bus.Photo by Xinhua News Agency reporter Yao Jianfeng
Not only Lei Feng School, but in China, there are Lei Feng carriages, Lei Feng motorcades, Lei Feng police stations… There are many units and groups named after "Lei Feng". The spirit of dedication represented by Lei Feng has become a long-lasting collective memory of generations of Chinese people.
"Don't push when things happen, don't wait for things, and the reception is not cold." In 2022, the "Rail Police Lei Feng Service Station" will be established at Nanjing South Railway Station. Soon after, it ushered in the first unusually busy Spring Festival travel after the epidemic prevention and control entered a new stage.
From the perspective of passengers, this service station provides a place to solve those urgent and difficult matters that "a penny stumps a hero", and brings warmth to this tense and expectant journey home.
In the past 60 years, the activity of learning from Lei Feng has profoundly affected the social customs in China. Today, the Learning from Lei Feng activity is also constantly expanding its content, innovating in forms, and enriching its carriers.
Every year on March 5th, the Memorial Day of Learning from Lei Feng has another name – Chinese Youth Volunteer Service Day. The white paper "Chinese Youth in the New Era" pointed out that by the end of 2021, there will be more than 90 million registered volunteers aged 14 to 35 in the national volunteer service information system. At present, there are more than 230 million registered volunteers in China.
Batch after batch of Lei Feng-style advanced collectives and role models are constantly emerging, injecting inexhaustible impetus into the great transformation of China in the new era.
Chief Planner: Lu Yansong
Planners: Li Zhongfa, Wang Jinye, Cao Zhi, Shen Xiquan
Producers: Zhao Danping, Gu Qianjiang, Li Xingwen, Niu Jiwei
Coordinator: Wei Tiemin, Wang Dongming, Min Jie
Reporters: Liu Chang, Tan Yanxuan, Mei Shixiong, Sun Renbin, Cheng Di, Wang Ying, Zhu Yunuo, Hong Kerun
Editor: Liu Lantao
Xinhua News Agency externally
Xinhua News Agency Liaoning Branch
Xinhua News Agency Jiangxi Branch
co-production
Produced by China Story Workshop
[
责编:杨煜 ]