[Epoch Times, January 15, 2022]On January 13, Peng Hanming, director of the Gastroenterology Department of Wuhan Children's Hospital, was slashed by a patient with a knife. The scene was horrific.
On January 14, the official Weibo of the Jiang'an District Bureau of Wuhan Public Security Bureau reported that at about 13:50 on the 13th, an injury case occurred in the outpatient building of Wuhan Children's Hospital. A (male, 58 years old) was slashed. At present, Zhang has been detained.
Witness Ms. Li told Mainland Cover News that she saw a man with a bag and a kitchen knife in his hand. Dr. Peng had blood all over his neck and chest. Three dads rushed up to hold the man down. "When Dr. Peng was pulled away, I saw that his feet were turning white," she said.
A doctor from Wuhan Children's Hospital said that he was very sad about the incident. Dr. Peng was the technical backbone of the hospital. After the accident, he was sent to Union Hospital for rescue. His injury may affect future consultations and operations.
According to reports, Peng Hanming was stabbed in the outpatient clinic on the 13th. The most serious injury was on his right hand. It was said that the tendon of his right hand was cut. The scalp trauma is not serious, and it is now out of danger.
According to the unconfirmed reason for the beheading on the Internet: the cause of the abdominal pain in the child could not be found, and the gastroscope found no problem. The last CT scan revealed a tumor. The parents collapsed and took anger at the doctor, believing that the tumor was caused by the radiation of CT. Killed the doctor.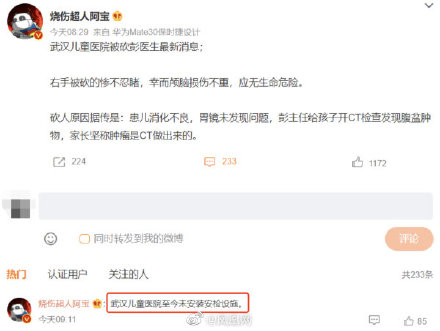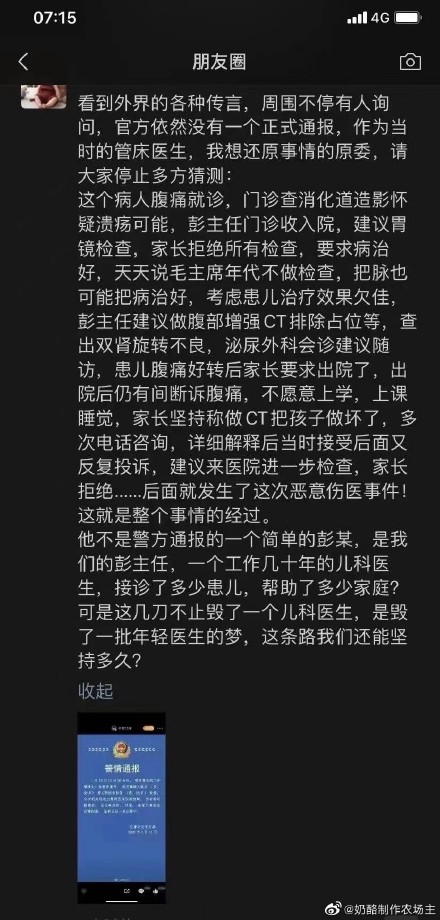 Ling Chumian, an anesthesiologist, posted on a post saying, "Alas… in our operation, the 1-4 metacarpal bones of the right hand were cut off, and the 2–4 phalanges were partially missing (cut off). Even if the recovery is good, the right hand is far away. It's not as neat as it used to be…"
Mainland netizens said, "This is murder, not medical trouble." "Oh my God, it's terrible." "It's too cruel." "The hospital leaders asked that no discussion or interviews were allowed, and the murderer was beheaded, it was Peng. The doctor saved his life by blocking it with his right hand!" "Severely punish the murderer."
In recent years, tragedies caused by disputes between doctors and patients have occurred in China. Many people believe that the incident highlights the lack of legal knowledge and basic public morality among Chinese people.
Responsible editor: Xu Menger#
.