[The Epoch Times, December 30, 2022](Epoch Times reporters Zhao Fenghua and Hong Ning interviewed and reported) A new round of epidemic has swept across mainland China, and the number of critically ill patients has surged. On December 30, Zhang Wenhong, director of the Department of Infectious Diseases at Huashan Hospital affiliated to Fudan University, said that the increase in white lung cases was due to the large number of infected people. A mainland respiratory doctor revealed that he had seen nearly 20 white lung patients within 8 hours.
Zhang Wenhong: The increase in white lung is due to the large base of infected people
On December 30, Zhang Wenhong claimed in an interview with CCTV, the mouthpiece of the Communist Party of China, "What we are seeing today is viral pneumonia, which is very aggressive." "Although the proportion of white lungs is not high, if the base is large, We will see that the number of people with absolute white lung disease will increase." The words revealed that China's current infected population is huge.
Since then, the news has been trending on Weibo. Some netizens asked: "The main concern is 3 issues: 1. How to prevent white lung? 2. How to treat white lung? 3. How to solve the emergency queue of the elderly?"
Doctor: Nearly 20 white lung patients were treated within 8 hours
Video posted by Twitter account @liaozhengshier on December 30(Click to watch the video)According to reports, a respiratory doctor in mainland China revealed that he had seen more than 120 patients overnight, and there were nearly 20 patients with "big white lung".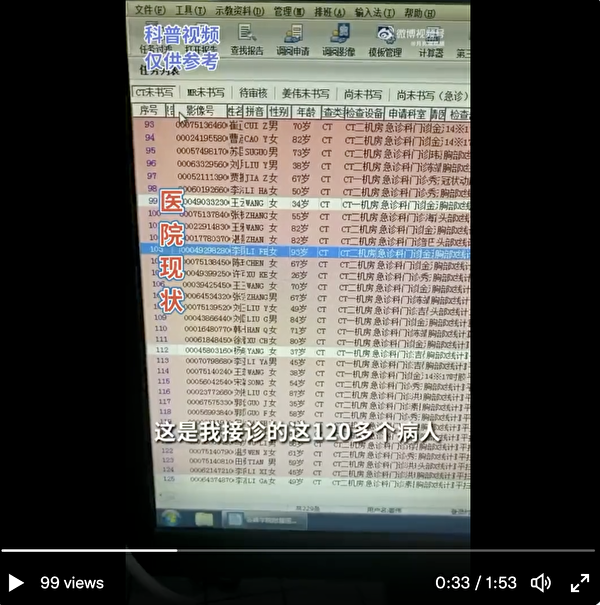 (Video screenshot)
The doctor said in the video: "It has been about 8 hours since I started the night shift. It is now 4 o'clock in the morning. I have seen more than 120 patients by myself, one every 5 minutes. One-third of the severe cases Above, there are more than 40 people, and there are more than ten or twenty large white lungs. The big white lungs are not limited to the elderly, but also those in their 20s, 40s, and 60s, which made me a little panicked.
"If it is positive (positive), and this kind of large white lung appears again, it means that the virus has invaded the lung tissue, causing viral pneumonia, and hypoxemia, which is a very severe manifestation."
Doctor: Mild COVID-19 can also develop into white lung
On December 30, a reporter from The Epoch Times learned from a doctor in Guangdong Province who has been engaged in surgical treatment for 20 years that among the patients with new coronary pneumonia he treated, some critically ill patients did have white lung problems.
On the same day, the reporter also learned from Dr. Lin (anonymous), the attending physician of Capital Medical University, "Some elderly people who came to see a doctor did not have fever, no obvious cough and sputum, but chest tightness and shortness of breath. The CT chest film showed that it was new coronary pneumonia. After admission, the blood oxygen saturation drops, mild cases can also develop into white lung, and the elderly are more likely to develop into the lung than the young."
People: white lungs without fever
Mr. Yang (pseudonym) from Suzhou, China, told The Epoch Times on the 30th that he did not have a fever after becoming positive, but had a severe cough and developed white lungs. On December 28, a CT scan was performed in the First Affiliated Hospital of Soochow University. The diagnosis was double pneumonia and viral pneumonia. The hospital had no beds and could not be hospitalized. He was treated with mixed antibiotics.
He said that the treatment effect was not satisfactory, and he still coughed, but it was not as serious as before, and he planned to go to the hospital for reexamination.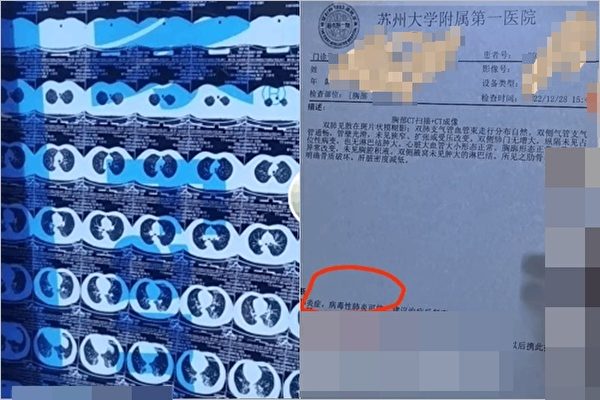 The CT scan of Mr. Yang's lungs was diagnosed as viral pneumonia. (Video screenshot)
An internet blogger in Chongqing City told The Epoch Times on the 30th that a friend of his also had a mild case of the new crown and developed white lung. "A friend by my side had a mild case of the new crown in the early stage. After turning negative, he got a lung infection during the recovery period. He had white lungs. He didn't have a fever, and even had a very mild cough. The doctor said that it would be dangerous if it took a long time. At home If there are old people and children, they still need to observe more."
Family members: Mother may be infected with white lung
Mr. Li, a resident of Wuhan, Hubei, told The Epoch Times on December 30 that his relatives and friends also suffered from white lung.
Mr. Li said: "My classmate's mother passed away two days ago. She went to Tongji Hospital in Shanghai and found out that she had white lung. Tongji refused to accept her. She went home two days ago and left."
Mr. Li said that many people in his family were infected. "My wife and I, as well as my mother, were both infected. My wife and I are about to recover. My mother's condition is extremely poor. She hasn't improved for a long time. She can't eat. She is depressed, afraid of cold, coughing lightly, and her blood oxygen level is 80. More, the symptoms are getting worse.
"I can't live in a big hospital, so I can only go to a small hospital near my home. The test result is also a lung infection. The doctor didn't say much. I feel that I also have white lung. I was given anti-inflammatory drugs for two days. I snapped up 10 balls. Egg white, it got better after using it. I have contacted everywhere to buy globulin in the past few days, but it is out of stock."
Mr. Li also said that many people around him have died of the epidemic recently. "In my community, people die every day, one after another. Most of them are old people. Relatives and friends are also saying that people familiar with me have left. If one of the people around me is infected, the whole family will be infected. No family is spared."
Mr. Li questioned that there are many severe patients with new crowns who have not been included in the official statistics. "This winter has exceeded normal natural deaths, and I feel that the (death rate) has risen sharply. Has the severe disease of the new crown been fully counted? Experts are fooling ordinary people. Those who died, how sad!"
Economist: The proportion of white lungs in the surrounding population is unknown
Mr. Lin, an economist in Xiangyang City, Hubei Province, told The Epoch Times on the 30th that a family member got sicker and passed away after receiving the third dose of the vaccine.
Mr. Lin said: "My family suffered from basic diseases. After receiving the third dose of vaccine, the condition worsened. Half a year later, he passed away in mid-December. The town funeral home in Xiangzhou District will send the deceased every day from (December) 12th. The number of hearses of victims has increased, and it is impossible to judge how many died directly from the new crown pneumonia, but there will undoubtedly be a considerable proportion."
According to Mr. Lin, before the lockdown was lifted, non-infected patients were forced to leave the hospital. "Before Xiangzhou District was unsealed, on December 5, the Xiangzhou District Traditional Chinese Medicine Hospital in the town forcibly discharged all non-coronavirus patients and only accepted new crown patients. My family was also forced to discharge from the hospital."
"Considering the concentration of elderly people in the surrounding rural areas, they will not seek medical treatment in time when they have headaches and fever symptoms like the urban population. The proportion of rural elderly people who died directly from the new crown will not be low. I can also hear people chatting when I go shopping on the street. 'The crematorium business is doing well these days!'" he said.
Responsible editor: Gao Jing#