[Epoch Times, March 23, 2022](The Epoch Times reporters Gu Xiaohua and Gao Miao interviewed and reported) The epidemic in mainland China continues to heat up, and the number of infected people remains high. It is revealed that the actual situation is much more serious than reported.
According to a report from the Chinese Communist Party's Health and Health Commission on the 23rd, on the 22nd, there were 2,591 new local confirmed cases and 2,346 local asymptomatic infections, for a total of 4,937 cases. Among them, 192 new local confirmed cases were reported in Hebei Province, and 154 were in Langfang City. Langfang has reported a total of 2,641 positive infections so far.
In response to the epidemic, the Langfang authorities announced on the 15th that the entire area of ​​Langfang City will be strictly closed and controlled from now on. All communities (village houses) will set up checkpoints and be on duty 24 hours a day. People can only enter and no vehicles are allowed to pass. Strictly implement home isolation, all people in the community (village) stay at home, and carry out health monitoring of home observers, daily temperature detection and symptom inquiries.
On the evening of March 18, a meeting of the Hebei Provincial Leading Group for Responding to the New Coronary Pneumonia Epidemic said, "Langfang and Cangzhou have achieved zero social coverage of positive cases, and the province's epidemic prevention and control situation continues to improve."
Villagers in Langfang City: Do nucleic acid tests every day to isolate people
However, according to Ge Ming (pseudonym), a volunteer from a village in Geyu Township, Anci District, Langfang City, told The Epoch Times that the current situation is not optimistic. Six or seven, the last batch of volunteers also took away more than ten people. Is it clear in just two days? Isn't the number concealed?"
Ge Ming said that from the 12th to the 18th, when he was a volunteer, more than 200 people have been taken away from his hands, and more than 1,000 people have been pulled into the square cabin for isolation.
According to Ge Ming, nucleic acid testing has been done every day since the 9th, but ordinary people cannot see the results. "The list that came out said that if you have it, it will be taken away for you." And "the list given by the brigade didn't write the second-contact or close-contact, it just wrote the name, address, phone number, and it didn't say whether it was a diagnosis or something."
Ge Ming's 17-year-old son was also taken to the Convention and Exhibition Center (fangcang shelter hospital) for isolation on the 18th. Ge Ming revealed that before his son was taken to the cabin, the results of his self-tests at home were all negative, and his son was taken away in a confused way. I have never been home in my relative's hometown. "I tested negative for nucleic acid twice a day, and my wife was also negative. I wondered how my son could get this infection at home every day, and now my head is buzzing."
After the son was quarantined, the health code of their whole family turned red. The next day, a group of people came to kill them and their things were taken away. "I want to ask, why are innocent people taken away? I have to go to the house to kill them, and take all these things away. Isn't this a bandit?"
He said, "You come up with a result and let others see it as positive, so it's a pleasure to be pulled away." And "My son said that he didn't have anything to do there, just like at home, he's volunteering now, and he doesn't have anything to do with it. Symptoms, no fever, no cough."
Ge Ming said, "The upper cabin is not as good as home isolation. Home isolation can't touch anyone. There are more than a thousand people there. If one is sick, isn't it all passed on?" Go. How do you say it is, and whoever makes sense. "
Villager who died due to the closure of an old man who could not seek medical treatment: there is no need for complete closure
Ge Ming also said that since the closure of the village on the 8th, each household has distributed four potatoes, two zucchini, and one cabbage to each household on the 10th day, and four or five potatoes after two days. It's been just two times, and I haven't seen any other materials. In this regard, "the material brigade always said to wait, wait, so now they buy it from outside, and ask volunteers to send it after buying. The problem is that the price is too high, cabbage is 5 yuan a pound, and eggs are 6 yuan. ."
However, because the gates were blocked, every household was also sealed, and the patrol cars went back and forth, and there were surveillance cameras, so no one dared to go out. He said, "The common people are making do with it. They eat pickles when they have pickles." What's more, there was an old man in Beijie who was ill. He couldn't go to the hospital because of the closure of the village, and his family ran out of medicine. As a result, he died on the 15th or 16th day. at home.
Ge Ming said, "There is no need to be completely closed, you just tell him not to let him go out, no need to stick a seal. This will bring a kind of panic to the people."
Family members of patients: the letter of help from all the medical staff of Changzheng Hospital is true
On March 14, a letter for help signed "All medical staff of Langfang Changzheng Hospital" was posted online, which aroused concern.
The letter for help stated that the hospital received a positive case on March 10, and his family members were also positive, but the two positive cases stayed on the fourth floor of the hospital for one night before being taken away the next day. All nucleic acid tests were positive on March 13.
The letter for help also said that the hospital said that it was reported to the Health and Health Commission and no one was in charge of it, so it was self-help, but the hospital was a cardiovascular and cerebrovascular specialist hospital and did not have the technology for the new crown, and more than 700 people in the hospital lived in a mixture of yin and yang, and some of the negative ones were also infected. risk. In addition, on March 14, the only two nurses and a director left on the fourth floor also tested positive, so far the nurses on the fourth floor were wiped out. The "letter for help" also includes the signatures and fingerprints of seven people.
In response, Langfang Changzheng Hospital issued a statement on March 15 saying that the "letter for help issued by 7 nurses in Langfang Changzheng Hospital" was false information related to the epidemic. He also said, "Up to now, all the people with positive nucleic acid tests in the hospital have been transferred to designated hospitals, and all the existing personnel in the hospital have negative nucleic acid test results. The Langfang Municipal Government and the medical staff have made proper arrangements."
However, according to Wang Ke (pseudonym), a family member of a patient from Yongqing County, who told The Epoch Times that the letter for help was not a rumor, it was true.
She said: "After the letter of help was sent out, the leaders and dean of the hospital approached them overnight and asked them to record a clarifying video, saying it was a rumor, and then promised to transfer them all, and they all recorded it. So, later There are a lot of rumors on the Internet, but it's not a rumor, it's true."
She said that after two confirmed cases appeared in Changzheng Hospital on the 10th, they closed the hospital, and all the medical staff were also locked in the hospital. After that, the doctors and nurses who were in contact with the two confirmed positives became infected one after another. "Because at the beginning of the epidemic, Langfang City was very chaotic, and those patients who were negative were still living there, and no one was taking care of them." In addition, because Changzheng Hospital was a cardiovascular and cerebrovascular hospital and did not meet the isolation conditions, the doctors in the hospital, There are more than 700 nurses and patients, and there is no place to isolate them.
"They didn't report or say that, everyone knew that two positive cases had been to the hospital, and then they didn't say whether doctors and nurses were infected, and how many doctors and nurses were infected, and it hasn't been announced until now." After the nurse's letter for help was sent out, "We family members paid attention to this matter, and only then did we know that this was the situation in Changzheng Hospital." Wang Ke said.
Moreover, after the hospital closed, there should have been a doctor and a nurse on each floor, but "there is no one at all, no treatment, and all of them are closed." All positive, close and sub-close contacts are isolated in a centralized manner, and all negative doctors and nurses are already home for isolation the next day.
She said that her father happened to be discharged from the hospital at this time, but there are still many patients who are still under treatment. There is no medicine, no doctor, and no nurse. The entire hospital is under lockdown.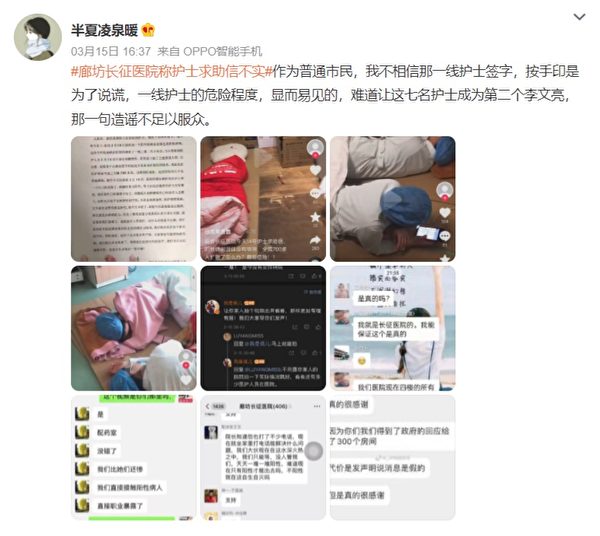 Changzheng Hospital is transferred to Oolong
Wang Ke also revealed that the transfer of Changzheng Hospital was an oolong. "After the letters for help from the seven nurses were sent, the leaders promised to transfer them on the 14th. Therefore, on the 14th, dozens of ambulances were sent to the staff of the Foxconn factory with more than 300 people loaded, because Foxconn All the factories are on holiday. But after I entered, I found that there were only four bunk beds in each room, no heating, no water, and the restrooms were all public, which did not meet the isolation conditions at all, and they were all elderly. Pulled back again."
"It turned out that only the fourth floor had confirmed cases. After such a toss, the ninth floor began to show positives one after another." She said, because it was transferred from the ninth floor to the next floor.
Residents of Langfang: The actual situation is much more serious than reported
Wang Ke said, "Our Langfang is in chaos now, and the actual situation is much more serious than what it reported. Geyu Town (Anci District) and Deshengkou (Donggugang Town, Anci District) are the most serious. Every house in Geyucheng was closed, and then the volunteers went there and got infected."
She said, "Ge Yucheng is the hardest hit area, because the first patient was from Ge Yucheng. There are no volunteers there, and there is no guarantee of food and drink. But these are not allowed to be reported. Spreading rumors, spreading rumors, and taking legal responsibility, it seems that someone has already controlled them."
"One of the supporters said that he had never seen someone like Langfang." She said that the patient was picked up at 6:00 in the morning and until 6:00 in the afternoon. Which isolation point is not required, they were pulled on the ambulance when they were not connected properly. The weather is not very warm now, but the heater cannot be turned on either, because the air flow is infected, which makes many volunteers very helpless.
Wang Kebian said that there are not so many isolation points in the Langfang area, people can't be transferred, and there are many elderly people, but "now a new leader has been appointed, and the order of the army says that it will be cleared in two days. Now Langfang reports that the social level has already Cleared, it is impossible. Cleared in two days, how is it possible?"
Responsible editor: Sun Yun#◇