Beijing time:2021-09-17 10:18
[NTD News September 17, 2021, Beijing time]The epidemic situation in Fujian is rapidly increasing. According to official reports, at least 52 young children in Putian City have been infected with the Chinese Communist virus (COVID-19). Fujian Province has recently sent an additional 50 pediatric medical staff to support Putian. According to the official, children under the age of 14 should be separated and their parents or family members should live together.
In this round of the epidemic in Fujian, schools and kindergartens have become transmission centers. At least 10 primary and secondary schools and kindergartens in Putian City have experienced the epidemic. As of September 14, at least 52 children have been infected in Putian, 48 people under 12 years old, and the youngest is 3 years old.
Since the CCP has consistently covered up the truth about the epidemic, the actual number of infections may exceed the official number.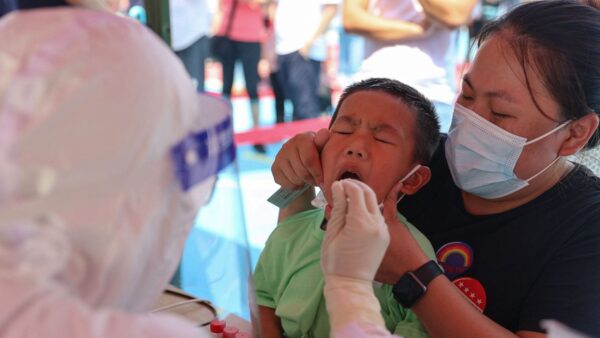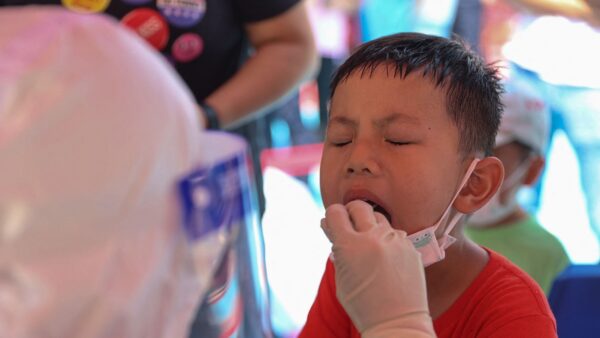 On the 13th, Zhu Xiaqing, a nurse at the fever clinic of the Affiliated Hospital of Putian University, posted a short video on Douyin about 4 or 5 year-old children wearing isolation gowns and obediently undergoing CT examinations, which made many netizens cry. (Click to watch the video)
The video shows that these 4 or 5 year old children are wrapped tightly in protective clothing, some carrying a backpack behind their back, carrying a bag of snacks prepared by their parents in their hands, walking into the cold, empty CT room, and lying alone. Checking on the device, the picture is heart-wrenching.
In an interview with Fujian Health Daily on the 14th, Zhu Xiaqing said that because parents cannot come together, these young children are alone in isolation for examination. When they first came to the new environment, the children inevitably panic. Some children still have a fever. One of the children cried at home for two hours before leaving. After the examination, the children will be treated separately. (Click to watch the video)
A netizen said, "I really cried when I was so young. I must be very scared when I was young. I slept alone at night and left my parents for the first time. How helpless."
The isolation of children in Fujian caused public concern. On the 15th, Putian City Health Commission Director Yao Bingshan announced at a press conference that children under the age of 14 should be isolated and arranged for their parents or other family members to live together. In addition, teachers and children who are isolated together will be arranged to be in the same isolation place and treatment place as far as possible. (Click to watch the video)
CCTV News reported on the 16th that due to the increase in the number of young children in Putian, Fujian Province has sent an additional 50 pediatric doctors to support Putian.
Jin Dongyan, a virology expert and professor at the School of Biomedicine of the University of Hong Kong, told China News Weekly that the school is an intensive place after school starts. Once the epidemic spreads, there will be serious consequences.
At present, all schools and kindergartens in Putian, Fujian, Xiamen have suspended teaching and changed to online teaching, and off-campus training institutions have suspended all operations.
(Reporter Luo Tingting Comprehensive Report / Chief Editor: Fan Ming)
The URL of this article: https://www.ntdtv.com/gb/2021/09/17/a103218413.html