Hookup + On November 22, President Xi Jinping attended and hosted the 30th Anniversary Summit of the China-ASEAN Dialogue Relations in Beijing via video.
ASEAN is a close neighbor and important cooperative partner of China. Since the establishment of the dialogue relationship in 1991, the relationship between the two sides has achieved rapid development, and they have become each other's largest trading partners, the most dynamic partners, and the most meaningful strategic partners.
On the 30th anniversary of the establishment of China-ASEAN dialogue relations, President Xi and leaders of ASEAN countries jointly sum up the 30-year development achievements and experience of China-ASEAN relations, draw a blueprint for future development, and lead the course for China-ASEAN relations.
How to promote the further upgrading of China-ASEAN relations? CCTV Network "Liancast+" specially sorts out the content of Chairman Xi's important speech, and learns with you.
Review development achievements
  Over the past 30 years since the establishment of dialogue relations between China and ASEAN, it has gone through an extraordinary journey.
◆We get rid of the gloom of the Cold War and jointly maintain regional stability.
◆We lead the economic integration of East Asia, promote common development and prosperity, and enable more than 2 billion people to lead a better life.
◆We have embarked on a bright road of good-neighborliness, friendship and win-win cooperation, moving towards an increasingly close community with a shared future, and made important contributions to the advancement of mankind.
Sum up historical experience
  The first is mutual respect and adherence to the basic norms of international relations.
◆We took the lead in advocating the Five Principles of Peaceful Coexistence and the "Bandung Spirit". China was the first to join the "Treaty of Amity and Cooperation in Southeast Asia" among ASEAN dialogue partners.
◆We take care of each other's major concerns, respect each other's development paths, enhance understanding and trust through sincere communication, seek common ground while reserving differences, and resolve differences and problems together, and jointly maintain and promote Asian values.
  The second is win-win cooperation and follow the path of peaceful development.
◆We firmly maintain regional peace and stability, always focus on the theme of development, take the lead in establishing free trade zones, high-quality co-construction of the "Belt and Road", and jointly promote the signing of the "Regional Comprehensive Economic Partnership Agreement", which has promoted regional integration and development and people's well-being.
  The third is to keep watch and help each other and practice the concept of mutual sincerity, mutual benefit and tolerance.
◆We come and go as often as our relatives, emphasizing love and justice, celebrating together when we encounter happy events, and helping each other when we encounter difficulties. We have strengthened our sense of community with a shared future by jointly responding to challenges such as the Asian financial crisis, the international financial crisis, and the new crown pneumonia epidemic.
  The fourth is to tolerate and learn from each other and jointly build open regionalism.
◆We draw wisdom from East Asian civilization, lead regional economic integration with the concept of openness, promote ASEAN-led regional cooperation through equal consultation, build an open rather than exclusive circle of friends with an inclusive mindset, and implement the principle of extensive consultation, joint contribution and shared benefits.
Draw a blueprint for the future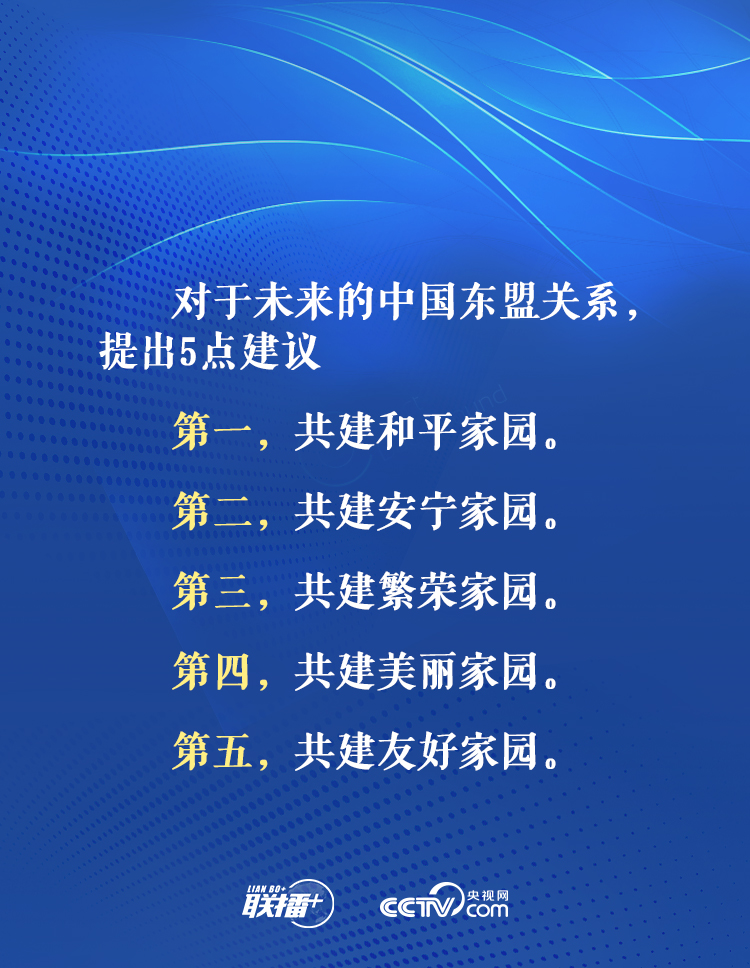 China Action
◆China firmly opposes hegemonism and power politics, and is willing to live in friendship with neighboring countries for a long time, and jointly maintain lasting peace in the region. It will never seek hegemony, let alone bully the small with big things.
◆China supports ASEAN's efforts to build a nuclear-weapon-free zone and is willing to sign the protocol of the Southeast Asia Nuclear-Weapon-Free Zone Treaty as soon as possible.
◆China is willing to launch the "China-ASEAN Health Shield" cooperation initiative: including providing additional 150 million doses of COVID-19 vaccine free assistance to ASEAN countries to help regional countries increase the vaccination rate; another US$5 million will be added to the ASEAN Anti-epidemic Fund to increase vaccine cooperation Production and technology transfer, carry out key drug research and development cooperation, improve ASEAN's independent guarantee level; help ASEAN strengthen the construction of grassroots public health system and personnel training, and improve the ability to respond to major public health emergencies.
◆China is willing to provide ASEAN with another US$1.5 billion in development assistance in the next three years for ASEAN countries to fight the epidemic and restore their economies.
◆China is willing to carry out international development cooperation with ASEAN, initiate agreement negotiations, support the establishment of a China-ASEAN development knowledge network, and is willing to strengthen exchanges and cooperation in the field of poverty reduction, and promote balanced and inclusive development.
◆China has a huge domestic market and will always be open to ASEAN countries, and is willing to import more high-quality products from ASEAN countries, including in the next five years, it will strive to import 150 billion US dollars of agricultural products from ASEAN.
◆China is willing to further build the "Belt and Road" international production capacity cooperation high-quality development demonstration zone, and welcomes ASEAN countries to participate in the joint construction of new international land-sea trade channels.
◆China will launch a scientific and technological innovation promotion plan to provide ASEAN with 1,000 advanced and applicable technologies, and support 300 young ASEAN scientists to come to China for exchanges in the next five years. It is recommended to carry out a dialogue on digital governance and deepen the innovative application of digital technology.
◆China is willing to conduct a dialogue on climate change with ASEAN, strengthen policy communication and experience sharing, and align sustainable development plans.
◆China is willing to launch the China-ASEAN Agricultural Green Development Action Plan to improve the resilience and sustainability of agricultural development in various countries.
◆China is willing to strengthen cooperation with ASEAN in vocational education and mutual recognition of academic qualifications, increase the number of China-ASEAN elite scholarships, and launch activities such as youth camps.
◆Next year, we will usher in the Beijing Winter Olympics and Hangzhou Asian Games one after another. China is willing to take this as an opportunity to deepen sports exchanges and cooperation with ASEAN countries.
For more content, please watch the video↓
(China Central Radio and Television Station CCTV Network)
[
责编:王丽媛 ]
.