[The Epoch Times, May 21, 2022](Comprehensive report by Epoch Times reporter Li Yun) There are more than 10 million college graduates in China this year, and the employment situation is even more severe. On May 21, 90% of the public institutions in Yunyang County, Chongqing City, recruited a topic that requires a graduate degree, and it appeared on Baidu's hot search. It attracted the attention of mainland netizens, and they all sighed: Jobs are too hard to find.
According to the announcement of the second quarter evaluation and recruitment of public institutions staff released by Yunyang County, Chongqing, there are 190 staff members recruited this time, of which 176 recruitment places require graduate degrees and corresponding degrees.
From the list of relevant positions, it can be seen that the recruitment units include the County Talent Development Service Center, the County Spiritual Civilization Construction Guidance Center, the County Financial Media Center, etc., as well as townships, sub-district offices, and many primary and secondary schools. Moreover, many positions also have requirements for applicants, and their majors must be related to the position.
Netizens have been discussing this:
"Looking for a job is just like this. Especially in the past two years due to the epidemic, many people can't find a job. I heard that most of the primary and secondary school teachers recruited in Shenzhen this year are doctoral students from Tsinghua University and Peking University. You can imagine the doctors from Tsinghua University and Peking University. Are students teaching elementary school? No way, everyone is under a lot of pressure, and it's good to have a job." "Quan" is a word derived from "internal volition", which means "internal competition is fierce."
"Many jobs in the future may require a graduate degree, which is a development trend." "The population is too large, and the per capita resources are very small, so people will not be regarded as people. This is how unemployment at the age of 35 comes. Discard it at will after it is worth it." "Are you going to go home and farm in the future as a graduate student?"
"It's better to take the public exam as early as possible. The requirements will become higher and higher in the future. Now the master's degree is full of streets, and there is not much competitive advantage. I have a deep understanding!" "So, why have so many children? "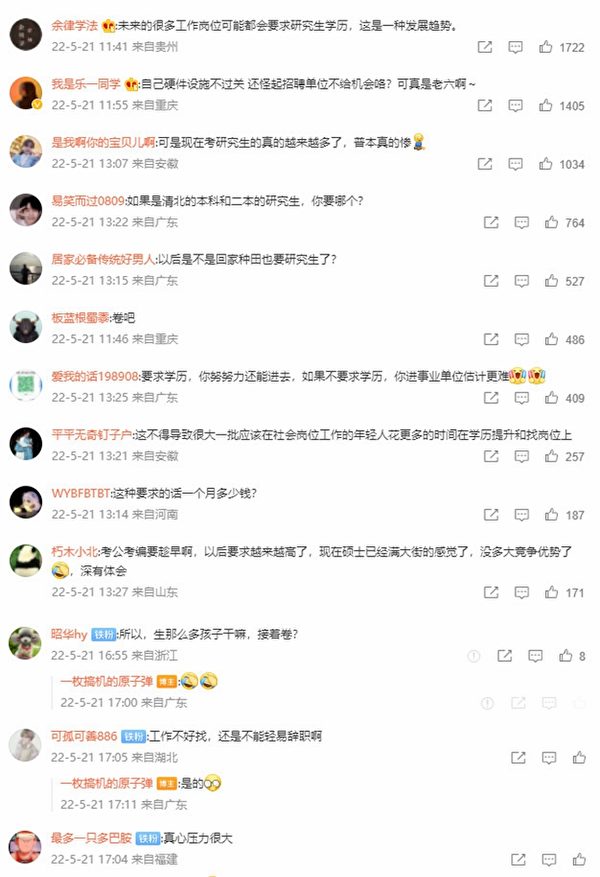 According to estimates by the Chinese Ministry of Education, the number of college graduates in 2022 is expected to reach 10.76 million, an increase of 1.67 million year-on-year. Lu Media said that the most difficult graduation season in history is coming in 2022, with 10.76 million college graduates pouring into the job market. Superimposed on the impact of the epidemic, the employment situation is severe and complicated.
According to the "2022 College Student Employment Research Report" released by Zhaopin, as of mid-April, only 46.7% of the 2022 graduates have successfully applied for jobs, and only 15.4% have signed contracts.
Zhaopin Recruitment announced that the fresh graduates have signed contracts, which is lower than the 18.3% of the same period last year. Among the fresh graduates seeking employment, 46.7% received an offer, which is also lower than the 62.8% in the same period in 2021.
In April, the topic of "Dr. from Peking University was admitted to the urban management office of Beijing Street" once rushed to the hot search. In the list of civil servants to be recruited in 2022 announced by Chaoyang District, Beijing, the personnel to be recruited for urban management law enforcement positions in Lianjie Street have even obtained a doctorate in nuclear physics from Peking University.
Along with the Ph.D. in nuclear physics from Peking University, there are several graduate students from prestigious universities, even a returnee from Manchester, UK, and two masters from China Foreign Affairs University and Chinese Academy of Social Sciences.
Since the end of April, Chinese Premier Li Keqiang has repeatedly emphasized "stabilizing employment" in meetings, which also shows that China's employment situation is facing severe challenges.
Responsible editor: Sun Yun