[EpochTimesMay192022](The Epoch Times reporter Xu Menger comprehensive report) A few days ago, the Chinese Premier Li Keqiang visited Yunnan University and other related news has attracted attention. On the same day, the mainland's Sina Weibo blocked several topics such as "the prime minister is at Yunnan University" and "the prime minister visited Yunnan University in person", and WeChat also strengthened the censorship of related content. Meanwhile, CCP state media did not report on Li Keqiang's above-mentioned trip.
Recently, Li Keqiang went to Kunming, Qujing and other places in Yunnan to inspect local government agencies, schools, private enterprises and ethnic minority families. On the morning of May 18, Li Keqiang went to Yunnan University for inspection. The video released by the school showed that Li had a relaxed conversation with the students. In addition to encouraging the students, he also wished them a smooth job search.
The video shows Li Keqiang appearing at a job fair for Yunnan University's 2022 graduates. The outside world also noticed from the video that Li Keqiang, his entourage, and a large number of teachers and students did not wear masks, which caused concern. Some netizens said, "Today Yunnan University, it feels good not to wear a mask!" "Refreshing, no need to wear a mask."
On the same day, Li Keqiang chaired a symposium in Yunnan to study and deploy to further stabilize growth, stabilize market players and ensure employment.
However, CCTV News, Xinhua News Agency and other media only reported that Li Keqiang hosted a job symposium in Yunnan that day, but did not report his trip to Yunnan University.
On the same day, the video of Li Keqiang's visit to Yunnan University was widely reposted on social media. Afterwards, some netizens found that topics such as "the Prime Minister is in Yunda", "the Prime Minister is visiting Yunnan University" and "Centennial Yunda" have been removed from Weibo.
The video reposted from the official Weibo of Yunnan University also found that the comment column showed that no one commented.
According to China Digital Times, Weibo has blocked related topics. WeChat also censors relevant content. For example, the public account "Brother Lou" (Weixin ID: gh_0a1f850fc5ad) wrote in an article titled "He didn't wear a mask, nor did he ask others to wear a mask" that Li Keqiang visited Yunda, and the article has been published. been deleted.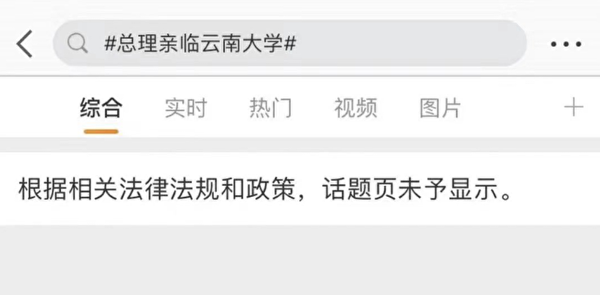 Outsiders speculate whether this has something to do with the sensitivity of the CCP's tough "clearing" policy, or the recent rumors of infighting in Zhongnanhai.
In the past few days, there has been a sudden surge in news about Li Keqiang. At the same time, it is widely rumored that under the pressure of the CCP elders, Xi Jinping's re-election was blocked by the party, and Li Keqiang will take over the power. At a sensitive moment before the 20th National Congress of the Communist Party of China, the above-mentioned news has sparked speculation.
The signed commentary of Hong Kong's "Ming Pao" on the 18th stated that the increase in Li Keqiang's exposure is not only related to Xi Jinping's reduction in general foreign affairs, and part of it is shared by Li, I am afraid that this year is the last year of Prime Minister Li's term of office, and the exposure rate of senior CCP officials before retiring always adding factors.
Another signed commentary by the newspaper on the 19th said that Li Keqiang's recent activity has something to do with this year being the last year of his premiership. Ten years ago, in 2012, the last year of Premier Wen Jiabao's term, the level of activity was unimaginable today. Relatively speaking, Li Keqiang has so far not been active and high-profile, but rather restrained.
Current affairs commentator Tang Hao said in his program "Crossroads of the World" that the Beidaihe meeting has not yet arrived, and now several major factions at the top of the CCP have been fighting more and more fiercely and openly. He believes that some people want to kill people with a knife, and they want to provoke an open conflict between the Xi faction and the regiment faction through overseas revelations, fight each other and kill each other, and then wait to take advantage of the fisherman. In his view, this is a bureau set up by Jiang Pai.
Current affairs commentator Yue Shan believes that Xi's powerful purge campaign since he came to power has offended various factions, and of course he knows that opposition forces may form a group and are clearly preventing him from being re-elected. But according to Xi's style, it is absolutely impossible to carry out the so-called "concession", and he cannot sit still. Xi Jinping will definitely fight back, just like the purging of the multi-dimensional propaganda, and the increase in the level of silence from the political old man.
Yue Shan said that Xi Jinping must first be re-elected. However, as the infighting between protecting Xi Jinping and anti-Xi Jinping intensified, on the stage of the 20th National Congress of the Communist Party of China, due to too much infighting, there may be unexpected accidents, and the regime collapsed suddenly. Xi Jinping wanted to be in power for life, and even wanted the red country to remain unchanged, and it became a void.
Responsible editor: Lin Congwen