The ultra-right Republican Party (Partido Republicano) has won the elections to the Constitutional Council in Chile. The party of former presidential candidate José Antonio Kast received more than 35 percent of the votes, according to the electoral office in Santiago. The Republicans have 22 members on the Constitutional Council.
The moderate conservatives united in the Chile Seguro list are represented by eleven delegates (21.7 percent of the votes). The opposition thus has a comfortable majority in the body, which allows a great deal of leeway when drafting a new constitution. If the right-wing parties agree, they can propose, correct and implement joint drafts.
The party leader of Chile's Republicans, José Antonio Kast. Under his leadership, the right-wing parties have a comfortable majority in the Constitutional Council
The election was a heavy defeat for left-wing President Gabriel Boric. The Unidad Para Chile list, which he and his government support, can send 17 representatives to the body (27.4 percent of the votes). A total of 350 candidates applied for seats in the Assembly on 5 lists.
New attempt – outcome uncertain
A commission of experts has been working on a draft for a new Basic Law since March, and the Constitutional Council is to discuss the text from June. It is already the second attempt to give the South American country a new constitution. The current constitution from the 1980s dates from the time of the military dictatorship under General Augusto Pinochet. The tasks of the state are reduced to a minimum, the education, health and pension systems are largely privatized.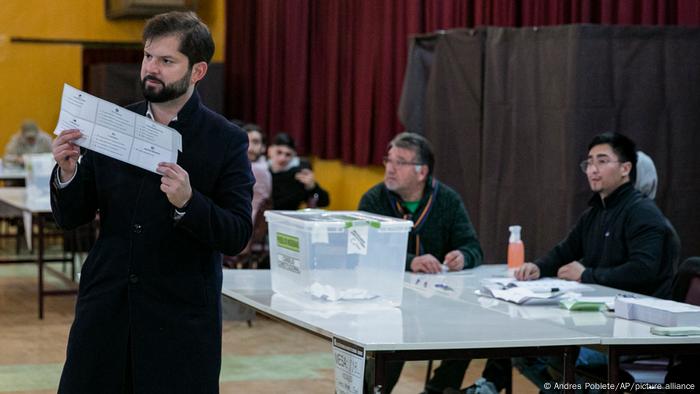 For the second time, the government camp around President Gabirel Boric suffered a bitter defeat in the struggle for a new constitution
The abolition of the old constitution was a central demand of the large social protests of 2019. A constituent assembly then worked out a new basic law from 2021 to 2022. However, in a referendum last year, the Chileans rejected the new constitution by a large majority. The new constitution would have guaranteed a right to housing, education and health, stipulated a 50 percent quota for women in all state organs and granted the indigenous communities the right to self-determination. According to observers, that went too far for many people in the conservative country.
Representatives of the political right hardly participated in the drafting of the new constitution and then campaigned for the proposal to be rejected in the referendum. Now that they have won the majority in the Constitutional Council, they have to deal with the issue.
qu/uh (dpa, epd, kna, afp)