Beijing time:2021-09-25 03:07
[NTD News September 25, 2021, Beijing time]After the release of Huawei's chief financial officer, Meng Wanzhou, he took a Chinese government chartered plane to return to the mainland from Vancouver this morning. However, the flight she took did not take the usual route, choosing the Arctic route and detouring to Russia. This matter aroused concern.
On September 25, the spokesman of the Chinese Communist Party's Ministry of Foreign Affairs, Zhao Lijian, posted on his Weibo that Meng Wanzhou returned to the mainland from Vancouver on a chartered plane by the Chinese government on the morning of the 25th.
The mainland flight data service company "Fei Changzhun" stated on its official Weibo that Meng Wanzhou's flight CA552 had departed from Vancouver at 4:29 pm local time on September 24 (7:29 am Beijing time on the 25th) The airport took off and the destination was Shenzhen, China.
The live images of the aircraft issued by this post, and the well-known flight tracking software "Flightradar24" showing the CA552's current status of flight today, both show that this flight chooses the Arctic route. It does not use the North Pacific or the US Alaska route like other similar flights, so choose to avoid it. U.S. airspace and surrounding airspace.
Because this route is rarely chosen by civil aircraft, it has attracted attention.
"Qing Fu Tan": "Usually we don't take this line…I remember that it was difficult to rescue aircraft accidents on the Arctic route a long time ago."
"Siluo j": "The route is safer. Good."
"Mo Shuozheng": "From the North Pole to Shenzhen via Russia."
The well-known military blogger "The Waves of the South China Sea" said on his Weibo, "The Air China flight CA552 (Boeing 777) that took Meng Wanzhou home did not take the shortest arc route (Figure 3) (Pacific Route). It chose to avoid the U.S. airspace and cross the North Pole with a long route of 12,000 kilometers."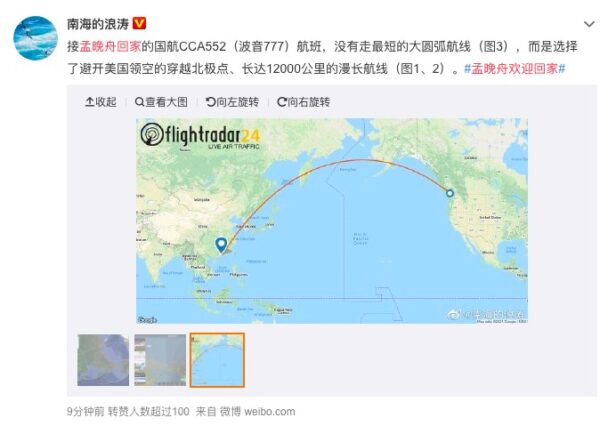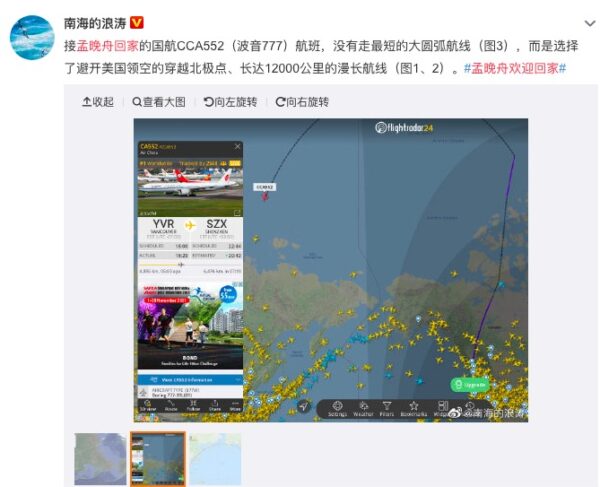 (Reported by reporter Li Jinfeng/Editor in charge: Li Quan)
The URL of this article: https://www.ntdtv.com/gb/2021/09/25/a103226668.html