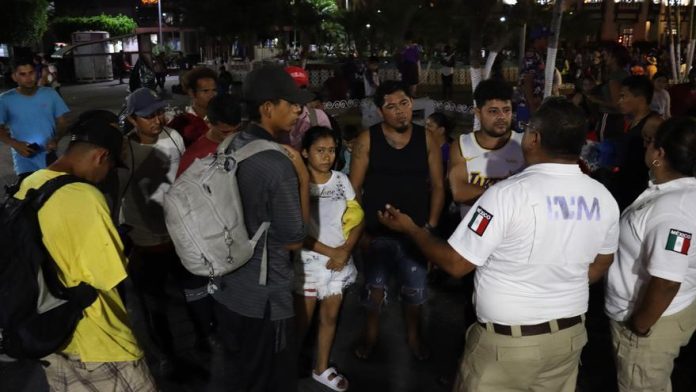 One hundred migrants left this Friday by force from a migration center located in the municipality of Berriozábal, in the state of Chiapas, southeastern Mexico, after allegedly being detained for 20 days.
According to reports, the migrants managed to escape from the immigration center, located about 40 minutes from Tuxtla Gutiérrez, the state capital, after forcing the main gate and then fled, without the agents in charge being able to prevent their departure.
Their escape, they said, occurred to avoid a tragedy like the one that occurred last Monday at a migration station in Ciudad Juárez. In it 39 migrants died due to a fire.
One of the migrants told the media that all they want is to move freely and peacefully through Mexico to reach the United States.
"We do not have weapons, we are not criminals, we come for a better future and they do not respect our rights," explained a migrant who fled the place.
Another migrant denounced that where they were detained, "we were rather locked up." He added: "It is not a shelter, but a prison, where we have no voice and no rights".
"They had us locked up, they are very high walls, although they did not hit us, the psychological suffering and food is the worst."
Migrants escaped from immigration center in Mexico
In an interview with EFEthe director of the Center for Human Dignification (CDH), Luis Rey Garcia Villagranconsidered that in these cases the unrestricted defense of the human rights of migrants should be prioritized.
«If this migratory crisis is not understood from a human point of viewthe National Institute of Migration (INM) will never be able to contain that sea of ​​​​people who will continue walking, "he argued.
In addition, he said that migration must be humanized, with agents who understand that "they are dealing with highly vulnerable human beings, women, children and men."
García Villagrán pointed out that under no circumstances and for no reason can a migrant remain deprived of their liberty for more than 72 hours in immigration stations.
"Enough of politicizing the migration issue, the migration issue must be humanized, so that what we already saw in Ciudad Juárez does not happen."
Last Monday night there was a fire in a migration center in Ciudad Juárez, Chihuahua, northern Mexico. This incident killed 39 people, of whom 6 were Hondurans, 7 Salvadorans, 18 Guatemalans, 1 Colombian, and 7 Venezuelans..
There were about 70 migrants at the station. In addition to the deceased, the accident left 28 injured, 24 remain hospitalized and 4 were discharged.
After their escape, they headed for the road in the municipality of Coita to reach Arriaga and cross into the neighboring state of Chiapas.
The state Civil Protection authorities accompanied this group of people with an ambulance. In addition, they provided medical attention and hydrating drinks to continue on their way without exposing themselves to an accident.
Independent journalism needs the support of its readers to continue and ensure that the uncomfortable news they don't want you to read remains within your reach. Today, with your support, we will continue working hard for censorship-free journalism!