[NTDTV, Beijing time, May 25, 2022]During the closure of Shanghai, a Shanghai native named Chang Yanqing opened seven companies in a row and quickly entered the material supply chain, arousing public attention. It is rumored on the Internet that this person is a relative of a senior official in Shanghai.
On May 23, Lu Media began to supply Shanghai Chaosheng Food Co., Ltd., which had just squeezed into Gaojing Town, Baoshan District, Shanghai. Gaojing Town's previous material supplier was Shanghai Cuihu Agricultural Technology Co., Ltd., but Gaojing Town's announcement on the 22nd showed that the town's suppliers suddenly increased Shanghai Chaosheng, and Shanghai Cuihu's vegetable bag supply business was separated by Shanghai Chaosheng. .
According to Tianyancha information, Shanghai Chaosheng was established on May 17, 2022. Public opinion has questioned why a company that has just been established for 5 days has cooperated with the government so quickly to participate in the distribution of materials.
According to the information from Tianyancha, there are two shareholders of Shanghai Chaosheng. Chang Yanqing and Zheng Shilei each hold 50% of the shares. Chang Yanqing is the executive director and legal representative, and Zheng Shilei is the supervisor. The registered capital of the company is 1 million yuan, and the paid-in capital and the number of participants have not been announced. The registered address of the company is No. 669, Langong Road, Tinglin Town, Shanghai (Zhongpu Park).
In addition to Shanghai Chaosheng, Chang Yanqing and Zheng Shilei also have 6 companies under their names: Shanghai Weiyan Industrial Co., Ltd., Shanghai Qinqian Trading Co., Ltd., Shanghai Maizai Industrial Co., Ltd., Shanghai Yizhen Trading Co., Ltd., and Shanghai Yujiang Culture Media Co., Ltd., Shanghai Xingyi Industrial Co., Ltd.
These six companies were established from late April to mid-May 2022. Both Chang Yanqing and Zheng Shilei each hold 50% of the shares, with a registered capital of 1 million yuan. The paid-in capital and the number of insureds have not been announced. The registered addresses are on the 3rd floor of Building 2, No. 511, Xiaowan Road, Fengxian District, Shanghai.
The business scope of the above seven companies mostly includes food sales, edible agricultural product wholesale, edible agricultural product retail and other businesses.
On the 23rd, an article "There are still such awesome people in Shanghai" was widely circulated on the Internet, which greatly praised "Chang Moumou", the legal representative of Shanghai Chaosheng.
The article said that "Chang Moumou" can open multiple companies during the closure of Shanghai, and when the industrial and commercial departments and banks are not open, mobilize so many manpower and material resources to ensure the company's material supply, and also allow a newly established company. The company that was established for 5 days became the official supplier. "I have to say that this person's work efficiency, communication efficiency, mobilization ability, etc., are really too powerful."
Who is Chang Yanqing?
After Shanghai Chaosheng attracted public attention, netizens doubted Chang Yanqing's identity, believing that this person might have a connection with the officialdom in Shanghai.
An unconfirmed piece of news circulated on the Internet that this "legal person in charge of seven companies who has broken hearts for the people of Shanghai to eat and drink" is Zhuge Yujie, Deputy Secretary, Secretary General and Secretary of the Political Committee of the Shanghai Municipal Committee of the Communist Party of China. Second wife's brother. Zhuge Yujie's wife, Chang Yanping, is an executive at Haitong Securities.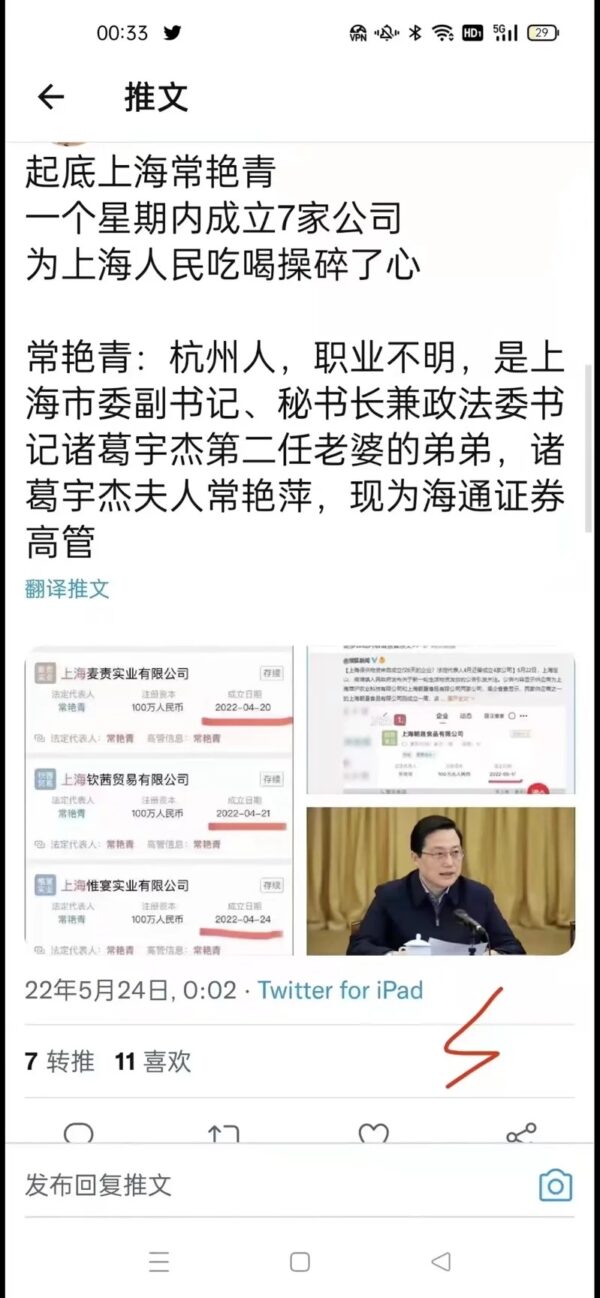 However, when Chang Yanqing was mentioned in an interview report on the 23rd by Lu media "First Financial", it used the personal pronoun "she" twice, or implied that she was a woman.
"First Financial" is an official media affiliated to Shanghai Radio and Television Station. Chinese netizens may have different opinions as to which one is more credible, online comments or Shanghai's official media.
"First Financial" reported in detail the public information of 7 companies under Chang Yanqing's name, but said that these 7 companies could not be found in the "Shanghai Epidemic Prevention and Control Living Material Guarantee Enterprise Inquiry Database". The report also quoted Chang Yanqing as saying that Shanghai Chaosheng started to apply for establishment in March, and has been going through procedures in April and May. Contribution". The official of Gaojing Town also said that Shanghai Chaosheng applied for registration on March 22, and the company met the conditions for supplying materials.
Internet rumors involving CCP infighting?
Shanghai Chaosheng suddenly attracted attention, and the connection between Chang Yanqing and Zhuge Yujie was rumored on the Internet, which made netizens talk a lot. Some people asked: "This article is published at this time, is there a new round of personnel struggle?" Some people doubt the veracity of the rumors: "(Zhuge Yujie) sits in this position, should not be so bold, that is his wife Brother!"
Shanghai is the political hometown of Jiang Zemin, the former leader of the Communist Party of China, and the birthplace of the "Shanghai Gang" in the officialdom of the Communist Party. Although Xi Jinping sent his cronies Li Qiang to take charge of Shanghai, the infighting with the local "Shanghai Gang" continued. The "line battle" in Shanghai's epidemic prevention is also suspected to involve the confrontation between the camps of Xi and Jiang.
On March 26 this year, when the epidemic was raging in Shanghai, 51-year-old Zhuge Yujie was promoted to Deputy Secretary, Secretary General and Secretary of the Political and Legal Committee of the CPC Shanghai Municipal Committee, becoming the third-ranking figure in Shanghai's officialdom and the first "70" Later, the deputy secretary of the provincial party committee was regarded as "promising".
However, according to public information, Zhuge Yujie is from Shanghai, and his career has never left Shanghai. He is considered to be a member of the "Shanghai Gang" who was promoted step by step by Jiang Zemin's cronie Han Zheng. After Han Zheng entered Beijing, Zhuge Yujie remained by Li Qiang's side, as a "big housekeeper" in control of the Shanghai Municipal Party Committee.
(Comprehensive report by reporter Jing Zhongming/responsible editor: Lin Qing)
URL of this article: https://www.ntdtv.com/gb/2022/05/24/a103437268.html