Today, the reporter learned from the Municipal Culture and Tourism Commission that during the Qingming Festival, the city's A-level tourist attractions received a total of 3.067 million tourists.
Among them, Youyang Taohuayuan Scenic Spot received 29,000 tourists, Qianjiang Zhuoshui Scenic Spot received 18,000 tourists, Ciqikou Ancient Town received 42,000 tourists, Nanchuan Jinfo Mountain Scenic Spot received 16,000 tourists, and Wushan Small Three Gorges-Little Three Gorges received tourists 17,000, Yunyang Longgang Scenic Spot received 9,000 tourists, and Jiangjin Simianshan Scenic Spot received 7,000 tourists.
▲Map of tourist rides in Meixin Wine Town
The reporter learned that during the Qingming Festival, many tourist scenic spots in the city carried out memorial activities such as offering sacrifices to heroes and martyrs. Wait for the red tourist attractions to visit and pay homage. At the same time, rural tours and outings are popular among tourists. In the past few days, in the Jigongshan Amusement Park in Fuling Meixin Red Wine Town, tourists either take the cableway to "appreciate the green and the Yangtze River", or ride on the amusement facilities and have fun. Unleash the vitality of spring. It is reported that the chess youth group, the mahjong youth group, the Qingtuan candied haws, the Qingtuan fried skewers, the Xiaohua Qingtuan, the dumpling Qingtuan… The Meixin Wine Town Scenic Spot has also launched a variety of Qingtuan feasts, and various styles of Qingtuan delicacies. , attracting many tourists to taste it.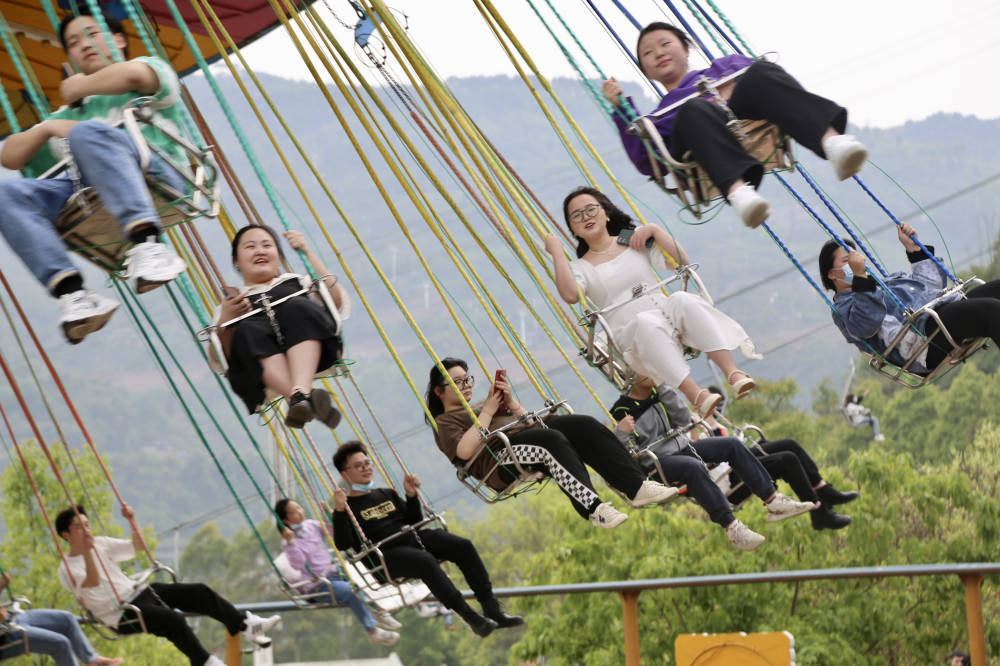 ▲A picture of tourists riding a swing in Meixin Wine Town
According to reports, during the Qingming Festival, in order to enrich the lives of tourists, various districts and counties in Chongqing also launched a variety of activities. Wanzhou District organized an online Qingming Poetry Festival; Yongchuan District launched "Remembering the Revolutionary Martyrs, Thanksgiving for a Happy Life" – 2022 Tomb-sweeping Day "Yuxi Area Cultural Center Alliance's Cultural Program Cloud Exhibition", etc. In addition, the reporter learned that Chongqing has also launched large-scale discounts. During the Qingming Festival, the online service platform "Huiyou Chongqing" integrates Everbright Bank, Chongqing Bank, Post Bank, Qunar, Meituan, Ctrip, Fliggy, Gao 15 national and local financial, cultural and tourism ticketing, and life service platforms, including German Maps, Replay Ticketing, Eat and Play Chongqing City, and Super Huimai, distribute cultural tourism coupons and subsidies to citizens and tourists, with a maximum of 500 Yuan subsidy covers cultural tourism products such as A-level scenic spots, star-rated hotels, hot springs, urban cultural performances, cruise ships, tourist B&Bs, cultural and creative industries, rural picking, and self-driving RV bases.
At the same time, various districts and counties also offer discounts. Shizhu County Qianye Grass Scene Area and Zhongyi Township hold "Qingming 'Explore', Outing 'Treasure Hunt'" activities; Xiushan County Longfeng Huahai·Rose Covenant Scenic Area offers free admission tickets; Wushan County Offered discounts to enjoy the "Large-scale Situational Night Tour of the Light of the Three Gorges"; 20% discount on tickets for Shengtian Orchard Scenic Spot in Tangba Town, Tongnan District; Chongqing Performing Arts Company launched a two-person and three-person package ticket discount.
(The picture in this article is provided by Yang Xiaoyong)Return to Sohu, see more
Editor:
Disclaimer: The opinions of this article only represent the author himself, Sohu is an information publishing platform, and Sohu only provides information storage space services.