According to the WeChat official account of the "Changzhou Liyang Public Security WeChat Account", the police notified the Liyang Tesla crash. One person died in the car and one person is still being rescued. The cause of the accident is under further investigation. Today, a netizen in Liyang, Jiangsu released a video saying that when a black car was crossing the bridge at Qinghong Road in Liyang at noon that day, it suddenly crashed into the railing beside the bridge and fell into the river. Another video shows that the vehicle that crashed into the river has been salvaged ashore, and a Tesla logo can be seen at the front of the vehicle.
access:
Alibaba Cloud Super Product Week: 1 core 2G cloud server 0.26% off at a spike price of 38 yuan/year
In response to the news that the vehicle involved was a test drive on the Internet, a reporter from the Beijing Youth Daily learned from a local Tesla staff that he understood that the vehicle involved was a foreign license plate, and the vehicle also had traces of modification, not a local test drive.
The following is the full text of the notification:
At 12:16 on December 24, Chen Moumou (male, 31 years old) drove his wife Jiang Moumou (32 years old, both from Liyang) in a small car while passing by the Xincheng Bridge in Liyang City, and suddenly rammed into the east side of the bridge After the fence, he fell into the river. After receiving the report, the Liyang City Public Security Bureau immediately organized police to rush to the scene for full rescue, and linked the firefighting, the "120" emergency center, the Blue Sky Rescue Team and the surrounding people to rescue the two drivers and passengers in the car and sent them to the hospital for rescue.
At present, Chen XX died after the rescue failed, Jiang XX is still under rescue, and the cause of the accident is under further investigation.
Traffic Police Brigade, Public Security Bureau of Liyang City
December 24, 2021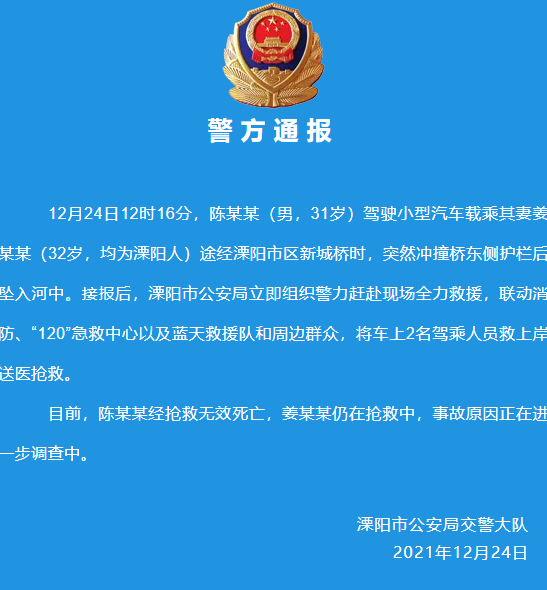 .