Spring Festival weather is here!There will be two rains during the holidaysFly into the homes of ordinary people
Xinmin Evening News (Reporter Ma Dan) The Lunar New Year is getting closer, and the city is full of the breath of the year. This morning, although Shencheng still had an icy start, the sun was shining brightly during the day, making people feel bright and beaming, ready to welcome the arrival of the New Year. This morning, the Shanghai Central Meteorological Observatory released the weather forecast for the Spring Festival. During the Lunar New Year holiday, the weather stage is a bit lively. Not only will there be two rains throughout the holiday, but the temperature will also fluctuate a bit. Citizens who visit relatives and friends remember to pay attention to the approaching Get ready for the weather forecast.
According to the forecast, the Spring Festival holiday is dominated by procedural weather。Affected by the high-altitude trough around January 22 and 27, there was a precipitation process each. Among them, the light rain on New Year's Eve on the 21st came to pay New Year's greetings, and the rainfall during the first day of the new year on the 22nd could reach light to moderate rain. The precipitation will turn into light sleet; from the 23rd to the 24th, a strong cold air from the north will also go south, bringing strong winds and cooling "New Year's greetings".
The temperature in Shanghai varies greatly, with high at both ends and low in the middle.The weather warmed up on the 22nd, with the temperature between 6-8°C, and then under the influence of strong cold air, the temperature dropped significantly, accompanied by northerly winds of magnitude 5-6. The temperature trough will appear on the morning of the 25th, the lowest temperature will drop to about -2°, there will be thin ice, and the suburbs will reach -5~-3°C, with freezing or severe freezing, and the temperature will gradually rise from the 26th.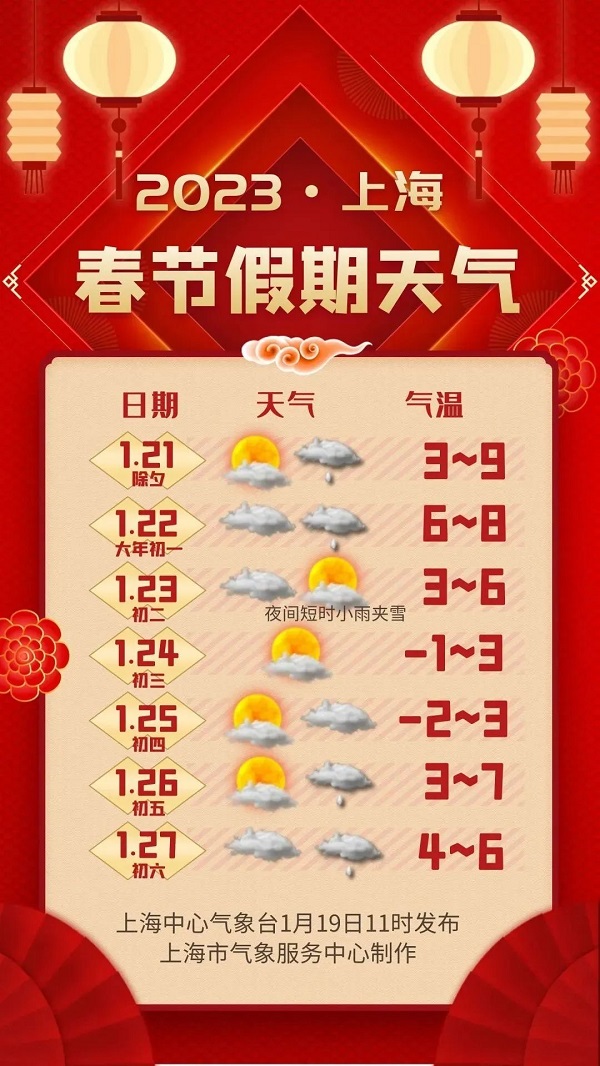 Photo courtesy of Shanghai Meteorological Service Center
Shanghai Spring Festival weather
21st New Year's Eve
Cloudy to cloudy to light rain, 3~9℃
22 New Year's Day
Overcast with light to moderate rain, 6~8℃
23rd New Year's Day
Overcast to cloudy, with short sleet at night, 3~6℃
The third day of the Lunar New Year on the 24th
Cloudy, -1~3°C (minimum -3~-2°C in the suburbs)
The fourth day of the Lunar New Year on the 25th
Cloudy to overcast, -2~3°C (minimum -5~-3°C in the suburbs)
The fifth day of the Lunar New Year on the 26th
Cloudy to overcast with short-term light rain, 3~7℃
The sixth day of the Lunar New Year on the 27th
Cloudy with light rain sometimes, 4~6℃
Editor: Qian Wenting