Poster design: Pan Hongyu
Xinhua News Agency, Beijing, May 16th. Title: Strengthening Confidence and Overcoming Difficulties – Observation of the Current Trend of China's Economy
Xinhua News Agency reporters An Bei, Shen Cheng, Wei Yukun
The performance of the national economy in the first four months released on the 16th shows that the new downward pressure on the economy has further increased due to the more complex and severe international environment and the obvious impact of the domestic epidemic that exceeds expectations. Under pressure and challenges, how do you view the current trend of China's economy?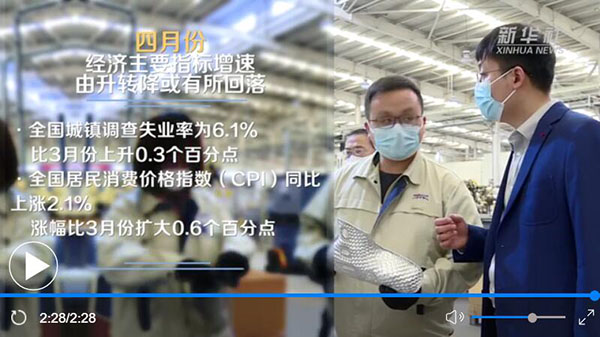 The economic operation was greatly impacted in April, and the short-term fluctuations did not change the long-term trend.
"Because of the arrival of cold air some time ago, Beijing has cooled down. However, short-term temperature changes cannot change the overall warming trend of the weather." At the press conference of the State Council Information Office, National Bureau of Statistics spokesman Fu Linghui used a metaphor to describe the current situation. China's economy is suffering from a "cold spring".
Affected by the numerous, wide-ranging and frequent outbreaks of the epidemic, the current triple pressures of shrinking demand, supply shocks and weakening expectations are more prominent. Fu Linghui said that the main indicators in April showed that the epidemic had a greater impact on the economic operation.
In April, the growth rate of industrial added value above designated size fell by 2.9% year-on-year, the service industry production index fell by 6.1%, the total retail sales of consumer goods fell by 11.1%, the total import and export of goods increased slightly by 0.1% year-on-year, and the national urban survey unemployment rate rose to 6.1%. The national consumer price rose by 2.1% year-on-year, up 0.6 percentage points from March; the national fixed asset investment in the first four months increased by 6.8% year-on-year, down 2.5 percentage points from the first quarter.
"The impact of this impact is phased and temporary. With the gradual emergence of the policy effects of efficient coordination of epidemic prevention and control and economic and social development in various regions and departments, it is expected that my country's economy will soon return to the normal track." Deputy National Development and Reform Commission Director Zhao Chenxin said.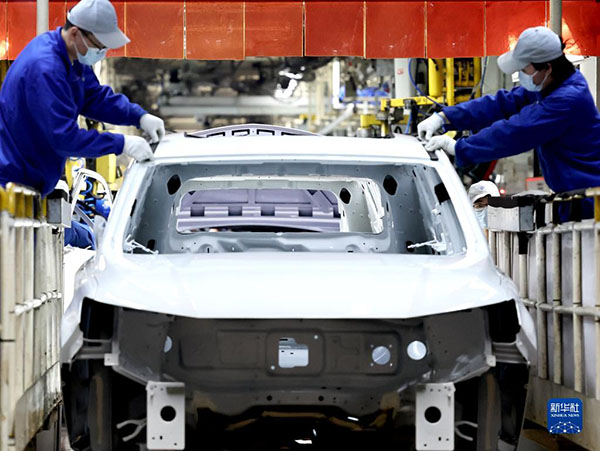 Workers of SAIC Lingang Passenger Vehicle Factory work in the assembly workshop (photo taken on April 23).Photo by Xinhua News Agency reporter Chen Jianli
Fu Linghui summed up the foundation and confidence of China's economy to cope with challenges from five aspects:
"Remarkable economic volume, strong resilience against risks and shocks" "Strong support for basic industries and strong supply guarantee capabilities" "Effective market guarantees for stable supply and stable prices, and overall social stability" "The situation of transformation and upgrading has not changed, and new kinetic energy continues to grow and expand"" The adjustment of macroeconomic policies is intensified, and economic performance is expected to improve at a faster pace."
Judging from the accumulated data in the first four months, the main economic indicators have maintained growth, the added value of industrial enterprises above designated size has increased by 4% year-on-year, and the investment in fixed assets and the total import and export volume have increased by 6.8% and 7.9% respectively;
Under the impact of the epidemic, my country's basic industries such as food and energy have maintained growth, laying a solid foundation for fighting the epidemic and promoting economic recovery; the 2.1% price increase compared with the 8.3% increase in the United States and the 7.5% increase in the euro area, showing a moderate upward trend;
In April, the added value of high-tech manufacturing above designated size increased by 4% year-on-year, and investment in high-tech industries from January to April increased by 22% year-on-year. The transformation of digitalization, informatization, and intelligence continues…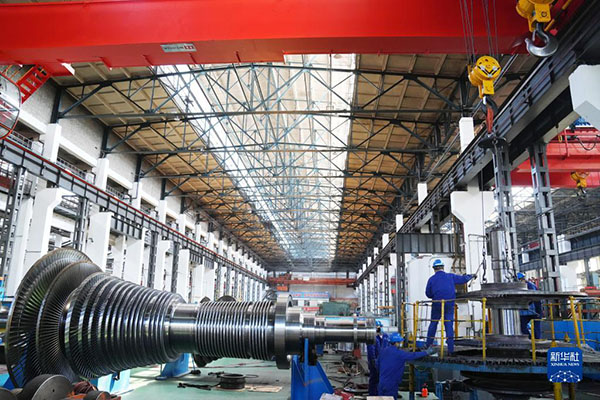 In the production workshop of Harbin Steam Turbine Plant Co., Ltd. of HEC Group, workers are working in production (photographed on May 7).Photo by Xinhua News Agency reporter Wang Jianwei
"Since mid-to-late April, the epidemic situation has generally shown a downward trend. In some areas seriously affected by the epidemic, the resumption of work and production has progressed in an orderly manner. Since May, the freight and logistics that were greatly affected by the epidemic in the early stage have continued to recover, and the national power generation has continued to recover. The physical quantity indicators are also improving." Fu Linghui said that the economic performance in May is expected to improve.
Gather policies and work together to overcome difficulties
The Politburo meeting of the CPC Central Committee held on April 29 analyzed and studied the current economic situation and economic work, and made a series of major arrangements for striving to achieve the expected goals of economic and social development throughout the year. This important meeting emphasized that the epidemic must be prevented, the economy must be stabilized, and development must be safe. This is a clear requirement of the Party Central Committee.
"These aspects must be taken into account, not one-on-one. This is a difficult move, and it is a major test for all regions and departments. It must be implemented carefully." The recent series of press conferences on the theme of "China's Decade" said that the epidemic is a "stumbling block" for economic and social development. It is necessary to scientifically, accurately and effectively prevent and control the epidemic to create a fundamental prerequisite for the normal operation of the economy and society.
In the face of the complex and severe situation, my country has effectively coordinated epidemic prevention and control and economic and social development, accelerated the implementation of established policies, swiftly planned incremental policy tools, intensified efforts to control and stabilized the fundamentals of development.
Fiscal and monetary policies are guided by employment priority to stabilize the overall economic market; further rescue measures for small, medium and micro enterprises and individual industrial and commercial households are deployed, and measures to promote the stability and quality of foreign trade are determined; this year, the 3.65 trillion yuan new special debt quota will be used for All the quotas for project construction have been issued, supporting effective investment to play a key role, and 20 policies to promote consumption have played a leading role in the traction and driving effect of consumption on the economic cycle… A variety of policy tools work together.
"I have received 236 million yuan in tax refunds, and I have more confidence." Jia Jiale, deputy general manager of Inner Mongolia Hengxing Chemical Co., Ltd., said that with the funds, the company plans to further expand production and add some more jobs.
Responding to the impact of unexpected factors, focusing on stabilizing market players: the implementation of the combined tax and fee support policy with an annual scale of about 2.5 trillion yuan has been accelerated. personal accounts; introduced 23 policies and measures to strengthen financial services and increase support for the real economy; more than 3 billion yuan of funds to stabilize jobs went directly to enterprises, and policies such as unemployment insurance to stabilize jobs and improve skills are expected to release 450 billion yuan in dividends; focus on ensuring smooth logistics, Promote the stability of the industrial chain and supply chain…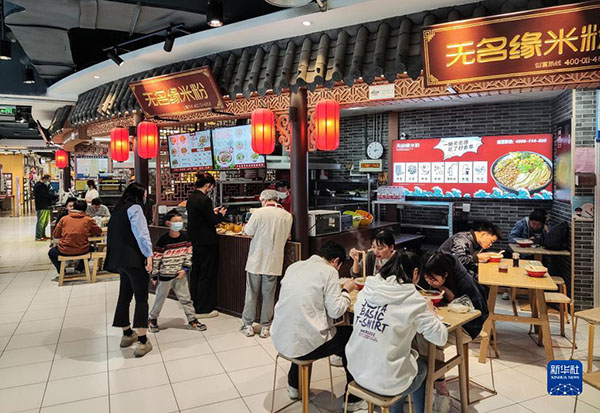 Customers eat at the dining area of ​​a shopping mall in Jinan, Shandong (photographed on May 10).Photo by Xinhua News Agency reporter Zhu Zheng
A quick survey by the National Bureau of Statistics shows that 90% of the companies that have obtained incremental VAT refunds believe that their cash flow has improved, and 96.2% of them are satisfied with the policy; 84.5% of enterprises believe that cash flow has been improved, and 94.6% of enterprises are satisfied.
Logistics obstructions continue to get through! On May 10, the national expressway freight vehicle flow was 7.213 million, an increase of 25.65% over April 10; the volume of railway freight, road freight, and cargo throughput of major ports increased by 5.71% and 6.16% respectively compared with April 18. , 1.12%.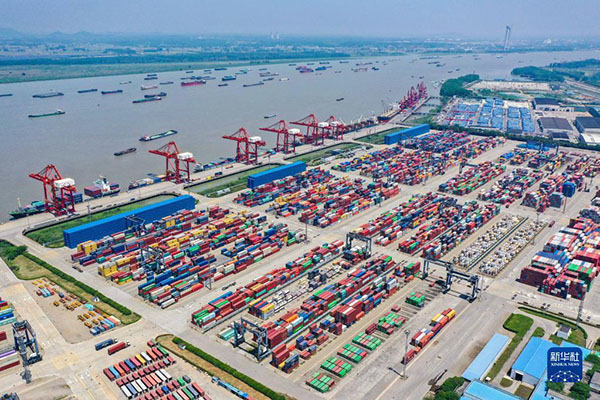 The port of Nanjing Port Longtan Container Co., Ltd. of Jiangsu Port Group (taken on May 6, drone photo).Photo by Xinhua News Agency reporter Li Bo
"my country's inflation rate and fiscal deficit rate are both at low levels, the government debt ratio is within a reasonable range, foreign exchange reserves are sufficient, there is more room for active fiscal policy and prudent monetary policy, and the macro-control policy toolbox is sufficient." China Macro Guo Liyan, director of the Comprehensive Situation Research Office of the Economic Research Institute, said.
Together, we will overcome the difficulties together. A series of "symptomatic medicines" and "combination punches" were quickly implemented, investment continued to play a role in stabilizing growth, consumption is expected to gradually recover, and there are many favorable conditions for sustained export growth…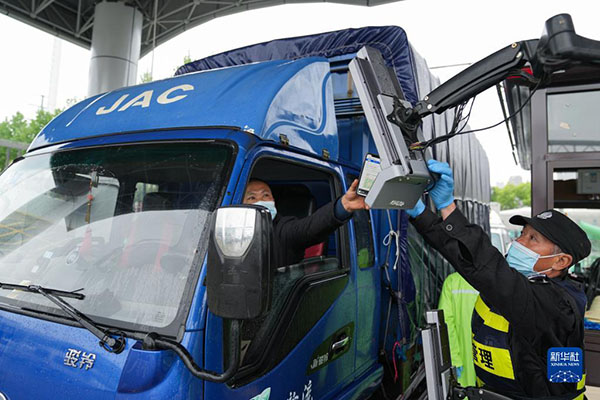 In the Baida Zhougudui Daxing Agricultural Products Logistics Park in Hefei, Anhui, drivers scan the code on the intelligent access control system to enter (photo taken on April 13). The park has established an intelligent access control system that integrates functions such as temperature measurement, verification of health codes, and data collection. Drivers and passengers entering the park can quickly verify without getting out of the car, realizing intelligent temperature measurement for epidemic prevention and data-based traceability of people and vehicles.Photo by Xinhua News Agency reporter Du Yu
Talking about the economic trend of the whole year, Fu Linghui said that the disturbance of the epidemic will not change the trend of the stable operation of my country's economy. With the support of various policies, the national economy will recover faster and achieve stabilization and recovery.
Maintain strategic focus and turn challenges into opportunities
The International Monetary Fund announced that the weight of the renminbi in the Special Drawing Rights (SDR) currency basket was raised from 10.92% to 12.28%; a number of international asset management institutions applied for participation in qualified foreign limited partners (QFLP) and qualified domestic limited partners in Shanghai. Partner (QDLP) pilot…Under the pressure of the epidemic, the outside world is optimistic about China, and the pace of overweight China has not stopped.
"The fundamentals of China's economy are stable and improving in the long run, the factors supporting high-quality development have not changed, and the characteristics of resilience, great potential, and wide space have not changed. In the efficient coordination of epidemic prevention and control and economic and social development. With the support of development policies and measures, China's economy can overcome the impact of the epidemic and maintain stable and healthy development." Fu Linghui said.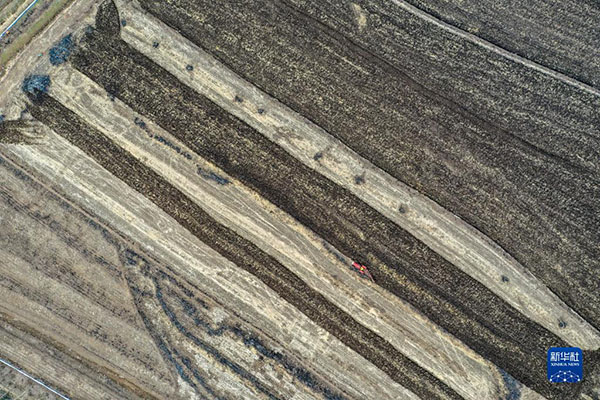 In Hongwei Village, Gudianzi Town, Changyi District, Jilin City, Jilin Province, farmers of Chunxin Ecological Family Farm drive agricultural machinery to cultivate the land (photo taken on April 26, drone photo).Photo by Xinhua News Agency reporter Zhang Nan
"30 Measures" to help enterprises bail out, "30 Measures" to cultivate and strengthen market entities, and implementation plan for building a pilot city for business environment innovation… From Shenzhen, which emerged from the "haze" of the epidemic in the first quarter, rescue reform policies have been introduced one after another. Social electricity consumption recovered to the level of the same period last year.
Over 80% of the grain crops in Jilin Province have been planted, which is faster than the same period of the previous year; from May 16, Shanghai will resume business and market in stages, and it is expected that the normal production and living order in the city will be fully restored in June…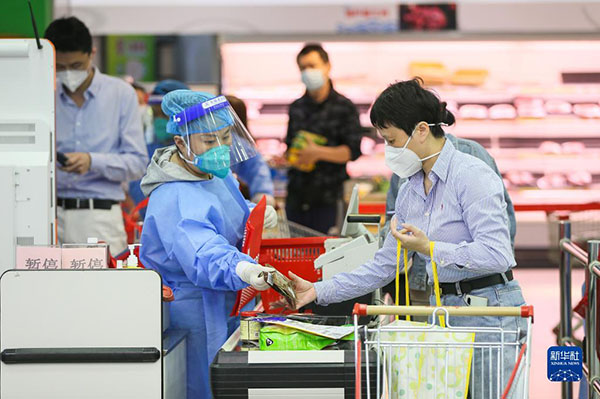 Citizens shop in a supermarket in Xuhui District, Shanghai, on May 16. Starting from that day, Shanghai will resume normal production and living order in three phases.Photo by Xinhua News Agency reporter Ding Ting
Under difficult challenges, China's tenacity and vitality have become a strong supporting force to overcome the epidemic and push the economy back to the normal track as soon as possible.
The 11th meeting of the Central Financial and Economic Commission held on April 26 studied the issue of comprehensively strengthening infrastructure construction. This major deployment based on building a modern socialist country in an all-round way is of great significance to safeguarding national security, smoothing domestic circulation, promoting domestic and international dual circulation, expanding domestic demand, and promoting high-quality development.
Use reforms to solve problems in development, insist on expanding high-level opening to the outside world; continue to deepen supply-side structural reforms, and firmly implement the strategy of expanding domestic demand; accelerate the realization of high-level scientific and technological self-reliance and self-improvement, and build a strong and resilient national economic cycle system… …adhering to reform, opening up and innovation, and accelerating the construction of a new development pattern, stimulating strong and lasting growth momentum.
"It's better to look at the scenery. China's economy is at a critical moment of overcoming difficulties and climbing obstacles. We are still facing problems in progress and troubles in growth. As long as we strengthen our confidence and face difficulties, It will definitely be able to turn challenges into opportunities and usher in a bright future, which is the basic logic of China's economic development." Han Wenxiu said.
<!–enpproperty 87182732022-05-17 09:30:19:524
420908首页即时滚动新闻首页即时滚动新闻http://www.legaldaily.com.cn/index/images/2022-05/17/2a58aa06-966c-45fb-a761-84cac136cd5d.jpghttp://www.legaldaily.com.cn/index/images/2022-05/17/2a58aa06-966c-45fb-a761-84cac136cd5d.jpghttp://www.legaldaily.com.cn/index/images/2022-05/17/2a58aa06-966c-45fb-a761-84cac136cd5d.jpghttp://www.legaldaily.com.cn/index/images/2022-05/17/2a58aa06-966c-45fb-a761-84cac136cd5d.jpghttp://www.legaldaily.com.cn/index/content/2022-05/17/content_8718273.htmhttp://m.legaldaily.com.cn/index/content/2022-05/17/content_8718273.htm新华网1/enpproperty–>