[New Tang Dynasty Beijing time, January 13, 2023]Recently, a 39-year-old man in China died after being infected with the CCP virus (new crown virus). His friend issued an obituary saying that before his death, his friend was still posting the "Lianhua Qingwen" capsule in Moments. Unexpectedly, because of this, he received a letter from the pharmaceutical company's lawyer, which aroused concern after the incident was exposed.
39-year-old man dies from virus, friends post obituary
Weibo netizen "Nie Shengzhe 2023" posted an obituary on Weibo on December 22 last year, stating that Wang Gang, an outstanding alumnus of the Jiangsu Alumni Association of Sichuan University, died at 7:07 on December 21, 2022 due to a well-known "severe cold" , aged 39.
The obituary stated that before Wang Gang died, he "still insisted on posting on Moments and posting Lianhua Qingwen Capsule…"
Nie Shengzhe said in his obituary, "We have sent the picture of Wang Gang holding the Lianhua Qingwen Capsule before his death to Academician Zhong Nanshan and Academician Wu Yiling, thanking them for their outstanding contributions to the health of Sichuan University alumni.
"According to the will of alumni Wang Gang, keep the funeral simple, do not hold memorial activities, do not buy expensive urns, and scatter the ashes in the Jinjiang River next spring to express your attachment to your alma mater."
At the bottom of the obituary is a picture of Wang Gang holding Lianhua Qingwen Capsule. Wang Gang sent a message in Moments at the time and said: "Now the heartbeat is 106 for one minute… I can't bear it…"
A reporter from NTD found that Nie Shengzhe is the head of Desheng (Suzhou) Mansion Co., Ltd., which is the number one company in the field of wooden houses in China. Under the impact of the epidemic, the company's operations were bleak, but Nie Shengzhe still raised wages and bonuses for employees.
On December 25 last year, he posted a video of himself giving bonuses to employees at the company's annual meeting on Weibo, saying: "There is only this that we can do."
On January 6, Nie Shengzhe said on Weibo that he had received a letter from a lawyer from Yiling Pharmaceutical, the manufacturer of Lianhua Qingwen. However, his advice, criticisms and demands on the letter were "somewhat unclear and dissatisfied".
The lawyer's letter stated that Nie Shengzhe's actions misled netizens and consumers and caused negative impacts and economic losses on the client. Require Nie Shengzhe to delete relevant infringing remarks, eliminate bad influences, and make a public apology for no less than 90 days.
Nie Shengzhe said, "Yiling Pharmaceuticals asked me to apologize for 90 consecutive days, but it didn't make it clear whether it was a door-to-door apology or a live-streamed apology. If I come to the door to apologize, I have to prepare to live in Shijiazhuang for three months (Shijiazhuang has many Friends, we can get together now); if the live broadcast apologizes, one is that the live broadcast is very tiring and I can't bear it physically, and the other is that if no one comes to listen to the live broadcast, does it count?"
He said on Weibo that public opinion surveys will be called to decide whether to apologize. "Please don't take my face into account (face is given by the people), and leave a message frankly so that I can make a decision based on the opinion poll. If the poll results really require an apology, I must be serious and write a letter of repentance and other documents , Only by writing sincerely can I be worthy of Lianhua Qingwen."
He also mentioned that the lawyer who wrote this lawyer's letter is well-known and once helped Chinese movie star Wang Baoqiang fight a divorce lawsuit.
According to the lawyer's letter posted by Nie Shengzhe on Weibo: "Beijing Lanpeng Law Firm has accepted the entrustment of Shijiazhuang Yiling Pharmaceutical Co., Ltd. in accordance with the law, and appointed lawyer Zhang Qizhun to discuss Nie Shengzhe's remarks on the Sina Weibo platform and WeChat circle of friends. Infringe the client's right of reputation and other related matters, solemnly send a letter."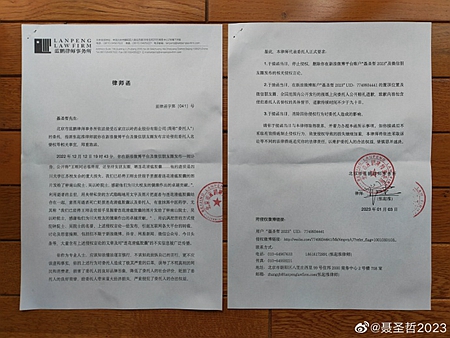 On January 10, Nie Shengzhe posted on Weibo again, sharing a lawyer's letter written by himself, inscribed with "Nie Wuming", saying, "It may be more accurate to write this way."
The incident continued to ferment and aroused public attention. According to media reports, Lanpeng Law Firm stated that whether to sue Nie Shengzhe depends on the client, Yiling Pharmaceutical.
Beijing doctor: Lianhua Qingwen can easily lead to liver failure
According to the official website of Yiling Pharmaceutical, Shijiazhuang Yiling Pharmaceutical Co., Ltd. was established on June 16, 1992. The Chinese patent medicine "Lianhua Qingwen Capsules/Granules" developed by the company to treat colds and flu won the second prize of National Science and Technology Progress Award . Since its launch, it has been included in the diagnosis and treatment programs and guidelines for respiratory viral infectious diseases recommended by the National Health Commission and other organizations more than 20 times.
In the three years since the CCP virus (coronavirus) became popular, Lianhua Qingwen Capsules have been selling well in China, and the public has officially promoted it as a good anti-epidemic medicine. However, after the CCP loosened control, the epidemic broke out, and antipyretics were in short supply. Many people took Lianhua Qingwen not only did not relieve their illness, but caused liver failure and died.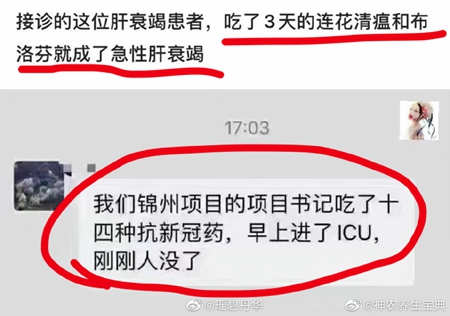 On December 13 last year, a recording of an internal meeting at a private hospital in Beijing went viral on the Internet. The leader of the hospital said, "The epidemic situation in Beijing is very serious, and many hospitals are actually in a state of paralysis. Beijing recruited all retired medical staff to return to work at 4 pm yesterday, and Guangzhou is also doing this, so the first wave is very severe. What we imagined is different, the epidemic is not just flattening, it is actually just the beginning."
The hospital leader said that for Omicron, the consensus in the medical community is "symptomatic." "Don't use complex medicines, the more complicated the more dangerous, antibiotics must not be used, only Ke Senmin and Tylenol, such as 'Qingwen Capsules' must not be used. Because its liver toxicity has been eliminated last week It was published in the "Nature" magazine, and its liver damage is very serious, so our hospital does not recommend it."
She emphasized again: "During the first wave of shock, the symptoms will generally be severe, and the severity will be higher than later, so don't use complicated medicine at this time. Once the fever is high, the liver is the most vulnerable time. Once you use Chinese patent medicine , the disease of acute liver failure will increase, so do not recommend patients to use Chinese patent medicines, especially Qingwen and capsules."
Sohu netizen "毮㷣": "After this round of epidemic, I know that Lianhua Qingwen is really useless. If it weren't for this round of outbreak, everyone would still be kept in the dark. It's so wicked!"
(Comprehensive report by reporter Luo Tingting/Editor in charge: Wen Hui)
URL of this article: https://www.ntdtv.com/gb/2023/01/13/a103624085.html