Original title: The peak of festival sweeping arrives ahead of schedule, and various places in Jiangsu launch convenience services for mourning and sweeping
Another year of Ching Ming, when the spring breeze sets and the sun sends mourning. Tomb-sweeping Day is a traditional festival for the Chinese nation to cherish the memory of the ancestors, express mourning, and look after the end. As the Qingming Festival is approaching, the number of citizens going to the cemetery to worship and sweep is gradually increasing. On March 18, the reporter visited major cemeteries in Jiangsu Province and found that there was a small peak of worship and sweeping everywhere. The reporter learned from the Civil Affairs Department of Jiangsu Province that in view of the characteristics of this year's Qingming Festival sweeping peak, high flow of people and heavy pressure, Jiangsu has started the Qingming Festival sweeping service guarantee work.
Caring Shuttle Bus Tomb-sweeping Special Line Launches Convenience Service Measures Around the World
Today (March 18) early in the morning, at the entrance of Nanjing Yuhua Gongde Garden, there was already a long line of private cars coming to pay homage to the cemetery. In the cemetery, many citizens came to pay homage with flowers in their hands. old friend. At the entrance of the cemetery, there is also a service point for exchanging paper money for flowers. The staff and volunteers guide the flow of people to sacrifice and sweep in an orderly and civilized manner.
Zhang Lizhong, a 90-year-old Nanjing citizen, accompanied by his children, came to pay homage to his deceased wife with flowers. The old man Zhang Lizhong said emotionally: "I have been with my wife for 55 years. She passed away 5 years ago, and I am deeply saddened. I will bring flowers to see her on Qingming Festival and wedding anniversaries, because she loved flowers the most during her lifetime. , and more civilized."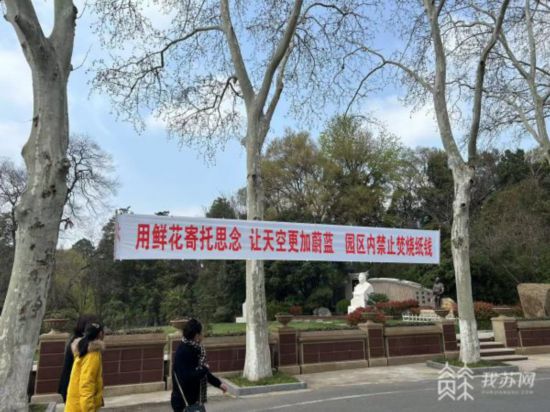 In order to facilitate the citizens who come to sacrifice and sweep, Nanjing Yuhua Gongde Garden not only moved forward the opening time, but also set up a service window. At the same time, it opened a temporary ambulance point, and opened a free shuttle bus for the elderly with limited mobility.
Jiang Zhou, a staff member of Yuhua Gongde Park, told reporters that compared with previous years, the small peak of this year's festival sweeping occurred earlier, and the passenger flow was relatively large. Therefore, the cemetery is fully prepared, such as opening the park early at 7:00 in the morning, extending service hours; insisting on zero-carbon sacrifices and sweeping, etc.: "We have added our security personnel and volunteers to do a coordination and dredging work in the park. We have set up temporary medical facilities. The ambulance point is equipped with a medical staff and an emergency vehicle. It is also equipped with a shuttle vehicle to provide a free travel service for some elderly people with handicapped legs or older age."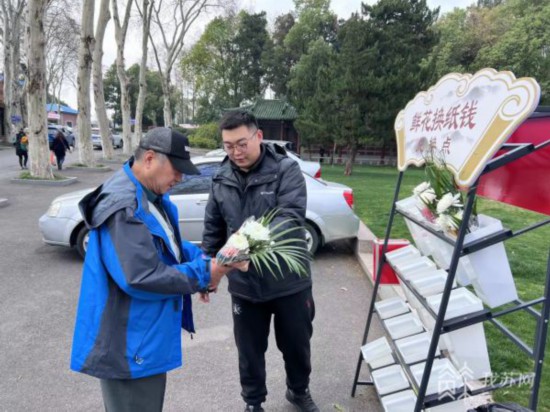 Nanjing Pujue Temple Cemetery and Nanjing Yinlongshan Cemetery also welcomed a large number of worshipers today. In addition to the traffic police department promptly arranging police forces to direct the citizens to pull over and temporarily park near the cemetery, major cemeteries have also added mobile public toilets and opened love shuttle buses to facilitate the public's sacrifice and sweeping.
In Fengqi Garden in Taizhou, more than 10,000 citizens are currently receiving sacrifices and sweepings every day, and it is expected to reach a peak around the Ching Ming Festival. In order to advocate citizens' civilized sacrifice and sweeping, the cemetery has cooperated with public security, traffic police, urban management and other departments to create a safe and orderly sacrifice and sweeping environment through measures such as publicity and guidance to strengthen awareness, strengthen supervision to maintain order, and strengthen cleaning to promote cleanliness. From March 20 to April 5, Taizhou City will also open a special line for sacrifice and sweeping to meet the travel needs of citizens, especially the elderly, during the Qingming period.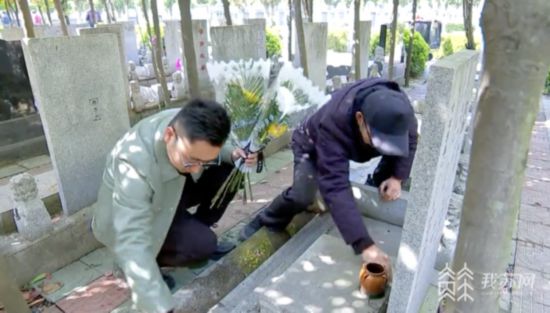 In Huai'an Yongsiyuan Cemetery, vehicles that came to visit the grave have already started queuing up. Luo Wuliang, a staff member of the Yongsiyuan Cemetery Management Office in Huai'an City, said that it is expected that April 1st, 2nd and the day of Qingming Festival will reach the peak of sacrifice and sweeping. Friends of the public can stagger the peak sweeping: "The peak period of the sweeping is generally from 8:00 am to 11:00 noon. During this time period, it is recommended that you can stagger the peak sweeping, and then after the sweeping, please avoid gathering."
Zhou Gang, a policeman from the first brigade of the Huaian City Traffic Police Detachment, said: "Our first brigade of the traffic police has organized and strengthened the police force to be on duty at corresponding points and key road sections. We have also coordinated the vacant parking spaces around the funeral home and coordinated them to provide corresponding parking spaces. The venue is for our citizens to park."
Local civil affairs departments have taken the lead in public security, urban management and other departments to jointly ensure the service guarantee for the Qingming festival. The Zhenjiang Civil Affairs Bureau set up a special work class and an on-site guidance group, and the local area also opened 7 custom-made bus lines for the Qingming festival. Yang Hongbin, deputy director of the Zhenjiang Civil Affairs Bureau, said: "According to the characteristics of Qingming Festival's sweeping services, we will strengthen safeguard measures, and will strive to serve the masses by opening new sweeping places, adding service windows, extending service hours, optimizing service processes, and innovating service methods. Provide high-quality, efficient, convenient and warm services."
The traffic police department reminded that in order to avoid road congestion, it is best for citizens to carpool or take public transportation when going out to sweep graves.
Civilization Festival Sweeping Trees and New Winds Make Qingming More "Clear" and "Brighter"
In Sihong, Suqian, "space-time mailbox" has become a new method of offering sacrifices during the Ching Ming Festival. Everyone put their thoughts on the deceased relatives into words and sentences, wrote them on the letterhead, and delivered them to the "space-time mailbox" to express their remembrance. Sun Hao, a citizen of Suqian, said: "There are many ways to remember the ancestors and place mourning. In the past, burning paper money and placing plastic flowers not only polluted the environment, but also caused safety hazards, and it was easy to cause fire. I think this is a more environmentally friendly and economical form. It is hygienic and convenient to express my nostalgia, and it is very good that the sacrifice can be done at the door of the house."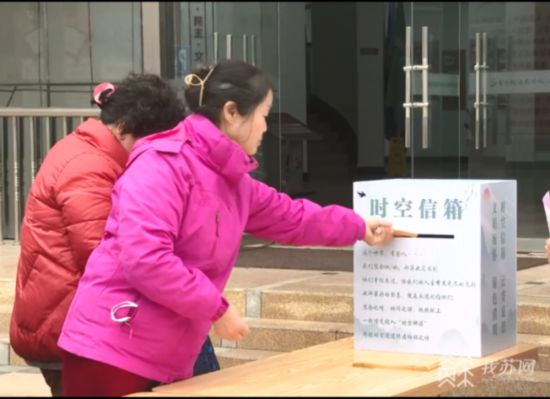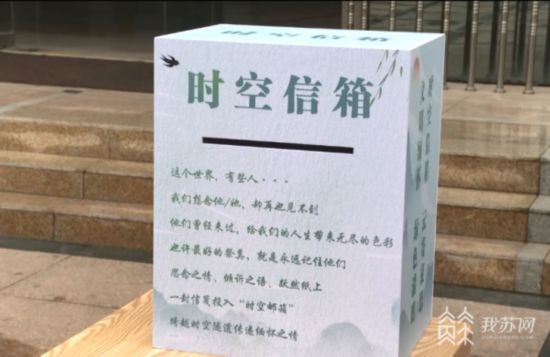 A bouquet of flowers is a sacrifice to the deceased, and a civilized sacrifice is to send mourning. The reporter saw in Fengqi Garden, Hailing District, Taizhou City, that many citizens chose the green and environmentally friendly civilized way of mourning. They placed a bouquet of flowers in front of the tombstone instead of traditional paper money to express their grief. According to Wang Xiaoju, director of Fengqi Garden in Hailing District, Taizhou City, "In the early stage, we used various publicity methods such as the Internet and public accounts to advocate that citizens should carry out green sacrifices and sweeps, abandon the bad sacrifice methods in the past, and advocate the use of green plants. To worship ancestors in an ecologically civilized way, so that the traditional Ching Ming Festival can highlight ecological civilization."
Zhou Cheng, deputy director of the Social Affairs Department of the Civil Affairs Department of Jiangsu Province, said: "During this year's Ching Ming Festival, civil affairs departments at all levels in Jiangsu have strengthened safeguards, set up service windows, extended service hours, and strived to provide convenient and warm services to the masses. At the same time, actively promote civilized, low-carbon, and safe sacrifice and sweeping, advocate the use of flowers, tree planting and greening, and online sacrifice and sweeping to remember the deceased, vigorously promote land-saving ecological burial, formulate and implement incentive reward and subsidy policies, and accelerate the construction of ecological civilization in the field of funeral and interment. "
Due to the large number of people attending the festival this year, the Civil Affairs Department recommends that the public travel at different peak times, try to avoid the peak hours on weekend mornings, and use weekdays or weekend afternoons to go to the festival.
(Jiangsu Broadcasting Financial Media News Center/Wang Min Jiangsu News Broadcasting/Editor Xu Renfei/Wang Ze)
(Editors in charge: Li Jingye, Geng Zhichao)
Share for more people to see