The spirit of Lei Feng will never go out of date. Jiangchuan Road Street, Minhang District will build three "one river, one river" civilized practice lines this year.Fly into the homes of ordinary people
"Be a screw that never rusts" and carry forward Lei Feng's spirit that will never go out of style. This year marks the 60th anniversary of the inscription for Comrade Lei Feng by Mao Zedong and other revolutionaries of the older generation. On March 1, Jiangchuan Road Sub-district of Minhang District held the launching ceremony of "Passing down the torch and continuing to write the story of Lei Feng in the new era" and the 2023 "Jiangchuan Yixing" civilized practice project.
Caption: At the event site, the love booth attracted many citizens to stop at Jiangchuan Road for the photo (the same below)
According to the relevant departments of Jiangchuan Road Street, this year Jiangchuan Road Street will take the creation of a national civilized model urban area as the main line of work, and strive to promote the construction of a new era of "one river, one river" civilized practice belt, through field gathering, point-to-point stringing, content integration, and normal activities , Let the practice of civilization beaded into a thread. Launched three civilized practice lines.
*The first line, from the beautiful block of Jiangchuan Road-Red Garden-Chuanshang Meiji-Qiao Zhen Art Museum-Xiang Zhai, etc., is strung together into the "Red Study Tour Civilization Practice Line";
*The second article, from Zero Bay Park – Hengjing Port Science and Technology Waterfront – Huayi Wan Innovation Institute, is strung together into a "science and innovation waterfront civilized practice line";
*Article 3: From Jiangchuan New Era Civilization Practice Sub-Center – Beizhugang Water Trail – Ruili Lighting Stadium – Hopson Neighborhood Center – Jinping Road Wenchuang Street, the "Vigorous Community Civilization Practice Line" is strung together.
At the event site, 3 volunteer service teams were established.
*Jiangchuan "Qing Ting Jianghe" – "Little Water Drop" volunteer service team, composed of young volunteers from the youth community in Beijie, will rely on important points along the riverside of Jiangchuan to create a "Qing Ting Jiang He" research route, forming a search "Map" and "Passport", organize search practice activities;
*Jiangchuan "Jointly Governing Rivers" – "Small Water Drops" Volunteer Service Team, composed of young volunteers from the Jiangchuan Urban Management Squadron, will carry out regular publicity of the law, and carry out voluntary services such as civilized maintenance and convenience services in the Jiangchuan Riverside area;
*Jiangchuan "Beautiful River" – "Small Water Drop" Volunteer Service Team, composed of young volunteers from the Minhang Maritime Law Enforcement Brigade, spread the concept of ecological civilization of rivers through preaching, and carried out pick-up, river patrol, and protection along the river River and other volunteer services.
At the same time, three categories of public welfare projects were released:
*"Good people are rewarded" courtesy project
Give social courtesy to moral models and "good people around you", so that the virtuous will earn more, the good will be rewarded, and the benevolent will be more powerful.
*"Cultivating Civilization" family education project
Provide professional family education activities for young children, as well as parent-child activities for minor education, and promote a new style of civilization with family style.
*"White Chamber Vision" popular science education project
Combining the knowledge of the unit's industry or professional field, as well as the resources of the position, to provide residents with an immersive experience of culture and popular science.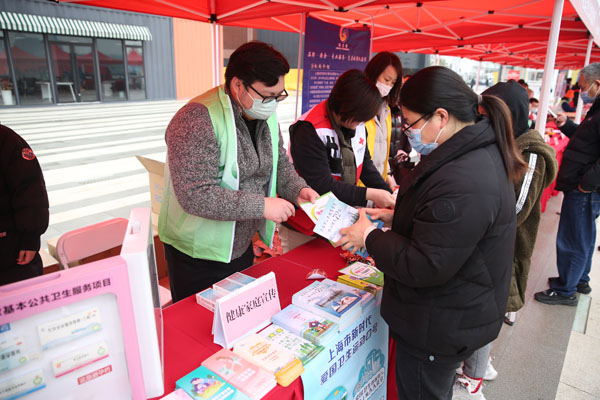 At the event site, Shanghai Shanghai Pharmaceuticals No. 1 Biochemical Pharmaceutical Co., Ltd., Shanghai Aerospace Equipment Manufacturing General Factory Co., Ltd., Shanghai Mitsubishi Elevator Co., Ltd., Shanghai Electric Machinery Co., Ltd. and other units have claimed public service projects.
According to reports, in recent years, 86 volunteer service teams and more than 48,000 volunteers in the Jiangchuan area have participated in the creation of more than 30 brand volunteer service projects.
Xinmin Evening News reporter Lu Zhe
Editor: Zhao Juling