The late autumn in Beijing two years ago witnessed the opening of an extremely important page in the history of China's communications development. On October 31, 2019, on the first day of the opening of the 28th China International Information and Communication Exhibition, the engine of China's 5G train was activated. On this day, Chen Zhaoxiong, then Deputy Minister of Industry and Information Technology, Ke Ruiwen, Chairman of China Telecom, Yang Jie, Chairman of China Mobile, Wang Xiaochu, then Chairman of China Unicom, and Tong Jilu, then Chairman of China Tower, stood together to jointly open the 5G commercial launch ceremony. The next day, the operator's 5G commercial package was launched, and China's 5G has thus entered the stage of large-scale commercial use.
Two years have passed, and in late autumn, China's 5G has begun to enter the "second half." After these two years of development, what is the level of China's 5G development? What challenges are you experiencing? Where will it go in the future?
On the second anniversary of China's large-scale commercialization of 5G, the "IT Times" issued three questions. Because seeing the results can enhance confidence, seeing the pressure can better explore the deep motivation, and seeing the future can see the general trend.
[One Question Development]
What is China's 5G level?
Previously leading in technology, now leading in all directions
At the beginning of large-scale commercial use in 2019, and even earlier, the industry generally said that China was at the forefront and first camp of global 5G development. After a long run of "1G blank, 2G backward, 3G breakthrough, and 4G parallel", I was finally able to be in the leading position, and my joy was beyond words.
At that time, when talking about China's 5G leadership, it was from the perspective of technology and standards. China was one of the leaders in 5G standards. The number of 5G key technology patents owned by Chinese companies was the first in the world, and it was in the forefront of technology research and development trials.
After these two years of development, what is the position of China's 5G? The GSMA organization stated in the "2021 China Mobile Economic Development Report" released this year: "China leads the global 5G development."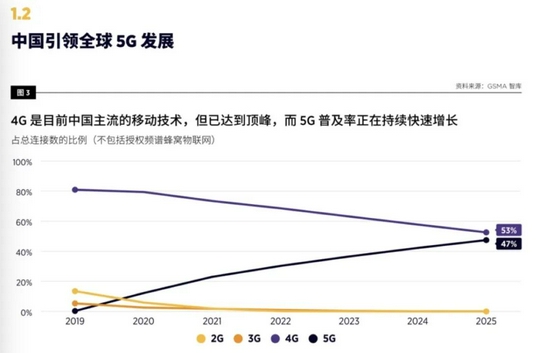 Source: GSMA organization
At present, China's 5G leadership is not limited to the technical level, but is leading in all aspects of the network, users, and applications.
In terms of network construction, China has built the world's largest independent 5G network, and the coverage of 5G networks has continued to expand. At the Fifth 5G Innovation Development Summit Forum held during the China International Information and Communication Exhibition in 2021, Xu Heyuan, deputy chief engineer of the Institute of Information and Communications Technology, introduced that by the end of August this year, China has fully covered 5G in all cities above the prefecture-level. In the county administrative district, the number of cities that have 5G network services opened exceeds 2,900, accounting for more than 97%, and 29 provinces have realized the 5G network connection between counties and counties.
In terms of user expansion, China has the world's largest 5G user group. From a global perspective, most countries are still in their infancy, while China has advanced to the development stage. As of the second quarter of this year, the global 5G user penetration rate was 5.9%, while China has reached 23%. The industry generally believes that once the critical point of 20% is exceeded, 5G will enter a stage of rapid growth. GSMA predicts that China's 5G penetration rate will reach 47% by 2025, and the global average will be around 21% by then.
In the field of 5G applications, China's 5G application innovation cases have exceeded 10,000, and both the number and innovation are in the world's first echelon. Moreover, more than half of the world's 5G toB projects take place in China. Yang Chaobin, vice president of Huawei and president of the wireless network product line, said that "China's 5G application on the industry side is more advanced than the consumer side in the world."
【Second Questions】
How does "model room" become "commercial house"?
Before playing "Ping Pong", now playing "Football"
At the 2021 China International Information and Communication Exhibition held in late September this year, the reporter saw that 5G industry applications such as mines and steel mills have become the most popular display items. Many people in the industry said that the mining, steel and other industries already have replicable and extendable demonstration cases, and they have begun to move from "1" to "N".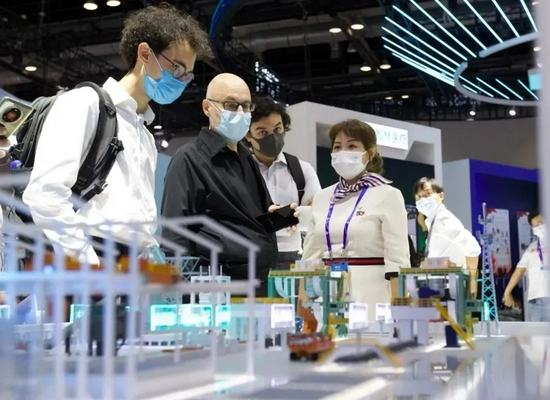 Source: Shanghai Telecom, Fei Feng
Mining production has a rigid demand for the application of new technologies such as 5G due to the particularity of its operating environment. "Most of our metal and mineral resources are mined underground, and some are even mined on the seabed, which faces problems such as high production risks, high personnel costs, high environmental pollution, and difficult equipment management." Zhan Kai, deputy general manager of Mining and Metallurgical Technology Group, said that "the difficulty of recruiting miners for mining companies is even more difficult than recruiting scientific research personnel and management personnel." Therefore, mining production urgently needs to be automated, informatized, intelligent, intelligent, and unmanned. Change to reduce production costs, improve efficiency and safety.
From the perspective of top-level design, China has regarded mining as a breakthrough in the application of 5G industry earlier, and the Ministry of Industry and Information Technology, Development and Reform Commission and other ministries and commissions have successively issued guidance on accelerating the development of intelligent coal mines. Xu Heyuan said: "At present, applications for intelligent acquisition and production control based on 5G low-latency characteristics, applications for environmental monitoring and safety protection based on large connection characteristics, and underground inspection applications based on large bandwidth characteristics continue to mature. 5G fusion applications for mining in Shanxi, Inner Mongolia, Shandong, Gansu and other places continue to emerge."
Although 5G has found suitable application scenarios in some industries, it has not yet formed a sustainable business model.
"From our point of view, the 5G economy has not really arrived, and it is still in the stage of large-scale network deployment." Zhao Juntao, President of Ericsson China, told the "IT Times" reporter, "China's 5G started earlier and moves faster. Even so, it is still in the stage of large-scale investment and deployment. Globally, 5G commercial deployment is still in the early stage of commercial deployment."
Industry insiders said that China's 5G to B has shown a healthy development trend in the past two years of commercial use of 5G, but it is still in the introduction period and needs to be transformed from a "model room" to a "commercial housing." To this end, on the one hand, it is necessary to further improve the maturity of 5G supporting industry applications, and on the other hand to promote 5G cross-industry integration.
In the past two years since large-scale commercial use, telecom operators have been the protagonists, vigorously promoting the construction of 5G networks, and playing "table tennis singles." Next is a football game, which requires the coordination of operators, equipment vendors, and industry enterprises to promote 5G in more industry fields.
[Three questions about the future]
The only way for low-carbon green
I worked hard before, but now it's the top priority
In the future development of China's 5G, green and low-carbon are the most important keywords.
At present, China's 5G development is still facing huge pressure on power consumption. At the World 5G Conference held on September 1, Huang Yuhong, vice president of China Mobile Research Institute, introduced that before 5G is commercialized in 2019, the power consumption of 5G base stations is 4 to 5 times that of the current 4G network. By adopting new base station design, Improvement measures such as the application of new materials have reduced the power consumption of 5G base stations by a quarter, and now 5G is about three times the power consumption of 4G.
At the same time, the scale of 5G base stations will continue to increase rapidly, and the next two years will be a critical period for the acceleration of China's 5G network construction. Ten ministries and commissions issued the "5G Application "Sailing" Action Plan (2021-2023)" in July this year, which stated: "By 2023, there will be more than 18 5G base stations per 10,000 people." According to a report issued by the User and Market Research Institute of China Mobile Research Institute: "According to the number of base stations in June this year, 1.55 million base stations will be built by 2023. Compared with the average construction speed in the past two years, 5G network construction Speed ​​up for at least half a year."

Source: Ten Ministries
According to the forecast of Greenpeace, the number of 5G base stations in China will maintain a compound annual growth rate of 63.6% during the "14th Five-Year Plan" period, and will reach 8 million stations in 2025.
On the one hand, it is three times the high power consumption of 4G base stations. On the other hand, in order to increase the scale of 5G base stations rapidly, 5G faces huge challenges on the road of low-carbon and green development.
At the World 5G Conference "5G and Carbon Neutrality, Carbon Peak Forum", Wu Feng, an academician of the Chinese Academy of Engineering, issued a warning that he predicted that after all the three major operators upgrade 5G in 2026, power consumption will reach the country's total electricity consumption. 2.1%, higher than the power consumption level of the data center.
For operators, high power consumption is a "big mountain" that must be overcome on the road to future development. Two months ago, all three operators announced their own carbon reduction targets and implementation measures. For example, China Telecom proposes that by the end of the "14th Five-Year Plan" period, the overall energy consumption per unit of telecommunications business and the total carbon emissions of unit telecommunications business will be reduced by more than 23%. To this end, it will carry out actions such as building green cloud networks and creating green new operations. .
Although operators are under great pressure, the low-carbon and energy-saving environment also brings huge opportunities. Key dual-carbon industries such as energy, industry, and construction have a huge demand for green and low-carbon development. Operators can use their 5G cloud-network integration to promote key dual-carbon industries to accelerate digital and intelligent transformation, and help companies reduce carbon emissions and improve quality. Synergistic.
access:
Alibaba Cloud-Universal vouchers up to 1888 yuan are available immediately
.