On the morning of October 30th, Hengyang City launched an emergency drill to deal with a cluster of new crown pneumonia epidemics.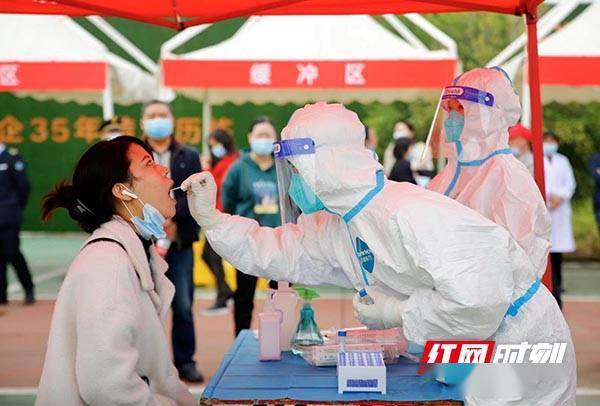 Medical staff carry out nucleic acid testing.
Red net moment Hengyang November 1(Correspondent Li Wenlian and surrounding Luo Yao) "Emergency drill, start now!" On the morning of October 30, the emergency drill for the treatment of a cluster of new crown pneumonia epidemic in Hengyang kicked off at the Creative Plaza, OCT, Shigu District, aiming to pass "real combat" investigations Loopholes, make up for shortcomings, strengths and weaknesses, to achieve the effect of "promoting training with exercises and promoting combat with training". Yang Hongfeng, Deputy Mayor of Hengyang City, attended the event and announced the start of the drill. Shigu District leaders Yan Heping, Xie Hairong, Li Yifan and others participated.
In this exercise, Shigu District found that people returning from key areas with positive nucleic acid tests and sudden cases of community-related cases occurred, involving large supermarkets, catering establishments, medical institutions, tourist attractions and other scenes. The aim is to discover in time the problems and shortcomings in the prevention and control work of various departments and units in the whole region through simulation of actual combat, improve the coordination ability of epidemic response, and ensure that the epidemic can be responded to and dealt with in the first time, and resolutely stop the spread Diffusion, to achieve the "full process, full requirements, all-round" drill effect.
The exercise was divided into two parts. The first part of the exercise was carried out in the form of a "desktop exercise", and 10 simulation scenarios were set up around the case, such as rapid start-up response, rapid pre-treatment, and rapid flow adjustment tracing. Subsequently, it entered the second part of the "practical drill" stage, which simulated large-scale crowd nucleic acid testing. All the personnel who came to the site for sampling wore masks, and under the guidance of the staff, completed the procedures of information registration, temperature measurement, nucleic acid sampling, etc., the entire exercise process was organized in an orderly manner, the process was smooth, the medical staff were skilled in operation, and the inspected personnel cooperated in an orderly manner. , Efficient operation.
Source: Red Net
Author: Li Wenlian around Luo Yao
Editor: Li Lu
Link to this article: https://hn.rednet.cn/content/2021/11/01/10351080.htmlReturn to Sohu to see more
Editor:
Disclaimer: The opinions of this article only represent the author himself. Sohu is an information publishing platform. Sohu only provides information storage space services.
.