Status: 03/11/2023 05:00 a.m
Andre Trucker has fulfilled his dream with his own wrestling school in Kiel-Gaarden. He wants to use sport to encourage others – and above all to offer young people a perspective.
Andre Trucker grew up in a deprived area in Berlin. From an early age, he and his father were interested in wrestling and became a bigger and bigger fan of this fringe sport.
After a mugging, Andre Trucker decided to take his life into his own hands. "I was robbed in broad daylight. At that moment I swore to myself that I would never feel so helpless again. I signed up for wrestling training," says Andre, describing his motives. He became a wrestler himself, and eventually a coach. At the beginning of March, a lifelong dream came true. Andre Trucker opened Maximum Wrestling School in Kiel-Gaarden.
Give children structure with their training
Andre Trucker and his wife Lena are proud of their joint project.
Wrestling is actually a show sport. With the training, Andre Trucker wants to give the athletes courage and self-confidence. And it's important to him to get the children off the streets and give their everyday life a structure. If they have a goal in mind and train toward it, they would have less time to get involved in criminal activities, Trucker explains.
There are therefore also discounts for pupils and students. "Thanks to the low membership fee, we would like to give everyone the opportunity to join us. The financial aspect shouldn't play a role!", explains Andre's wife, Lena Trucker.
Techniques are not for attack
Anyone can take part in the training. "Disabilities aren't a problem either. The only important thing for me is that safety in the ring is guaranteed. Where you come from and who you are doesn't matter in this hall!", says Andre Trucker.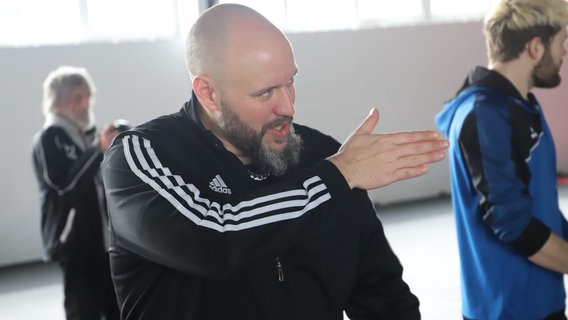 Andre Trucker gives clear instructions during training.
The same rules of the game apply to everyone. "Everything you learn here is only for self-defense outside of the ring. I don't want to hear that these techniques are used for attacks. Then this was your first and last training session!" Trucker makes clear. "Apart from that, I want you guys to put on a good show and make it look as real as possible. For you, that also means it can hurt." Then Trucker takes care of teaching the right technique.
Wrestling takes trust
"Wrestling saved my life. Before I started training, I weighed 199 kilos. I went to my first wrestling school and was immediately accepted into the community. Now I'm in the ring myself and I want to continue here work on my techniques and on myself!" says wrestler Nils, known in the ring as Iron Oak, about his reasons for getting into the sport.
Each participant has their own story that brought them to the sport. "Wrestling is a team sport. You have to look out for each other in the ring. Otherwise injuries can occur. My protégés benefit from this trust in everyday life. The feeling of belonging and being part of a community helps them," says Andre Trucker.
Wrestler, coach, confidant
At his school, Andre Trucker is both a trainer and an athlete, because he is also in the ring himself. But this time is soon coming to an end. "At some point your body will tell you very clearly when it's over. I want to free up my place in the ring for the next generation!", explains the wrestler. Then he just wants to focus on training. Would like to be the contact person and confidant for the students. "If I can change or positively affect just one person's life, then I know I've done my job right," he says. Then the work and investment in his own wrestling school paid off.