Xie Tian time (picture source: see China)
It is forbidden to set up mirror websites when viewing Chinese websites. Return to the genuine version to see the Chinese website.
[Look at China November 6, 2021](Look at an interview by Chinese reporter Li Jingru) Several companies under the "China Zhongwang Group", known as the aluminum king of Asia recently, have announced that they have closed down due to major losses and operational difficulties. It is reported that the company not only has cash flow problems, but is even in a dilemma that even wages cannot be paid out. Another report said that since the end of August, China Zhongwang stock has been in a state of suspension. As of now, China Zhongwang has not disclosed the 2021 semi-annual report. Many people have asked the same question about the explosion of the Asian Aluminum King, where is the money for a company with billions of assets? The Kan China reporter interviewed Dr. Xie Tian, ​​Chair Professor of the Aiken School of Business at the University of South Carolina in the United States.
It is forbidden to set up mirror websites when viewing Chinese websites. Return to the genuine version to see the Chinese website.
Is the wave of business closures spreading to the manufacturing industry?
It is reported that the explosion of Asian Aluminum King marks the beginning of a wave of bankruptcy of Chinese entity manufacturing companies. Xie Tian pointed out: "I think that many companies in China, including companies like Evergrande, have similarities and are facing the same debt problems. If China's economy becomes more troubled now, and there is further energy Power cuts may also cause more companies to have the same problem. So this may not be like an individual phenomenon, I think it may be a phenomenon of Chinese companies as a whole.
Specifically, you look at the process of the collapse of this aluminum company. First of all, its sales have begun to decline. Many companies in China are now facing this problem. When sales began to decline, problems with accounts receivable were immediately followed by cash flow. There is a problem. The same is true for Evergrande. We see that the problem with Evergrande is the decline in sales and cash flow problems. Evergrande still has a huge loan, and it is unable to repay it, especially foreign debt.
And this aluminum company is the same. This is very strange. The company's assets are 120 billion, but its cash flow is only over 300 million. Where does the money go? Like Evergrande, we know that it borrowed a lot of money at very high interest rates. Xu Jiayin himself also raised a lot of cash, and at the same time, as a white glove, he conveyed a lot of benefits to the back. The situation is almost the same for this company now, except that it is not real estate, it is a physical aluminum industry. You see that its assets are very large. As soon as sales decline, debt rises quickly, and cash flow is immediately in short supply. So this is indeed a very big problem, which may indicate that this may be a very common phenomenon in the entire entity enterprise in China. In the next step, as long as China's exports, Chinese market demand, and market sales continue to decline, more companies may still face the same problems. "
What proportion of China's economy are private enterprises?
It is reported that private enterprises play an irreplaceable role in China's economic development. Xie Tian said: "According to Chinese officials, private enterprises have created 50% of taxes, 60% of GDP, and 70% of technological innovation. More importantly, they have created 80% of jobs and 90% of the number of enterprises. The number of Chinese state-owned enterprises is actually only 10%. Of course, state-owned enterprises are large in scale, so they create 40% of GDP and 50% of taxes.
But 10% of state-owned enterprises employ only 20% of employees. 80% of employees are private enterprises. Therefore, private enterprises account for a very large part of China's economy, have a very important position, and have a very large impact on China's economy, people's livelihood, and employment. I have a piece of data here. The 2021 survey and analysis report of the top 500 Chinese private enterprises issued by the All-China Federation of Industry and Commerce. This aluminum company should be among the top 500 companies.
This is the 23rd time that it has conducted such a survey, with companies with more than 500 million U.S. dollars participating in it. In 2020, there are only 4 primary industries, and the primary industries refer to agriculture, forestry, animal husbandry, and fishery, which are very few. There are 319 secondary industries. The secondary industries refer to mining, manufacturing, electricity, natural gas, water supply, and construction. There are 177 tertiary industries. The tertiary industry is the service industry, including transportation, warehousing, information, computer software, wholesale and retail, catering, accommodation, and real estate. There should be more tertiary industries, but now that China's ratio is not particularly large, it is more secondary industries, namely manufacturing and construction, supply, and mining companies. This is the status quo of Chinese companies. In China's tertiary industries, many are very profitable and profitable, such as transportation, communications, and real estate, but many of these are occupied by state-owned enterprises. Therefore, China does exist to a large extent that the country advances and the people retreat, and the country is rich and the people are poor.
We just said that 90% of enterprises are private enterprises. They contribute 80% of employment, half of taxation, and 60% of GDP. Intensifying the cutting of leeks and suppressing private enterprises. If this continues, it will definitely bring a huge blow to the Chinese economy, and it will soon involve government taxes and employment issues for many people. "
Where is the fund for Chinese companies' thunderstorms a mystery
Some mainland media reported that Liu Zhongtian, known as the "Asian Aluminum King", claimed to have started from scratch, but his entire entrepreneurial process was a puzzle. Xie Tian believes that in China, especially those private companies that can go public, they are not completely private companies. "On the whole, these private enterprises in China, like Evergrande Real Estate, do you mean it is a private enterprise? We know that Evergrande is actually a white glove company with the power of the Chinese Communist Party behind it. In China, you If you want to make this company large, you can't do it without strong support from behind. Any local official or small official of the CCP can use any means and methods, such as checking taxes, checking things, etc. , Can pull you down. So behind these companies must be a powerful transfer of interests, and there must be a strong backstage.
This is actually related. Just as we mentioned earlier that the company borrowed so much money and assets, but there is only a small amount of cash. Everyone will ask where the money is going. It must be flowing to the powerful backstage that is the CCP. Going to the hands of the rich and powerful.
The Xinhua News Agency of the Communist Party of China published a ten questions about the Chinese economy. It also pointed out the ten major problems and acknowledged the problems that have arisen in various industries, from energy, manufacturing, innovation to finance. In fact, I think that many problems are caused by the Chinese Communist regime. For example, the problem of China's real estate. Why is there such a big real estate bubble in China now? The Chinese people's money is squeezed out and the people's disposable income is very small. The reason is that the CCP government cooperates with local governments, these powerful groups and white gloves to increase the price of land by selling land, and then again. They made a lot of money by speculating on these real estates. The rest of the burden, as well as the burden caused by inflation, will be borne by the common people's leeks.
In other words, private entities are also experiencing problems now, where is the money? In fact, they are all related to the CCP's dignitaries. In the final analysis, it is the CCP's powerful class, which is actually a vampire attached to the Chinese people. The wealth is sucked away through the collusion of government and business. That's how it is. "
According to comprehensive reports from mainland and overseas media, China Zhongwang Group, once the largest aluminum company in Asia and the world's second largest aluminum extrusion product manufacturer, successfully won the world's largest IPO in 2009. Its products are widely used in rail transit, automobiles, ships, aviation, machinery and other industries. Among them, automotive customers include Mercedes-Benz, BMW, Volvo, BYD, Geely, Chery and other domestic and foreign companies.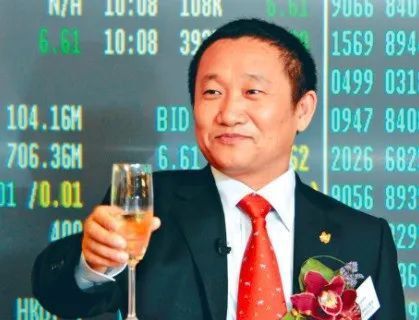 Liu Zhongtian, founder of Asia Aluminum King "China Zhongwang Group" (online screenshot)
The 57-year-old founder Liu Zhongtian was once an infinite beauty. With a net worth of tens of billions, he has repeatedly become the richest man in the Northeast, and he is called the "king of aluminum industry" by the outside world. However, according to a document issued by the U.S. Department of Justice in August this year, six companies in Southern California related to Liu Zhongtian were guilty of fraud for evading $1.8 billion in taxes. According to US media reports, a US federal judge is scheduled to announce a sentencing decision in December.
(The article only represents the author's personal position and opinions)
Source: Look at China
Short URL of this article:
All rights reserved, any form of reprinting requires Chinese authorization.It is strictly forbidden to establish a mirror website.
---
[Honorary Member Wanted]Streams can merge into the sea, and small kindness can achieve great love. We sincerely recruit 10,000 honorary members from Chinese people around the
world
: each honorary member only needs to pay one subscription fee per year and become an honorary member of the "Watch
China
" website, which can help us break through the censorship and blockade and provide at least 10,000 mainland Chinese compatriots Provide independent and true key information to warn them in times of crisis and save them from the great plague and other social distress.
.