[Epoch Times, June 16, 2022](Comprehensive report by The Epoch Times reporter Ning Haizhong) Chinese Foreign Ministry spokesman Zhao Lijian promoted Changsha on Twitter, and related topics were listed on Weibo's hot search list. But mainland netizens questioned, "Why is he able to access the Internet?" "Please treat them equally." Some netizens also posted screenshots of the US Congress's proposed ban on the use of US social media by senior CCP officials, saying that Zhao Lijian's Twitter account will be blocked.
At noon on June 15, the entry "#赵立建 tweeted to promote Changsha to the world#" appeared on the mainland's Weibo hot search list. The entry shows that Zhao Lijian posted a picture on his personal Twitter on June 13 with the text "Food court, Changsha, #China." to promote Changsha to the world.
The Epoch Times reporter retrieved Zhao Lijian's Twitter and found that he posted this tweet at 10:13 p.m. Beijing time on the 13th.
Due to the CCP's Internet blockade, netizens in mainland China cannot use Twitter and other overseas social media normally. Zhao Lijian's use of Twitter to promote Changsha has sparked heated discussions among mainland netizens.
"Just curious! What is Twitter?" "How do you log in to Twitter?"
Some netizens questioned: "How can he use Twitter? Many people think like this… I don't know." "Why can he tweet." "Why can he use the Internet?"
"Please treat everyone equally… Let me see the outside world too."
Another netizen left a message to Zhao Lijian saying that he should pay attention to the Tangshan incident: "At this moment, in this situation, why not strike while the iron is hot and promote Tangshan – Chinese Tang to the world!"
The Tangshan incident refers to a violent incident in a barbecue restaurant in Tangshan City on June 10 this year. After harassing a woman and being rejected, a number of men beat the woman and her companions with wine bottles, kicked her and her companions, causing many women to be injured.
Born in 1972, Zhao Lijian is from Tangshan, Hebei.
Actor Zhao Min: Don't talk about introducing Tangshan, there are videos about it. Now the outside world knows everything about it, and it's all on the hot search abroad.
There are also Weibo netizens who can read the Internet and posted screenshots of the Internet, saying: "Yes, the Twitter accounts of Hua Chunying and Zhao Lijian are going to be caught."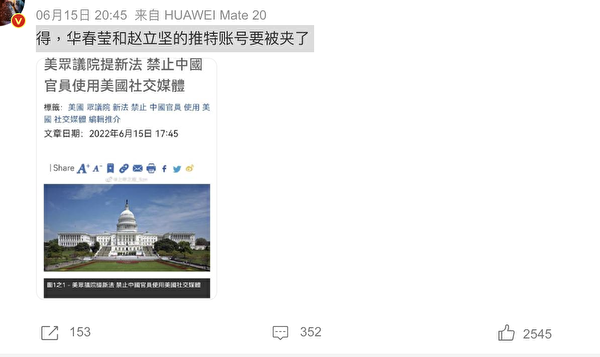 On Tuesday (June 14), Republicans in the U.S. House of Representatives introduced the "China Social Media Equivalence Act", which aims to prohibit senior CCP officials from using American social media platforms unless the CCP allows Chinese people to freely access American social media platforms, as well as the United States. Officials have unrestricted and censored access to Chinese social media platforms.
The bill would apply to members of the Chinese State Council, the Ministry of Foreign Affairs, the Ministry of Defense, the Ministry of National Security, the Ministry of Justice, the Ministry of Public Security, and other departments; as well as senior Chinese officials of other agencies.
In recent years, including Hua Chunying, Zhao Lijian and others, more and more Chinese diplomats have poured into the Twitter social platform to seize the public opinion field and spread lies such as the US military's creation and spread of viruses. Foreign influencers have also gained prominence in Beijing's disinformation campaign.
Responsible editor: Li Muen#