Lewis Hamilton is resigned to a difficult start to the Formula 1 season with his Mercedes team lagging behind champions Red Bull.
The seven-time champion admitted in Bahrain that Mercedes are "not where we wanted to start the season".
"I knew from the moment I drove the car where we were and the challenges we are facing," Hamilton said.
Team-mate George Russell added: "It is going to be a challenging weekend if we want to fight for victory."
The widespread opinion in the paddock before this weekend's opening race and after last week's pre-season testing is that Red Bull, and particularly lead driver and two-time champion Max Verstappen, are the class of the field by some margin.
Ferrari, Mercedes and the much-improved Aston Martin team are believed to be next in line.
Russell added: "Red Bull are in a bit of a league of their own in Bahrain this weekend but there will be a nice fight for second place probably with Ferrari and Aston Martin."
But Hamilton and Russell expressed confidence that Mercedes could replicate their strong development through last season, which saw them recover from a weak start to take a one-two at the penultimate race.
"There is no reason why we can't fight as the season hots up," Russell said.
Both Russell and Hamilton said Mercedes had made progress since the end of pre-season testing last week, and the team have a new rear wing which they hope will reduce the size of the gap to Red Bull.
"I am not going to sit here and say we are going to find that lap-time deficit to Red Bull," Russell said, "but we are definitely in a more comfortable place than on Friday night."
And Mercedes believe they have rid the car of its biggest problem last year, a high-speed bouncing caused by an aerodynamic flaw.
Hamilton said: "On a positive note, not having bouncing is a huge plus and trying to understand what the problems were while having bouncing made it difficult to work out what those are. We don't have that now and we can focus on pure performance.
"This still is a multi-championship-winning team and group of people."
Hamilton added: "Hopefully those behind will continue to apply pressure [to Red Bull]. Ferrari have a decent package, Aston have a decent package and we are hunting too.
"I don't think Max will slip up. He is a world champion and I wouldn't question his determination and focus."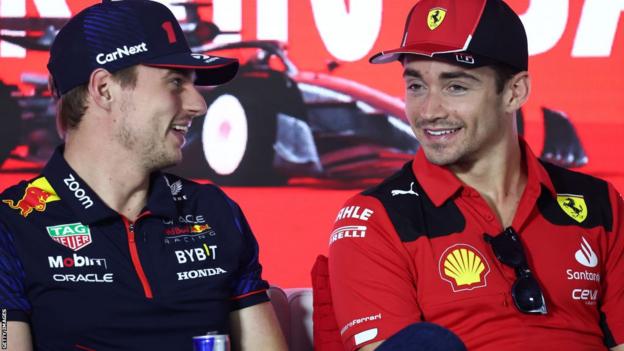 Ferrari's Charles Leclerc, Verstappen's closest challenger last year, said: "Red Bull and max seem to be very strong. It is only testing so it is difficult to quantify by how much but it seems they are a bit in front compared to us so we have some work to do.
"It is very difficult to know where we are but global picture tells me we are a bit behind."
And Verstappen said that the new Red Bull was better "everywhere" than the car with which he dominated last year's championship and broke the record for wins in a season.
Hamilton said that Mercedes' competitive position would have no bearing on his desire to stay with the team beyond the end of his current contract this season.
"Whether or not we have a difficult year this year, I'll still be here," he said. "I am a fighter and we fight as a team. I love the challenge of finding solutions and still believe I am able to put the car in places perhaps others are not able to.
"Of course I wish we were starting the season with a great car but it is the journey. There is no hold-up with my contract. I am very relaxed, it will get done when we're ready."
Human rights issues
Hamilton has questioned whether F1 is having the effect it hopes in countries accused of human rights violations.
F1 insisted it believed it can be a force for change in countries it visits after UK MPs urged the sport's bosses this week to set up an independent inquiry into the links between grands prix and humans rights abuses.
Hamilton said: "I couldn't say I know whether it's got worse. I'm not sure it's got better after we've been coming here all these years, only the latter part of the years have I started to understand more and more of the challenges of the people here. Saudi I have read about some of the troubles there.
"I always felt we had a responsibility that if the sport is going to go to these countries, we are duty bound to raise awareness and try to leave a positive impact in these places.
"That view has not always been shared in the sport, whether it's teams or people in high-power positions, but more needs to be done without doubt. Whether or not that will happen time will tell."