[Epoch Times, August 27, 2021](Reported by Epoch Times reporter Chen Juncun) At this Tokyo Par Games, Egyptian table tennis (also known as table tennis) player Ibrahim Hamadtou was a very special one. An inspirational character. Although he lost his arms, he can bite the racket with his mouth to hit and serve the ball, and then compete with other players. He proved with his efforts and achievements that nothing is impossible in the world.
Hamato, 48, had participated in the last Rio Par Games and won 9th place in the group and 11th place in the individual. This is the second time he has participated in the Parnell in his career. And his unique way of serving has always received great attention from the outside world.
Without his arms, Hamato hit the ball with his oral racket. When he wants to serve, he will pinch the ball with his right toe and throw it into the air, and then hit the ball by rotating his body and head.
Some netizens shared on Twitter a short video of Hamato facing Hong Kyu Park, a South Korean player with a lower limb disability, on August 25, in order to encourage people not to give up lightly. The tweet read: "Whenever you want to give up something that is difficult, watch this short video of Egyptian player Hamato."
(ClickhereYou can watch this short video)
Hamato is married and has three children. He is from Damietta province in northern Egypt. He lost his arms in a train accident when he was 10 years old.
Hamato said in an interview with CNN in 2014 that he could only play football or table tennis in his hometown. In terms of his physical disability, it was more reasonable to participate in football, but he later switched to table tennis to challenge his potential.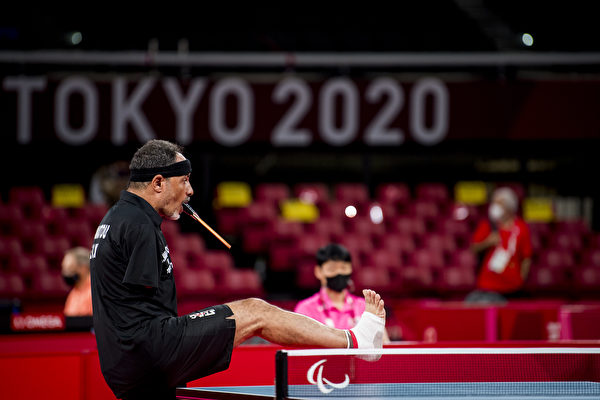 He began to practice billiard skills diligently at the age of 13. He tried to hold the racket in different ways at first, including holding the racket under his armpits, and finally decided to change to biting the racket with his mouth.
After years of persistence and hard work, Hamato has achieved remarkable results in the field of billiards, and it has also inspired many people.
In addition to participating in the Par Games, Hamato has also participated in major tournaments such as the African Championship and the Egyptian Open, and won 3 silver medals in billiard singles.
Hamato told CNN: "I believe that as long as you work hard, nothing is impossible. This is the message I want to give people."
Editor in charge: Jasmine
.