American Jessica Pegula, who is third in the singles world rankings and second in the doubles, is the latest leading WTA Tour player to feature in a BBC Sport column.
In her first piece at the French Open, Pegula discusses how food poisoning derailed her Roland Garros preparations and why the extended European clay-court swing is like Groundhog Day.
Coming into this week's French Open, my preparations were completely thrown by getting food poisoning on my first night and first dinner in Paris.
What horrendous luck – I haven't gone out to a restaurant since because I've been too afraid to eat there.
I don't know exactly what did the damage. I had escargots – I love escargots – but everyone else in my group had them. I also had salmon so maybe it was a bad piece of fish.
I was throwing up for the whole night and I couldn't sleep much.
That was after I arrived in Paris on Tuesday, I didn't practise on Wednesday, I practised on Thursday – but it was not pretty. I could barely do anything.
I was getting a lot of nausea and acid reflux, I wasn't eating. I was afraid to eat anything. I didn't have an appetite.
It lingered for four or five days but I wasn't able to just sit in bed, I had a bunch of stuff to do.
Whatever I had scheduled, like the media day for example, I needed to get through it as quickly as possible. I was like, 'Sorry I'm not in a good mood but I need to get through it' .
I was a zombie for two days.
I still practised because I wanted to hit and get a feel, but I wasn't pushing myself too hard. I didn't want to be totally running myself down when my immune system was shot.
On Friday I was thinking, 'I'm supposed to be playing on Sunday and how am I going to play? I feel horrible and I've practised once'.
Also, going into the first round of a Grand Slam you have nerves anyway and feel a little uneasy.
The good thing was I felt I was playing OK, but just not feeling physically good. Still, I didn't feel happy or prepared.
I had to try and turn it into a positive, which was by really focusing on me. I was like, 'right I need to get through this match' because I knew I had two days off after to recover.
That was my motivation: to walk in, get through, be super focused and hope for the best. Actually I played a decent match against Danielle [Collins]who is someone I know well and is a great player.
Luckily I came around by the weekend, caught up on sleep and got some good practice in. Now I'm feeling a lot better and ready to go.
'Extended European swing feels like Groundhog Day'
So far my European clay-court season has been good, having reached the Madrid Open quarter-finals in the singles and reaching the doubles final in both Madrid and Rome.
But it has been a really long trip. I'm American – we start dwindling over here after a while. It's so different over here and I think I generally don't do so well.
It is a long swing and it has changed with the introduction of the two-week events in both Rome and Madrid. This year was the first time it was two weeks in Rome and, coming after the two weeks in Madrid, it is an adjustment which we have to get used to.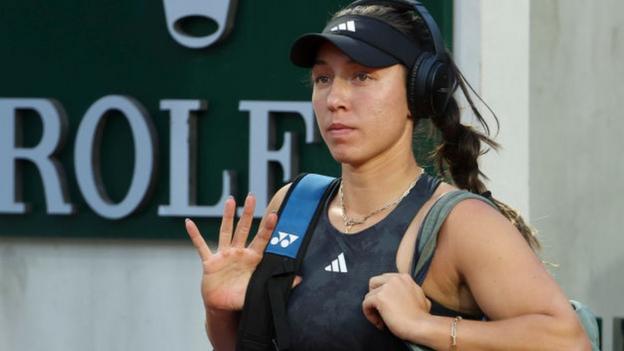 I have to configure myself differently and work out how I'm going to stay fresh for a month before a Grand Slam. It is about learning how to adjust into a different structure.
I think it's a little tiring. Grand Slams are a lot, mentally and physically, and to prepare with two back-to-back, fortnight-long tournaments is hard.
It is mentally draining. It gets like Groundhog Day after a while.
In Rome, it didn't help that the weather was awful. I think it rained almost every single day. Sometimes at a tournament – when it's been a long day and the weather is bad – it is easy to get stuck in your room.
You don't want to leave, you just want to stick on the television and order in some food. It can get you down.
'Sightseeing and shopping in Italy kept my mind fresh'
To help overcome those feelings, I try to do wander around the cities and see some of the tourist sights. I had spare time in Rome so I did a lot of things with my sister, who came over for the first time.
We went shopping, walked and toured everywhere. She wanted to see the sights.
In Rome, we went to see the Colosseum and Pantheon and all the other key things. We walked the city a lot and headed to a few restaurants because she likes to find all the foodie spots.
Then we went to Milan for two days to break up the trip before I came here for Paris.
We took a train from Rome which was fun, we don't have a lot of trains in America so it was nice to see a new city by hopping on the train for a couple of hours.
We also did a lot of shopping in the area around the Duomo, which was really pretty.
I'm not the kind of tourist who takes loads of photos, but I love wandering around and finding cool restaurants or cute coffee spots.
In Italy there is lot of great coffee and here in Paris there are lots of nice bakeries.
Wherever you are in the world, I think you have to leave the hotel and force yourself to do things. That's so important to help keep your mind fresh.
Jessica Pegula was talking to BBC Sport's Jonathan Jurejko at Roland Garros.