Fuzhou Jin'an District Wushu Association held the second council meeting to promote traditional Wushu

www.fjsen.com 2023-06-10 22:23:37 Lu Jinfu Source: Southeast Net
let me say a few words
Conference site.Photo by Lu Jinfu, reporter from Southeast Net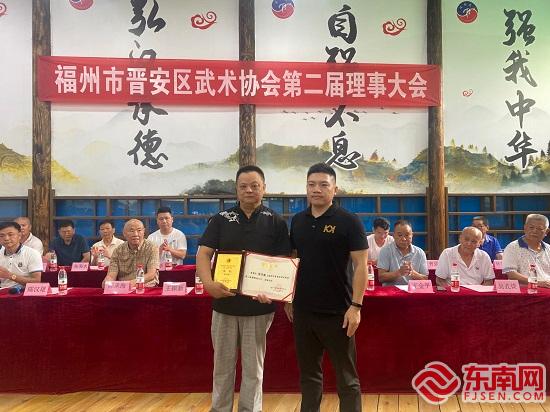 Certificate issued.Photo by Lu Jinfu, reporter from Southeast Net
Martial arts show.Photo by Lu Jinfu, reporter from Southeast Net
Southeast Net, June 10th (our reporter Lu Jinfu) This afternoon, the second board meeting of Wushu Association of Jin'an District, Fuzhou City was held. Plaques and certificates were issued to the members of the second council on the spot.
Fuzhou Jin'an District Martial Arts Association was established on September 15, 2017 with the approval of Fuzhou Jin'an District Civil Affairs Bureau. It consists of martial artists, physical education teachers, fitness qigong enthusiasts, martial arts traumatology and martial arts workers in Jin'an District. A voluntary mass non-profit organization.
A wonderful martial arts demonstration was held at the scene. With the sound of music, the dragon and lion dance performed sonorously and powerfully. The majestic children's martial arts performance, with crisp and neat movements, won warm applause. Then 8 famous martial arts masters and coaches brought nine-section whip, Liuhe boxing, Suhe boxing, Dishu boxing, Minghe boxing, Xiangdian boxing, Dishu boxing, Xiangdian boxing and other boxing performances, giving everyone a glimpse of Chinese tradition The charm and profoundness of martial arts.
"Since the establishment of the association, it has actively carried out national fitness campaigns, and has made positive contributions to promoting the healthy development of folk martial arts and promoting Chinese martial arts cultural activities." Chen Hanxiong, president of the Wushu Association of Jin'an District, Fuzhou City, introduced that the association organized participation in Jin'an District Wushu Routine Championships for Primary and Secondary School Students, Cross-Strait Wushu Culture Festival, Fujian Youth Wushu Routine Championships, Fujian Provincial National Fitness Games Wushu Finals and other activities have carried out traditional Wushu inheritance work in many primary and secondary schools, and actively promoted Wushu into campus activities. In Fuzhou No.7 Middle School, Xiyuan Martial Arts Training Center, Wenwu Hall and other places, we organized six phases of the "Chinese Martial Arts Duan System" assessments for the first stage and 1-3 Duan, making positive contributions to improving the popularization of Wushu Duan System .
In order to further carry out traditional martial arts exchange activities, the Wushu Association of Jin'an District successively held Xiyuan Wushu Training Center, Macao Jing Wushu Training Center, Houshan Martial Arts Hall, Hancheng Martial Arts Education, Shaolin Shanmen Boxing Martial Arts Hall, Hongmen Alliance Wing Chun Special Training Center, Fuzhou Kaixuan Martial Arts Museum and other places set up Jin'an District Traditional Martial Arts Training Base to inherit Chinese traditional Martial Arts. And actively participated in a series of exhibitions and performances of folk culture and traditional martial arts in Jin'an District, and also participated in the birthday ceremony of Fang Qiniang, the ancestor of the White Crane Fist in Yongchun, Fujian Province, and the seminar and compilation work of "Fujian Nanquan".
Chen Hanxiong said that in the next step, the association will pay more attention to promoting the development of various martial arts activities and strengthening the activities of the Wushu Association; conscientiously implement the "six advances" work of martial arts, actively promote traditional martial arts into the campus, and inherit traditional Chinese martial arts; further promote and popularize "China Martial Arts Rank System" work; actively carry out various traditional martial arts exchange activities, and inherit traditional Chinese martial arts.
It is understood that Jin'an District is the center of Fuzhou's martial arts population. There are many types of boxing, and there are about a dozen types of boxing with local characteristics. These include Fuzhou Crane Fist, the national intangible cultural heritage project "Dishu Fist" of Jin'an Xiyuan Village, provincial intangible cultural heritage Xiangdian Fist, Plum Blossom Fist, Shaolin Arhat Fist, Shanmen Fist, Nanfo Fist, Long Zhuang Fist, Tiger Fist Zunquan, Niaojiquan, the well-known natural door martial arts, Huang's Taijiquan, as well as the old traditional Taijiquan of Chen, Yang, Wu, Wu, Sun and so on.

Responsible editor: Wu Jing