-18
J Rose (Eng);
-15
B Todd, B Wu (both US);
-14
P Malnati, D McCarthy, K Mitchell (all US)
-12
J Bramlett, R Moore (both US), T Pendrith (Can), Chun-An Yu (Tpe)
Selected others: -9
S Power (Ire);
-6
H Hall (Eng);
-4
D Willett (Eng), R Knox (Sco)
Gareth Bale finished in joint-16th place at the Pebble Beach Pro-Am as Justin Rose secured his first victory in four years in the pro event.
England's Rose, 42, completed the final nine holes on Monday to finish on 18 under and win by three strokes over Americans Brendon Todd and Brandon Wu.
The final round had been suspended on Sunday because of darkness.
Earlier, the amateur competition was shortened to 54 holes because of strong winds in California.
Ex-Wales football captain Bale and American playing partner Joseph Bramlett ended on 16 under.
NFL great Aaron Rodgers finished top of the amateur leaderboard on 26 under with Canadian pro Ben Silverman.
Former US Open champion Rose led by two shots on 15 under when the pro event resumed on Monday and hit three more birdies to card a six-under round of 66.
It was Rose's 11th PGA Tour victory, but his first since the 2019 Farmers Insurance Open.
"Time flies by doesn't it – it's amazing how long it has been," the 42-year-old told CBS.
"This is just a moment to say thanks to the people that believe in me more than probably I do.
"My team have been incredible, obviously my family at home. And to my squad, there's been lots of people who have rallied around me, and I've just had an unbelievable week."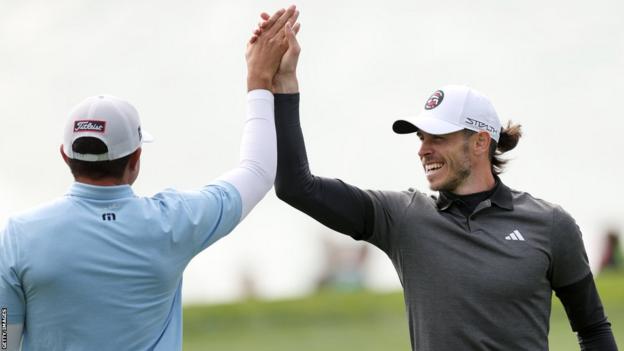 Despite his competition being curtailed, Bale – who retired from football shortly after leading Wales at last year's World Cup finals in Qatar – loved the experience.
"The last couple of weeks have been amazing," said the former Real Madrid forward, who plays off a two handicap.
"People giving me compliments on my game is incredible, they have put a bit too much pressure on my shoulders!
"I am a big golf fan and appreciate what these players do on the golf course. It is great to play with them, interact and watch what they do.
"Just watching him [Bramlett] strike a ball is something else. The power, the touch. He has been incredible and he is an even better guy, which is more important. I couldn't have asked for a better partner."