Original title: Guangxi held the 14th National Games summary and commendation meeting 13 athletes and 5 units were credited with great achievements
Source: China Guangxi Government Network
  On the morning of November 16, the autonomous region government held a meeting in NanningGuangxi Sports Delegation Summary and Commendation Conference for the 14th National Games, Summarize experience, commend units and individuals who have achieved excellent results, study and analyze the goals and tasks of Guangxi sports work in the new development stage.
  In the 14th National Games, our district athletes fought tenaciously and won 7 golds, 7 silvers, 8 bronzes, and 40 fourth to eighth places; the total score was 531.It is the highest in 34 years since the sixth session with total scores in 1987; The gold medal ranking has been raised from the 28th to the 19th in the previous session.No. 1 in the country;Women's gymnastics won the individual all-around championship again after 56 years. At the Gymnastics World Championships, Guangxi athletes won 4 of the 5 gold medals of the Chinese team, helping the Chinese team to create the best results in the past 9 World Championships in 12 years.
  The meeting read
  For the 14th National Games
  Units with excellent results and
  The decision of the individual to make a commendation (commendation) award
  Five groups including Guangxi Gymnastics and Martial Arts Development Center received great merits; 13 people including Wei Xiaoyuan, Huang Mingqi, and Hu Xuwei received great merits; Guangxi Weightlifting Development Center received merit credits; 108 people including Zou Manhao, Cao Liguo, and Liu Yujia received merit credits.
  Six athletes, including Liu Minghu, Lin Zushen, Niu Guannan, Wei Xiaoyuan, Hu Xuwei, and Li Niannian, who won gold medals in the National Games were awarded the "Guangxi May 1st Labor Medal" and "Guangxi May 4th Youth Medal." The top three female athletes Jiang Huihua, Yu Linglong, Li Fengdan, Huang Jiaxin, Liu Guojuan, Liu Yujia, Liang Xiaomei, Li Niannian, and female coaches Rong Guiping and Liu Yajie, who won the top three in the National Games, were awarded the "Guangxi March 8th" Red flag bearer".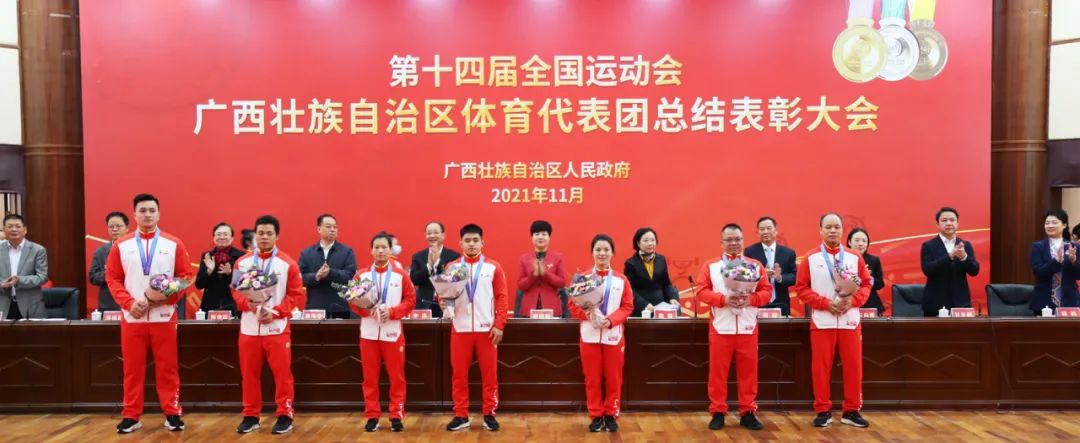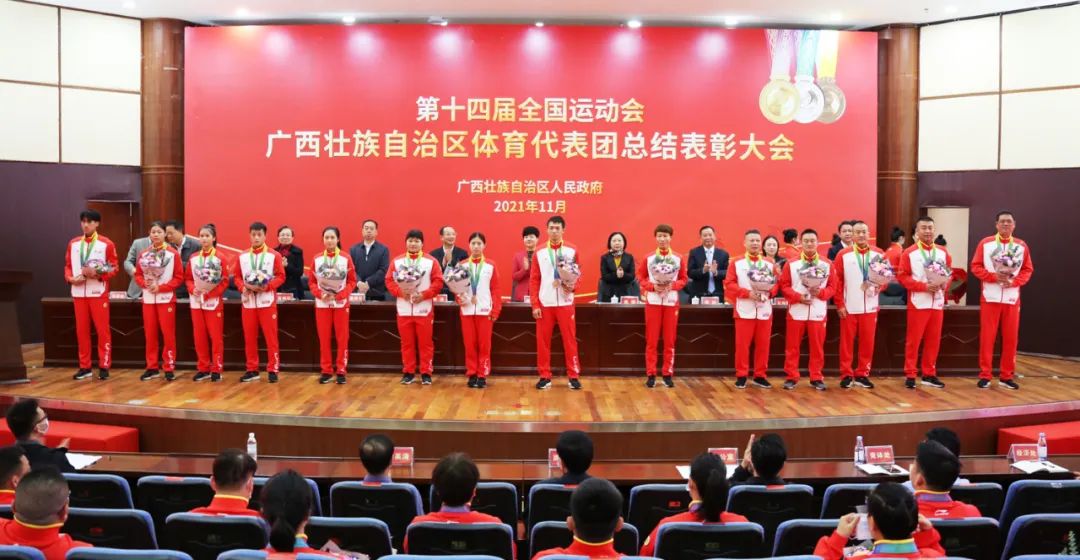 ▲Our district won the championship, second runner-up and third runner-up athletes and coaches of the 14th National Games.Source: Guangxi Sports
The conference was held by video. The main venue was set up at the Jiangnan Training Base of the Autonomous Region Sports Bureau, and each district and city and Guangxi Gymnasium set up branch venues. The meeting called for improving standing, strengthening awareness, and continuously enhancing the sense of responsibility, urgency and honor for doing sports work; summing up experience and strengthening confidence in preparation for the first National Student (Youth) Games and preparing for the Beijing Winter Olympics and Hangzhou Asian Games The meeting will be an opportunity to steadily promote the comprehensive and coordinated development of sports in our district.
.