China News Agency, Houston, November 27th (Reporter Liu Guanguan) On the 26th local time, at the 2021 World Table Tennis Championships mixed doubles match in Houston, USA, Sino-US transnational team Lin Gaoyuan (China)/Zhang An (USA) Promoted to the top 8 and Kanak (USA)/Wang Manyu (China) missed the next round. The national table tennis combination Wang Chuqin/Sun Yingsha advanced smoothly.
On November 25th local time, Lin Gaoyuan (left) and Zhang An were in the game.Photo by China News Agency reporter Liu Guanguan
In the competition for the top 8 in mixed doubles, Lin Gaoyuan/Zhang An's opponent was Skachkov/Vorobeva of the Russian Table Tennis Association. After 4 rounds of competition, the Sino-US transnational combination won 3-1. The scores of the 4 games were 11 to 9, 10 to 12, 11 to 6, and 11 to 5.
When summing up the game, Lin Gaoyuan said that there may be some problems in the second game, but this is also a good opportunity for their combination to sum up experience. He said that his cooperation with Zhang An is becoming more and more tacit.
Zhang An said that Lin Gaoyuan is a very good doubles partner, "He always encourages me, and I feel at ease with him."
Another pair of Sino-US transnational combination Kanak/Wang Manyu who played afterwards lost 2 to 3 to the Indian combination Ghana Sekaran/Batra and missed the quarterfinals.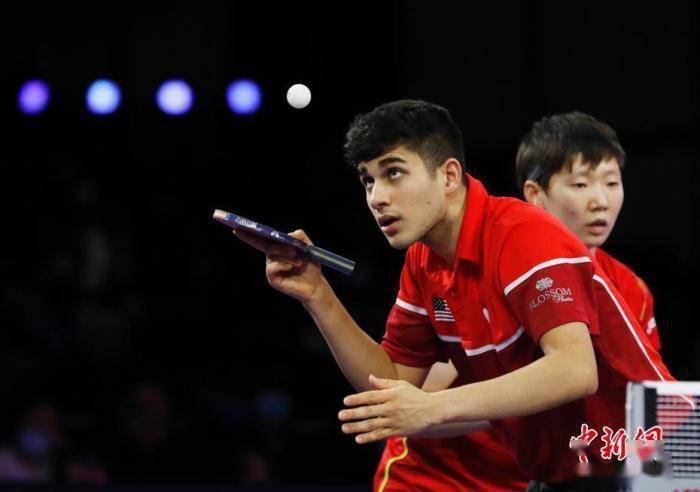 On November 26, local time, Wang Manyu (right) and Kanak were in the game.Photo by China News Agency reporter Liu Guanguan
In the first two games, the Sino-American combination won with difficulty 17-15 and 12-10. In the 3rd game, the fight between the two sides was still fierce. After missing two match points, the Chinese and American team was overtaken by the Indian team and lost the game 10-12. Subsequently, the Indian team won two consecutive games 11-6 and 11-7 to advance to the top 8.
After the game, Wang Manyu said that although the Sino-US combination was 2-0 in the first two rounds, the score difference was 2 points and there was no obvious advantage. She said: "It's a pity that there were two match points in the 3rd game that we didn't grasp. But we didn't have any big problems overall."
Kanak said that although he has only cooperated with Wang Manyu for 3 games, he has learned a lot from her and coach Xiao Zhan. He said that he was very excited when he heard the news of the multinational partner. In his career, this is a rare opportunity to cooperate with a world champion.
In another mixed doubles match, the national table tennis team Wang Chuqin/Sun Yingsha eliminated Chen Jianan/Chen Siyu of Chinese Taipei 3-1 and advanced to the quarterfinals. (over)Return to Sohu to see more
Editor:
Disclaimer: The opinions of this article only represent the author himself. Sohu is an information publishing platform. Sohu only provides information storage space services.
.