On April 8, Beijing time, it was reported that the Chinese Basketball Association did not approve Li Yueru's participation in the WNBA competition in the United States this year.
A message on Weibo wrote: "Not long after the news that Li Yueru and the WNBA Sky team reached a contract was exposed, the Chinese Basketball Association contacted Li Yueru's home team and clearly expressed their disagreement with Li Yueru's plan to go to the United States, despite Li Yueru's plan to go to the United States. I expressed my willingness to return to China in advance to participate in national team training and national team competitions. Now it seems that Li Yueru's trip to the United States is very difficult."
The media person "Demi-God, Half-Carter" reposted and confirmed: "The Basketball Association expresses its disapproval of Li Yueru's participation in the WNBA in the United States this year. According to regulations, foreign exchange contracts signed by athletes and overseas clubs shall be approved by the Chinese Basketball Association."
The self-media "We Love Women's Basketball", which has reported on women's basketball for a long time, also forwarded and confirmed the news.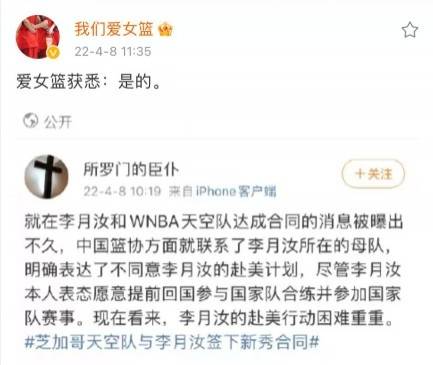 On April 1, the Chicago Sky of the American Women's Professional Basketball League (WNBA) announced that they had acquired the signing rights of Chinese women's basketball player Li Yueru from the Los Angeles Sparks through a trade. Before that, Zheng Haixia, Miao Lijie, Sui Feifei, Chen Nan, Shao Ting, Han Xu and other Chinese players have all played in the WNBA.
This year, the Chinese women's basketball team will play in the Hangzhou Asian Games and the Women's Basketball World Cup. Basketball commentator Zhu Yanshuo said: "This year's women's basketball team has many international events, and the results are under great pressure. If it is next year, the Basketball Association will definitely release it."
(edit: small tree)Return to Sohu, see more
Editor:
Disclaimer: The opinions of this article only represent the author himself, Sohu is an information publishing platform, and Sohu only provides information storage space services.