On January 26, Beijing time, the NBA regular season Trail Blazers played against the Jazz. Throughout the game, Lillard made 21 of 29 shots and 9 of 15 three-pointers. He scored 60 points, 8 assists, 7 rebounds and 3 steals.
Lillard went crazy. In the first half, after he scored 26 points, 6 assists and 3 rebounds, he came back from the intermission and broke out completely.
As soon as he came up, Lillard counterattacked and made a layup. Conley hit a three-pointer and was only 4 points behind. Lillard immediately hit back with a jumper, the Jazz came back from a timeout, Lillard made a layup and then made two free throws for a foul, and made another layup, leading the team to open the point difference to double digits.
Lillard also had a three-pointer. Then, just after passing the center line, he hit a super long three-pointer, broke through and made a layup, and then made another super long three-pointer. At the end of the three quarters, Lillard made 18 of 24 shots and 9 of 13 three-pointers. Scored 50 points, 8 assists, 5 rebounds and 2 steals.
Throughout the third quarter, Lillard scored 24 points, and he scored 20 points in a row, which is an exaggeration. Even so, the Jazz are still tenacious, biting the score. At the decisive moment, Lillard stood up again. He broke through and made a layup, helping the Blazers lead to 15 points.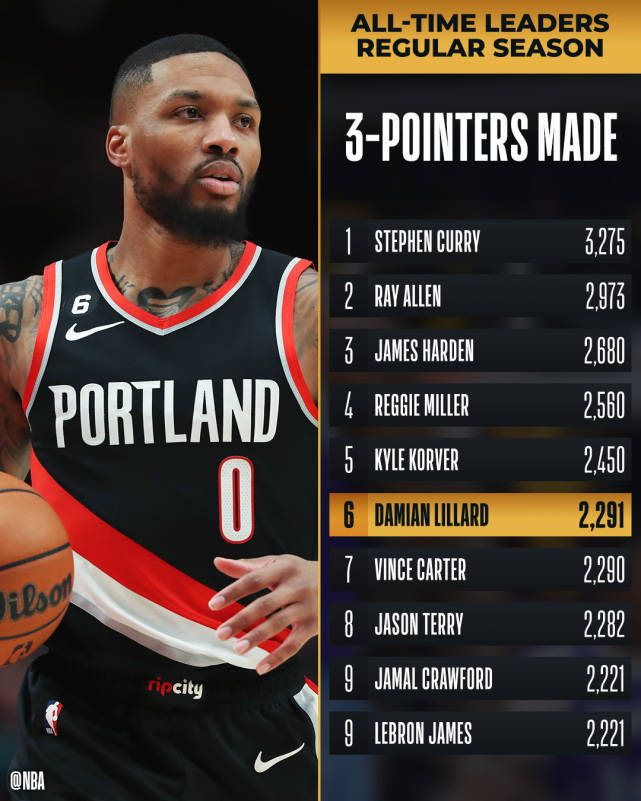 In this battle, Lillard smashed the record:
1. He surpassed Carter (2290 points) and ranked sixth in the history of three-pointers.
2. He surpassed Zach Randolph (18,578 points) and rose to 69th on the all-time scoring list.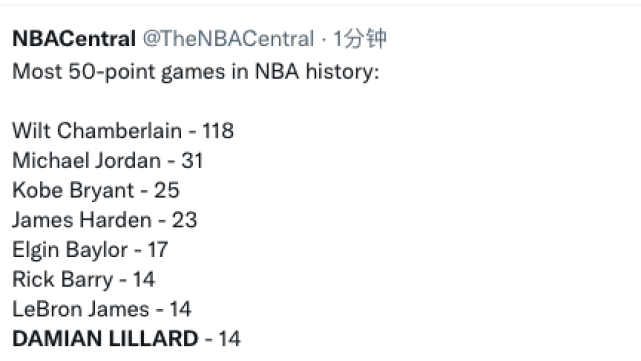 3. His 14th career 50+, tying with James and Rick Barry, tied for sixth in history, second only to Chamberlain (118), Jordan (51), Kobe (25), Harden (23) and Baylor ( 17).

4. For the sixth time in his career, he scored 9 three-pointers in a single game and hit 50+, second in history, second only to Curry (8 times).

5. He is the first player in history to score 50+ against the Jazz three times, surpassing Kobe (2 times).
6. The third 60+ in the league this season.
7. He is also the third player in history to score 60+ against the Jazz. The previous two were George Gervin (63 points) and Kobe Bryant (60 points).Return to Sohu to see more