John Fanta
College Basketball Broadcaster and Reporter
On Feb. 20 of last season, nearly one year to the date of Tuesday night's rematch in Omaha between Marquette and Creighton, Shaka Smart and Tyler Kolek had a heart-to-heart conversation.
Kolek, in his first year with the Golden Eagles program, played just 15 minutes and was not in the game in the closing stretch of an 83-82 Creighton win. The Bluejays were heading in one direction toward March while Marquette was heading in the opposite direction.
"He was mad at me that he didn't play down the stretch, and we were both mad that we lost," Smart told FOX Sports. "It was a game similar to tonight when we had a late lead, but unlike tonight, we didn't bring it home. I decided after that game that Tyler Kolek will never not be in the game again for Marquette down the stretch. In 365 days, he's become such a more confident offensive player."
And 365 days later, Marquette has its grasp firmly on the steering wheel of the Big East regular season title race after a 73-71 victory over Creighton in front of more than 18,000 fans at CHI Health Center Omaha. Kolek was the reason for closing out the win, which pushed the Golden Eagles to 14-3 in the Big East standings — two up in the win column and one up in the loss column.
With the game tied at 67 with 1:19 to play, Kolek wove his way through the lane and hit a tough runner to put the Golden Eagles ahead. After Creighton evened it up on a pair of Ryan Nembhard free throws, Kolek had the ball again, coming off a screen and letting a teardrop fly that went through the nylon, silencing the crowd yet again. He was a killer with the game on the line, making the plays that cement a Big East player of the year honor and sending the home fans to the exits with a sour taste in their mouths.
"I love playing with the crowd," Kolek said. "I came out of the game with an offensive foul and one of the guys was yelling at me, 'This isn't football! Sit down!' and all kinds of stuff. I'm talking back to them, too. I like to have fun back and forth, too. The crowd gets me going. It's a whole lot of fun."
Highlights: Kam Jones lifts Marquette with 19 points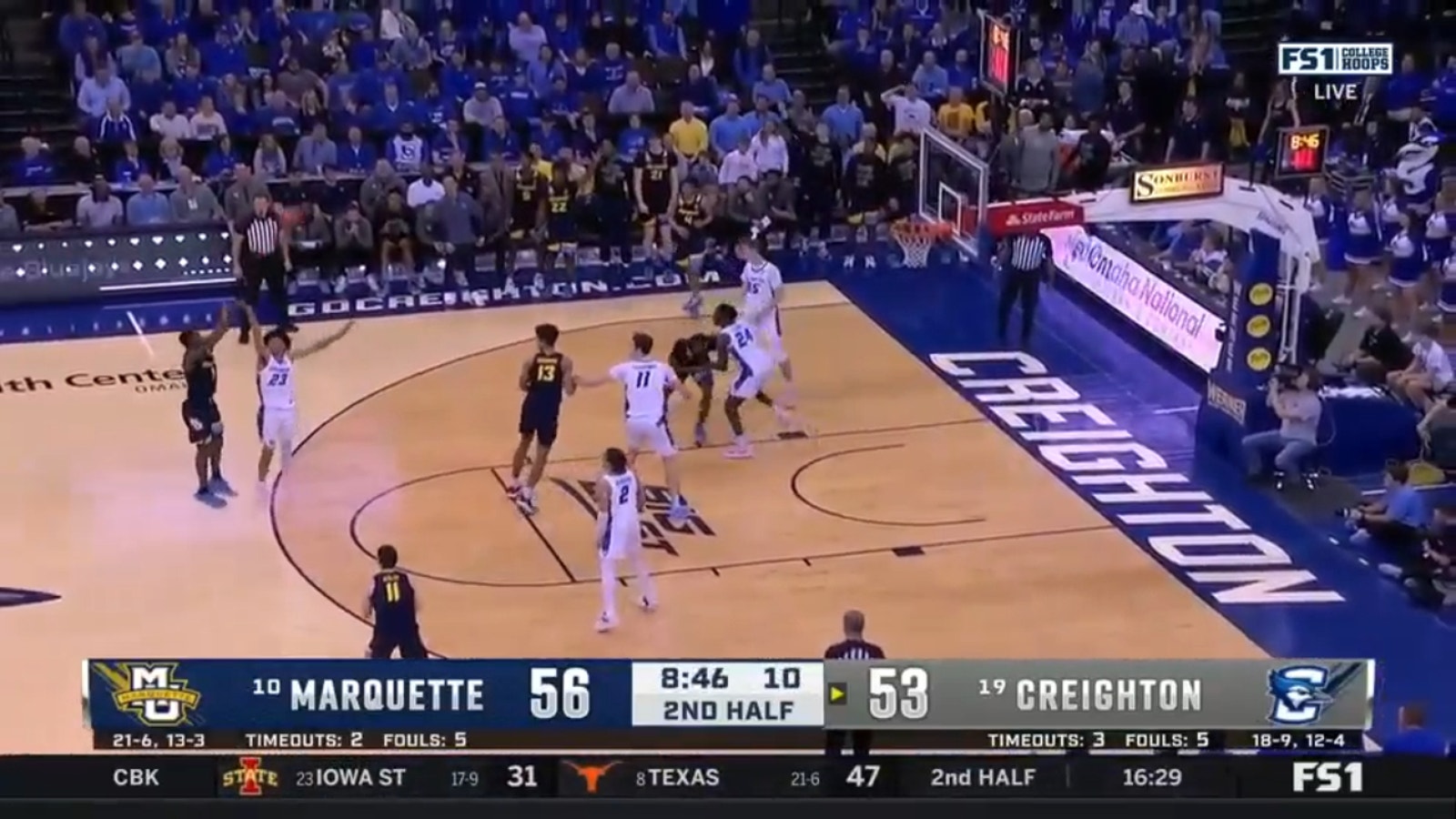 Kam Jones scored 19 points in No. 10 Marquette big comeback victory over No. 16 Creighton.
Facing a 40-32 halftime deficit on Tuesday night, the Golden Eagles did not waver. They showed the poise that it takes to win a conference regular season championship, and put on display the fact that when this team gets punched, it's not the same old Marquette anymore. They will throw it right back.
Marquette started the second half on an 8-0 run to pull even at 40 apiece. Of course, the host Jays responded and pulled back ahead at 53-50 with 12:09 on the clock. What ensued was a game-changing, season-changing surge for the Golden Eagles. But on this night, it wasn't the nation's third-most efficient offense producing the run. Instead, Marquette threw down the clamps defensively, holding Creighton scoreless over six minutes and going ahead 63-53 with six minutes left on the clock.
"We just had more in the tank," Kolek said. "We just had to buckle down and really guard them, and then get to where we wanted to get offensively. We were not getting the shots we wanted in the first half, so we had to flip that."
The Golden Eagles reversed the game to the tune of shooting 52% in the final 20 minutes with Kolek, Oso Ighodaro and Kam Jones combining for 36 of the team's 41 points in the final frame.
"We just dug deep in this game," Smart said. "We kept talking in the huddles that we have more in us and that we can pull it out of ourselves. These Big East games are battles and they are imperfect. There's so many mistakes by both teams, but that's the nature of it playing at this level. Our guys' willingness to dig deep and fight. We had great hand activity, and we did a good job of making Creighton go to the next option."
The Golden Eagles forced nine Creighton turnovers in the second half, and nobody for the Jays had more than eight points. Starting four-man Arthur Kaluma was held scoreless.
It was as impressive of a performance as any that Marquette has had in conference play, producing the program's eighth win in nine games and leading the Golden Eagles to a 22-6 record. Yes, 22-6 … for a team that was picked third-to-last in the Big East preseason poll.
The formula for the run to an all-but-official conference regular season title is especially interesting when considering the fact that Marquette's big season hasn't come with a massive transfer like Creighton landed in Baylor Scheierman. It wasn't with the top recruiting class in the Big East or a bunch of five-star talent.
Rather, it's happened with relationships, the core of Smart's belief system, a system with the potential to thrive better at Marquette than it did at his previous stop — Texas — where there was more emphasis on "flashy."
[Shaka Smart and Marquette: The perfect fit at the perfect time]
"I will never prioritize a player who has never worn in a Marquette uniform over someone who has," Smart said. "This win was a testament to the toughness that our guys have internally and the way that they feel about each other. You don't come in here and win and win unless you feel very, very strongly about the other guys in the same colored uniform. That being said, it's more of a testament to who we are if we come back the next game and next practice, and continue to build. This can't be the be-all, end-all to what we do."
At 14-3 in conference play, the Golden Eagles have a closing stretch involving three of the bottom four teams in the Big East standings: DePaul, at Butler and St. John's. While they still have to officially wrap up the conference, Tuesday could be a major step toward the program's fifth regular-season championship.
As for Creighton, the Bluejays should be fine, and it would be very interesting to see if these two teams meet again at Madison Square Garden. Greg McDermott's team has still won nine of its last 11 games, but on Tuesday, the lack of shot-making in the first half kept Marquette within single-digits and striking distance. Combine that with a flat start to the second frame, and the Jays just didn't have their A-game, particularly on the offensive end, while turning the ball over 15 times. They have no time to mope because McDermott's group faces a tough road test on Saturday (Noon ET on FOX) at Villanova in a rematch of last year's Big East Tournament championship game.
The Wildcats sent a message on Tuesday night that they could be a bid-stealer at the conference tournament at Madison Square Garden in two weeks. Why? Justin Moore has found his game. He went off for 25 points on Tuesday, lifting the Wildcats to a 64-63 win over Xavier. It was the Musketeers' first Big East home loss of the season. Suddenly, Kyle Neptune's group has won four of its last five games.
But on Tuesday, the story is that with Marquette, Smart looks like a March Madness threat, just like he did when he led VCU to the Final Four in 2012.
What did Marquette show the college hoops world on Tuesday night?
"How connected we are. How tough we are. How much we want to play for each other," Kolek said.
That all starts with Smart, who has built a program in his image that showcased all of its strong suits toward bringing home a trophy sooner than anticipated in Milwaukee.
John Fanta is a national college basketball broadcaster and writer for FOX Sports. He covers the sport in a variety of capacities, from calling games on FS1 to serving as lead host on the BIG EAST Digital Network to providing commentary on The Field of 68 Media Network. Follow him on Twitter at @John_Fanta.
Read more:
Top stories from FOX Sports:
FOLLOW
Follow your favorites to personalize your FOX Sports experience
---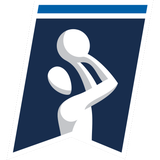 Get more from College Basketball Follow your favorites to get information about games, news and more
---
---